|
Earth Day, Green Valley
|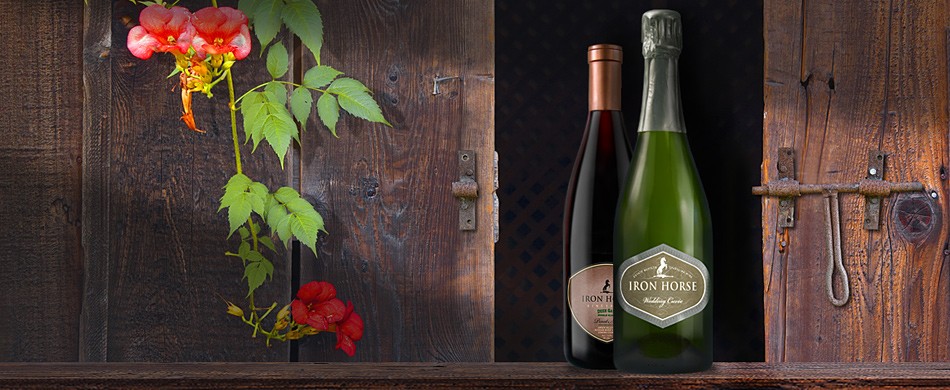 Most wine consumers in America now think sustainability is important when buying wine. That encouraging news comes from a study published recently by the California Sustainable Winegrowing Alliance (CSWA). The non-profit group forecasts demand for sustainable wine products will continue to increase over the next decade.
This bodes well for discriminating wine consumers, who will surely welcome a wider selection of "green" products for their tables and cellars.
Nowhere is the trend toward sustainable wine-growing practices more evident than in California, which has one of the "most widely adopted sustainable wine-growing programs in the world in terms of wine acreage and case production," according to CSWA Executive Director Allison Jordan. And one of California's most heralded regions for eco-friendly growing practices is Sonoma Wine Country.
Iron-clad commitment to sustainability
So, when we learned that an iconic winery in western Sonoma County was hosting a special 2017 Earth Day event in a federally designated American Viticultural Area (AVA) called Green Valley and featured keynote speaker California Secretary of Agriculture Karen Ross, with a focus on sustainable wine and food production, well…we had to be there!
Iron Horse Vineyards, the site and host of this annual Earth Day event, sits at the center of Green Valley, 13 miles from the Pacific Ocean, an idyllic setting graced with gentle rolling hills and panoramic views clear across Sonoma County to Mount St. Helena. The 300-acre estate was named after a railroad stop which crossed the property in the 1890s.
In addition to a moving speech by Secretary Ross discussing the importance of farmers and the need for public-private partnerships to help them adapt to climate change, the Earth Day event featured food presentations from acclaimed San Francisco Chef Traci Des Jardins, serving the genuinely tasty "Impossible Burger," made entirely from plants, served at the Paris Climate Change Conference as tartare; Copia, a mobile app that helps businesses and events connect excess edible food to instantly feed communities in need; Imperfect Produce, a program that home delivers "ugly" fruits and veggies that would otherwise be discarded ("In America, one in five fruits and vegetables grown don't fit grocery stores' strict cosmetic standards—the crooked carrot, the curvy cucumber, the undersized apple—usually causing them to go to waste"); and a compelling National Geographic exhibit of food photography from around the globe. Secretary Ross got to choose where net proceeds from the event would go, and she picked Sustainable Conservation, a non-profit "uniting people to solve California's toughest environmental challenges."
A true family business
One of only eight small wineries that comprise the Green Valley AVA, Iron Horse is a true family business in every sense, with three generations living and working on the property. With approximately 160 acres planted exclusively to chardonnay and pinot noir, the family strives to grow the highest-quality grapes through what they call "precision farming" (aka "micro-farming"), where all pruning, canopy management, irrigation, cover crop and harvesting decisions are determined on a block-by-block (and sometimes vine-by-vine) basis. Hills are seeded with cover crop for erosion control and creek beds have been left to revert to their natural states to support integrated pest management. Grape prunings are chopped and mulched and returned into the soil. Irrigation is supplied by advanced-treated wastewater from neighboring Forestville, recycled water from the winery and accumulated rainwater. Green Valley Creek, which runs through the property, is currently being restocked by California Fish & Game with steelhead trout.
Partner/CEO Joy Sterling adds more details. "We strike a balance in our packaging and shipping," she explains. "We have forsworn Styrofoam, and we only ship in recycled corrugated cardboard boxes. All our logo dyes for branding wood boxes are heirlooms. We choose lighter glass bottles, and we recycle our glass, cardboard, household newspapers, office paper and plastic bottles. Our extensive gardens are maintained with re-cycled water. We try to source our food from the estate or from local farms."
Iron Horse is renowned for its sparkling wines, which have been served at the White House for five consecutive presidents, beginning with the historic Reagan-Gorbachev summit meetings ending the Cold War. The winery produces a limited production, vintage blanc de blancs called Ocean Reserve in partnership with National Geographic, contributing $4 for each bottle sold to establish protected marine areas and reduce over-fishing around the globe.
Legacy of public service
The Iron Horse commitment to responsible stewardship of natural and human resources stems from a distinguished family legacy of public service. Joy Sterling is a member of the California State Food & Agriculture Board, appointed by Governor Jerry Brown. Joy also sits on the board of trustees of the Leakey Foundation and is a member of the National Geographic Society's Grosvenor Council and the Los Angeles Sports and Entertainment Commission Advisory Board. She is the author of A Cultivated Life, published by Random House. Her parents, Audrey and Barry Sterling were founders of the Los Angeles Music Center and the Los Angeles Art Museum. In 1963, Audrey was appointed by Governor Edmund "Pat" Brown to serve as a California Fair Employment Practice Commissioner, during which time she fought discrimination in employment and housing. They purchased the Iron Horse property in 1976.
The Iron Horse family operation staunchly adheres to the University of California Davis definition of  sustainable farming, a holistic effort to protect and nurture the environment, our community and all natural resources, "including consideration of social responsibilities such as working and living conditions of laborers, the needs of rural communities, and consumer health and safety in both present and future. Stewardship of the land and natural resources involves maintaining or enhancing this vital resource base for the long term."
We loved our visit to Iron Horse, and so can you. The winery, in rustic, redwood barn-style buildings at the end of a one-lane road, overlooks undulating hills of vines. The tasting room is outdoors, all the better to enjoy the Tuscany-worthy views. Tastings are by appointment, which can be made online or by phone.—Linda and Rolly Wahl, Contributing Editors