|
The Hangover-Free Zone
|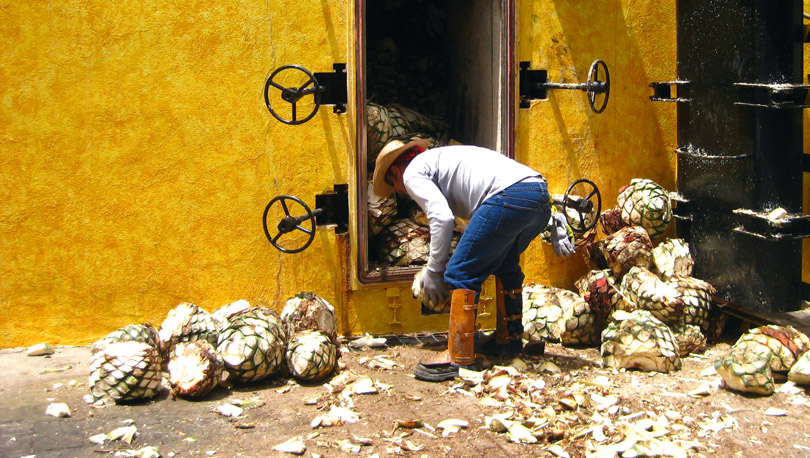 "Tequila? There's an actual place called that?"
Si, claro. Yes, there really is. It's in the Mexican state of Jalisco, some 40 miles northwest of Guadalajara. The colonial town of Tequila (founded by Franciscan monks in 1530) and, surrounding it, the sprawling fields of red volcanic soil planted in row after row of agave have long ago been declared a World Heritage Site. There's a National Festival of Tequila held here every year from the end of November to the middle of December, but visitors at any time can tour and taste at the household-name distilleries like José Cuervo (Mundo Cuevo—Cuervo World—is what they call their touristy visitor center-cum-distillery) in the historic centro and visit the quaint Museo Nacional de Tequila (National Museum of Tequila).
To attract tequila tourists to fabricas (distilleries) in nearby municipalities, the Ruta de Tequila (Tequila Trail) was created a few years back. And the Tequila Express, a weekend tourist train with mariachis and bilingual guides that parties from Guadalajara to the Tequila Herradura distillery at the San José del Refugio Hacienda in Amatitán, soon followed.
But don't think a tasting trip here is like Napa except with Mexico's most famous fiery liquor instead of cabernet. There aren't elaborate tasting rooms everywhere you look (which is probably just as well, given the product). Many fabricas do not offer public tours or tasting. And some of today's most celebrated brands, especially from smaller and more artisan distillers, aren't even located here; they're from an area northeast of Guadalajara known as Jalisco Los Altos, or The Highlands, which produces a sweeter, fruitier tequila as compared to the earthy notes prevalent in these lowlands. By Mexican law, spirits can be labeled tequila if they come from anywhere in Jalisco or designated areas within four other states in the region.
Organic tequila, si!
But, hey, green travelers: you want to know the story with organic tequila, right? Si, claro! Although but a tiny niche in a market of some 1,000 brands, it's rising with the tide of overall demand for organic beer, wine and spirits in America and Europe. At present at least a dozen certified organic brands are on the market (see below).
Why does organic matter in tequila? In brief:
For more than two millenia, the agave plant (specifically, the blue agave, or agave tequilana Weber) has been used to make fermented drinks, and since the 16th century it's been distilled to make the liquor we call tequila. It's a hardy plant, but blue agaves, known as zapupes, are vulnerable to the smaller pests. "The microorganisms, the insects and the parasitic worms," in the words of one expert. Agave plants "are even more vulnerable when they are a monoculture packed into fields…. So the agave crop has to be tended as diligently as any other crop to produce the best plants, perhaps more." Chemical pesticides, yes. Chemical fertilizers, yes. Genetic modifications (GMOs), this expert warns, are on the horizon. During distillation, synthetic chemical yeasts are widely used as well. This is paradoxical, because the tending of the vast agave fields has defied mechanization. Planting, pruning, and harvesting remains a manual job done by men known as jimadores, who trim the plants with machetes and harvest the cores, the piña, using their coas, a circular blade on a long pole.
Organic tequila, on the other hand, is free from all these harmful contaminants. All current organic tequilas, moreover, are made from 100 percent blue agave—a significant matter, because any bottle can be labeled tequila with only 51 percent agave, the rest of the sugars coming from corn syrup or anything else that can be converted to alcohol. A pure agave tequila is made to be sipped like a good brandy. Add organic growing and distilling and say adios to those nasty morning-afters.
Some sources say there is a growing environmental awareness among tequila producers. Ditto for concern about calientamiento global—global warming. A trend of ever-hotter summers is ripening the agaves sooner, in as little as five years instead of eight to ten. That reduces the plant's sugar content because it's growing faster. "Everybody's talking about it," claims a recent NPR broadcast.
Certified organic tequilas
These are the organic brands we're aware of. New ones are being launched nearly every year. Salud! 3 Amigos, 4 Copas, Alquima, Casa Noble, Don Alvaro, Dulce Vida, Ekeco, Puro Verde, Quinta de Gomez, Republic, Tierras, Tres Tios
Where to sip organic
When you visit Tequila, can you tour an organic distillery? Yes, but be forewarned: they're … elusive. We do offer a trio of recommendations.
The first is 4 Copas ("enjoy its taste today, feel its purity tomorrow morning"... i.e., no hangover) at Compañía Tequilera La Quemada in El Arenal, the world's first certified organic tequila distillery. In our visit to the Tequila area, we are unsuccessful in touring here. But we think things may have changed. The website declares: "The distillery welcomes visitors from all over the world interested in preserving and protecting the local culture of El Arenal and the environment where our beautiful blue agave is organically grown. Please contact us at mail@4copas.com."
The next is La Cofradia, in Tequila on the road between the Autopista and Tequila centro. Tours are free. The setting is estate-like and has rustic charm, a museum and art gallery. La Cofradia has been distilling for decades and has dozens of brands. One of these is Casa Noble, which is USDA-certified organic, triple distilled (to remove natural impurities and increase smoothness) and one very tasty tequila. One of the partners in the Casa Noble venture is Grammy-winning musician Carlos Santana.
Our final pick is Tequila Herradura, in Amatitán. Founded in 1870. Owned by one family for 125 years. In an atmospheric old hacienda that is home to legends and ghost stories. Yes, it's now owned by U.S. beverage giant Brown-Forman (Jack Daniel's, Korbel Champagne, et al.). No, it's not certified organic. But. But. No pesticides or herbicides are used in agave production—they make their own natural fertilizer by composting the agave fiber after it's been crushed to extract the sweet syrup. Twenty percent of the distillery's power comes from bio-gas. A citrus grove near the open-air fermentation vats creates the conditions for a natural yeast fermentation. The tequila is 100 percent agave and, we assure you, quite fine indeed.
Yes, Tequila is very much a real place. And it's well worth a visit. When you go, vote with your thirst—track down the elusive organic tequila and taste this ancient liquor as it was meant to be.