|
Can Excessiveness and Eco-efficiency Coexist?
|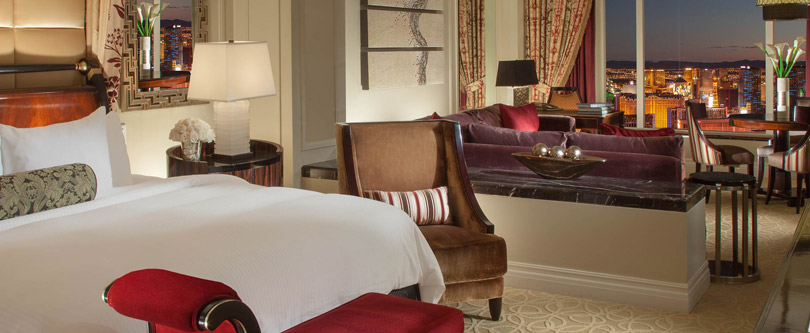 Las Vegas Strip—love or hate it, few question its supremacy as America's Babylon, the pinnacle of excess, debauchery and vice. Yet in a counter-intuitive twist, it also boasts something good for all of us—one of the world's greenest building complexes, the triumvirate of the Venetian, Palazzo and Sands Expo, all owned by the Las Vegas Sands (LVS) Corporation. Combined, they constitute the world's largest hotel.
Pranav Jampani—the Sands' assistant director for sustainability, who directs environmental initiatives for all three properties—escorts us on a behind-the-scenes peek. An environmental engineer and former sustainability consultant to Fortune 100 firms, Jampani joined the Sands in early 2014 to implement and oversee the company's comprehensive Eco360 sustainability program.
In the Palazzo, Jampani outlines a seemingly endless list of initiatives, past, present and future, that include lots of energy conservation, the greening of conferences and sustainability training for nearly 10,000 employees. Gaping at a lavish 30th floor Palazzo suite, I learn that special energy-saving light bulbs designed in partnership with General Electric are among its green features. Switching on the tube, I can't help noticing the Sands' in-house eco-channel—it's first to appear—touting achievements like the highest recycling rate (58 percent) of any hotel on the Strip.
Among the innovative eco-technologies at the Palazzo is a massive (and purportedly one of the nation's largest) rooftop solar-thermal arrays. While kilowatts are generated atop the hotel, a subterranean parking lot is home to a nano-filtration system which recycles gray water (e.g., from showers) and groundwater seeping up from shallow aquifers for use in landscaping and exterior cleaning, thereby saving an estimated 12+ millions gallons of fresh water per year.
Each of the three LVS buildings has achieved certification by LEED, a point-based environmental rating system for buildings: silver level for the Palazzo (in the new construction category), and gold for the Venetian and Sands (for existing buildings).
"My hat goes off to them. I think they've done extremely well," offers Daniel Huard, past president of Nevada's chapter of the U.S. Green Building Council, the organization that developed and administers LEED.
Huard adds that LEED is an easy sell to developers because savings in operational costs can be "monumental." While LVS wouldn't share its ROI from LEED-related conservation and efficiencies, it's easy to google the huge jackpot LVS won from the construction itself, thanks to a short-lived state program created to encourage new LEED building development in the mid-2000s. LVS qualified for a $27 million, 10-year property tax break for the Palazzo, according to USA Today.
It's interesting to note this LEED-incentive legislation failed to cap the rebate, which is based on square footage. Vegas knows when the odds are in its favor. The Palazzo—and a few other developments, especially the gargantuan 17 million square foot CityCenter nearby—basically swept the table clean of all the funds set aside "to get a whole bunch of buildings LEED certified," notes Huard. Pending new LEED legislation would correct that earlier mistake, spreading future tax breaks across many more projects.
Las Vegas Sands deserves kudos for hiring top talent to design and implement sustainability programs; yet given that LVS chairman Sheldon Adelson is already one of the world's richest men (we're talking the 0.01 percent here), I'd be more impressed if he had reinvested those funds for environmental initiatives benefiting the entire community instead of lining his own pockets at taxpayers expense.
Meanwhile, Las Vegas marches forward with green building. Huard expresses optimism, noting that Sin City now has 520 registered or certified LEED properties, totalling nearly 100 million square feet. "The world of green hospitality is getting more sophisticated," says Huard," and I think it's pretty cool."—Michael Straus, Senior Editor