|
Greening On A Farm
|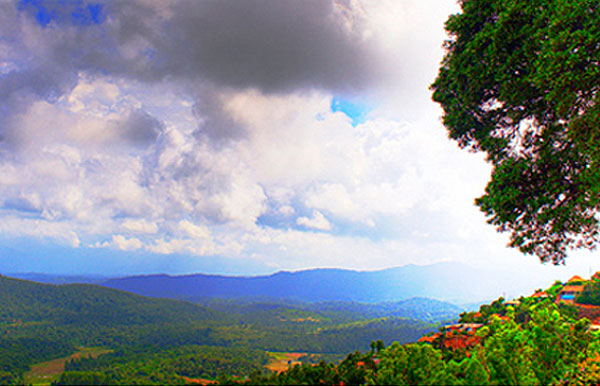 To the outside world, the state of Karnataka is best known for its capital city of Bangalore, the high-tech hub of India where you have probably connected by phone or chat with an eager soul who wants to offer you excellent service on that problem with your laptop or cable connection. My friend Chiara and I are nowhere near Bangalore. We've lost our way in a Karnataka that's a mystery to most foreign travelers—the wildly lush and richly biodiverse Siyahdri mountain range, also known as the Western Ghats, which march down the western periphery of India from Mumbai to nearly the sub-continent's southern tip. Our destination: the eco-conscious Hermitage Guest House, a family-run bed-and-breakfast on an organic farm.
It's supposed to be only a few hour's drive inland from the neighboring state of Goa, where we have begun this odyssey. Perhaps I should also mention we've been advised to let someone else navigate: a train or mini-bus to the nearest city or town, a private taxi door-to-door. But we've rented a car and started off on our own.
The way is abundantly potholed. Road signs are in an unknown dialect, and asking two locals for guidance nearly always results in getting pointed in opposite directions. Now it's getting dark. Eventually, though, through sheer luck, we spot the telltale clue … an owl. We have been alert for this owl since crossing the Malaprabha River on the outskirts of the village of Khanapur. It's so high in the trees that our car's headlights reflect the welcoming eyes for only an instant.
We pull over to re-read our directions: a dirt road to the right, no signposts. Follow the road, you will find a couple of pictures of owls, most have been stolen! We're road weary but almost there.
Our gracious hosts
Our hosts prove as gracious as their map was sketchy. David and Morvarid Fernandez welcome us, and urge us to take a few minutes to freshen up. When we return, a fabulous country-style dinner is laid out for all of us.
A warm evening breeze embraces Hermitage, set in a small clearing surrounded by jungle pulsating with the chorus of cicadas. Escaping Mumbai and Pune's urban insanity in the early 1980s, David and Morvarid followed their dream of creating this farm and home-stay in concert with nature's rhythms. They are Zoroastrians, an ancient belief that promotes good thoughts, good words and good deeds to ensure happiness and keep evil at bay. As intellectual Indians who have gone back to the land, they remind me of my own Jewish, environmentalist parents who had escaped Europe on the verge of World War II to create an organic farm in California. Here, on the opposite side of the world, I feel at home in this rural, eco-farming paradise.
Conversation flows freely during the family-style meal. It's Parsee cooking (its roots in Persian cuisine), featuring local bitter gourd, hyacinth beans and a variety of meat-based and vegetarian dishes. As Chiara and I devour our meal hungrily, David opines on everything from Indian politics ("You can be the most honest politician, but nobody will believe you here") to organic agriculture ("We won't live in the middle of this beautiful jungle and use poison, killing the birds … no way!"). I quickly realize that "sustainable" isn't a marketing catch-phrase here, it's a true expression of our hosts' values. Their land isn't certified as organic, but there's no doubt it's farmed that way.
 Biodiversity hotspot
Self-reliance is a matter of necessity here. The Fernandez farm has orchards of chikkoo (sapodilla), mango and coconut plus pepper, coffee, tea and cacao. There are medicinal plants and vegetables grown from seed that include very old varieties with a long history. Cereals like rice and wheat are also home grown, as are turmeric and ginger, sweet potato and onions. Other domestic residents of this fertile homestead are geese, ducks, hens, turkeys, rabbits and pigs. Wild visitors include peacocks and gaur (Indian bison).
Accommodations consist of three clean, simple cottages (including a cool tree-house!) built of local materials (bamboo/wood/clay). The one called The Gota is roofed with locally made red tiles and has electricity and a modern, western-style bathroom. The Kadaba, the cottage we are in, is lit only by candle; gas lanterns guide us under a crisp array of stars to the outdoor bathroom, which is partly under a thatched roof. Geckos scatter nimbly on the walls. Fluffy cotton razais (bed quilts) lull us into immediate slumber.
Next morning, David suggests eco-adventures. Trekking … birding … a visit to the prehistoric Kavala caves … the Dandeli Wildlife Sanctuary. The Western Ghats are designated as one of the world's 18 biodiversity hotspots. The richness of its flora and fauna encompasses hundreds of species of plants, mammals, birds, reptiles and insects. It is here that frogs reach their highest diversity, with over 100 species. I choose a local trek to get a feel of the land and nearby village life. Chiara opts to stay behind. She could learn to dye textiles or throw a clay pot, but what really sounds good to her is relaxing with a warm bath, the water heated in a large iron vessel over an outdoor wood-fired contraption called a bhum.
Glimpse of Indian life
David and I strike out through the jungle and across the plateau, past magnificent flame trees with their bright orange, fire-like blossoms. Here in the nether regions of rural India, where local villagers live simply and on little money, Hermitage has brought needed employment and skills-training. We enter a small village, where he points out a school Hermitage funded and built. We see traditional brick-making, where women stand in 4-foot-deep holes so they can work without squatting or bending over. As we continue our hike, David talks about his efforts to monitor and document environmental changes that he attributes to global climate change.
After a siesta that afternoon, Chiara and I wander around the Heritage compound, marveling at the vintage and wildly eclectic bric-a-brac and a pile of unusual journals, books and board games—a reminder that we are in a very unique home deeply steeped in personal family history. Many things here seem to belong to an era long gone, and the owners' love for preservation is clear.
Our hosts—including daughter Katrina when she's not off at college in Australia pursuing a degree in environmental studies—offer a unique glimpse of Indian life. It's one rarely experienced by Westerners. The Hermitage Guesthouse offers conscientious and conscious comfort in an off-the-beaten-track eco-oasis. And next time, instead of attempting the drive ourselves, we'll definitely have their taxi service pick us up in Goa.– Michael Straus, Contributing Editor, with additional reporting by Chiara Nath