| Macedonian 
Green Elegance
|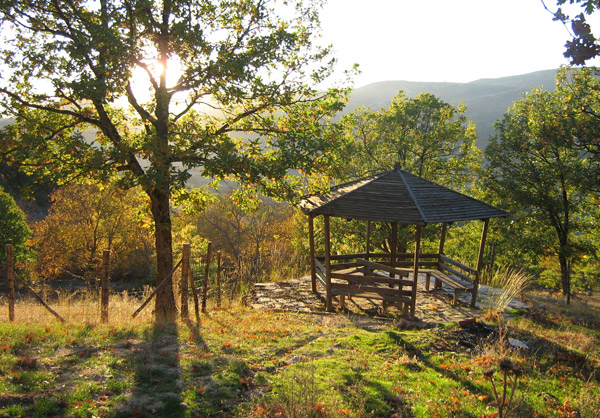 It's in the shadow of Mount Olympus, home to the ancient Greek gods and highest mountain in Greece. Nearby is the traditional village of Agios Dimitrios, population maybe a thousand and surrounded by farm and forest. This is Macedonia, on the western Greek mainland. The hotel is called Ktima Bellou, which means "land of the Bellou family," and it is an elegant, award-winning green hotel built in the Macedonian style of local stone and wood. Lazaros Bellou and his wife Theodora were teachers in the coastal city of Katerini, capital of this region (Pieria) of Macedonia, and upon retiring they wanted to move back to the family village and do something to benefit their family, the community and nature. I soon discover they have succeeded on many levels.
I arrive late, at 9 p.m. Despite my tardiness I am greeted warmly by Lazaros and his daughter Aphrodite, who is as beautiful as her name implies. She is also a Greek and Latin classics scholar, showing that academic achievement runs in the family. Lazaros takes my hands and asks me to excuse the brown stains on his. They are this way, he says, from harvesting walnuts. Walnuts, I will learn, were the beginning of the operation here.
But first a look around the hotel. The rough stone buildings are stately and the interiors beautifully decorated by Theodora with hand-woven rugs, curtains embroidered locally with designs based on ancient art and furniture handcrafted in the village to be replicas of old monastery pieces. The exteriors of stone with wooden windows and exposed beams supporting upper-floor balconies gives the feel of a much earlier age.
Queen for a night or so
Staying in these gracious buildings, I feel like a queen in ancient times. But the hot running water and no drafts mean I'm a modern queen too.
For despite its traditional design inside and out, the hotel, finished in 2009, is fully up to date. Walls are double insulated with stone and modern materials. Traditional small windows have double-paned glass to retain heat or cool air, depending on the season. The family researched the most up-to-date heating technologies, and the Macedonian-style high wood ceilings conceal infra-red panels which warm the building very effectively. Each room also has a high efficiency wood-burning fireplace set into a traditional stone-and-stucco surround. You also get a TV. And WiFi. And a computer station for guest use. The hotel can host a maximum of 37 people in the main building and freestanding house suites. There's a pool which is popular in summer with an adjacent café and conference room that groups use for presentations, yoga classes and movies.
But back to the beginning, to the walnuts. Mr. Bellou planted walnut trees 15 years ago on this family land. Why? To have orchards and gardens to provide the hotel with food. In the morning Lazaros, a very mild-mannered gentleman, would tour me around these orchards and gardens, with a young staff member and family friend named Konstantinos as interpreter. In addition to the walnuts, there are cherries, quince, strawberries, giant beans, asparagus, green beans and more to come. All are grown without chemicals. They also have chickens and a couple sheep. They hope to keep adding more animals and gardens to become self -sufficient.
Dedication to local sourcing
Despite the late hour on my arrival day, the hotel restaurant is open to me.
It's a white-table-cloth establishment all the way around. The family members greet guests and wait on tables. They hired a well-known Greek chef to create the menu and manage the kitchen, and the meals are outstanding, updated versions of traditional dishes. The region is known for its giant and delicious white beans and for wild boar (or black pig), which is hunted in the hills. The comfort food of white beans with grilled vegetables from the garden is just what I need after my long drive. The following night, a Friday, the restaurant comes to life with a dinner party of 20 and a photographer scoping out a photo shoot of the hotel. I can't try as many dishes as I would have liked but watch closely as the artfully presented plates come out. My meal of fava bean puree with wild boar sausage and grilled veggies is gorgeous to look at and a most satisfying spin on shepherd food. Other main dishes include organic beef liver with grilled potatoes, smoked boar pancetta with a red pepper mousse, and honeyed pork with sautéed spinach. Theodora, an excellent baker, offers her pies as well as poached quince, fresh fruit and local cheeses as desserts.
I am thoroughly impressed. I have worked in the local food movement for almost 20 years, and never have I found greater dedication to sourcing local food on a menu—and if not immediately local, then from Greece. The wine list is all Greek, and the house red from grapes grown on the side of Mt.Olympus is excellent. But that's not all. I am gluten intolerant, and so the kitchen staff goes out its way to order special bread for my dinner, and make me corn muffins and gluten-free pancakes at breakfast.
Certification on the way
Inside the hotel it's smoke free, very unusual for Greece.
I watch as Lazaros gently but firmly escorts a woman outside who lights up between courses in the dining room. Smoking is so commonplace in most Greek restaurants, bars and hotels it's a treat for this Californian to be back in a smokeless environment. 
Little wonder, then, that the hotel was honored by the International Hotel Awards as one of the best small hotels in Greece (in 2012).  And they are now working on their Green Key certification. They shouldn't have much trouble winning official certification as a green hotel. They even pack the hotel's recycling into their own car and drive it to Katerini and the nearest recycling station 33 km. away.
Need a ride, lady?
The surrounding mountains are covered in dense oak forests that give way to pine forests higher up. They are traversed by miles of narrow dirt roads which are perfect for hiking and mountain biking. These roads are well marked on a map provided by the hotel. I drive up Mt.Olympus for several miles, then get out and hike through the pines, along a clear creek, across summer pastures for cows, goats and sheep and along more dirt road. The only traffic I encounter is two pickup trucks loaded with winter fire wood. They both stop to see if I need a ride. My impression is they aren't used to people out hiking for fun. In the hills the sound of the wind in the pines is mixed with the sound of bells on the goats and the barking of herd dogs as the grazers are moved down off the mountains for the winter.
Ktima Bellou has mountain bikes for use by guests and will provide you with a picnic lunch when you go either biking or hiking. There are also ruins in the area to investigate. At Aphrodite's suggestion I find the ideal sunset spot at Spathe, directly across the valley from the hotel. For many centuries it seems this spot has been a special place. It has ruins of ancient Mycenaen tombs ( 600 BCE) and half-a-dozen rustic benches for sunset viewing.
The hotel can also provide a guide to take you to the top of Mt.Olympus within one day. By this western approach, you gain the summit by driving up a dirt road until it can be reached by foot with a couple hours' hike. (The traditional route from the east takes two days.) Within an hour's drive of the hotel are scenic summer resort towns like Kokkinopolis as well as towns mentioned by Homer in The Illiad: Phthio, Dolichi and Azoros. Within a 90-minute drive you can visit Meteora for the spectacular rock formations and monasteries perched on high cliffs. In winter you can reach the Elatohori and Olympus ski runs. It is a wonderful spot to visit year 'round.
And when you do, stay at Ktima Bellou, an exceptional hotel. The family is setting an example of green graciousness and hospitality that surely will inspire their guests and other hoteliers to be green as well.—Constance Washburn, Contributing Writer
Opening photo: sunset viewing at Spathes near Ktima Bellou