|
So Green, So Cool
|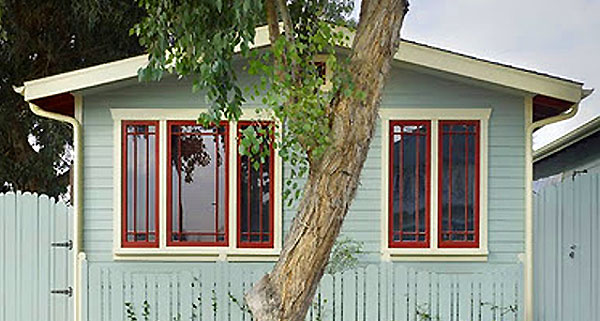 There are so many Los Angeleses, even if you stand in the same spot. Take Venice Beach, for instance. We remember coming here in the 1980s as an antidote to perfectly scripted Beverly Hills. Venice in those days was the outré actor of bad attitude and raw emotion without makeup or gloss. Funky, bohemian, more than a little drugged-up, but—you know—there was something irresistible about her, something you couldn't get enough of … in small, excitingly dangerous doses. That Venice couldn't have been more different from her incarnation of a half century or so earlier. Then, like her Italian namesake, she was a series of islands navigated by gondolas and crossed via picturesque bridges. She was envisioned as a regal dowager, with beachfront. That is, until the city of L.A. (as it had with America's finest municipal streetcar system) eighty-sixed her languid waterways to pave them over for exhaust-billowing autos. Nonetheless, remnants of Venice's earlier self endure. Three of them are known today as the Venice Beach Eco Cottages.
Built in 1922 as humble vacation rentals, they look like clapboard-sided triplets shaded by a towering white eucalyptus. They've been delightfully reborn as cozy green sanctuaries just four blocks from the Fellini-esque carnival that is the world-famous Venice Beach Boardwalk. Even closer is Abbot Kinney, the ultra-happening street named for the conservationist and developer who created the "Venice of America" and is now chockablock with restaurants, shops, bars, art galleries, spas, furniture and antiques emporia.
All three cottages are identical in size (450 sq. ft.) and each has a living room with gas fireplace, breakfast nook, bedroom and bath, and a fully equipped kitchen where stainless-steel pans line up like waiting servants on the old trumpets and bugles from which they hang. But this is still L.A., so modern conveniences will not be lacking. You'll find an EnergyStar washer, dryer and dishwasher, WiFi, and a discreetly placed home theater system with iPod dock no matter which cottage you choose. From there, personalities diverge. What's your mood? The Papa Hemingway Cottage is brown and beige and Michigan woodsy, the sort of place to inspire the good and the true and the brave. Le Bébé Cottage is meant to evoke the decadence of 1960's Paris with a "candied baroque" that pops in vivid fire-engine red, Parisian blue and sleek chrome. The furnishings are mid-century modern, the woods lacquered. We were thoroughly charmed by our stay at Aunt Zoe's Place, a cheery, playful version of a 1940s lake cabin.
All three might just as easily have been bulldozed, such was their state of disrepair when purchased by Cynthia Foster and Karel Samsom in 2007. Over the years they had been migrant housing, then drug pads. Foster, an actor/artist with a eye for earth-friendly design, and Samsom, an environmental economist, "loved the architecture and the history," he says. They wanted to take the trio back to their roots, to make them into havens for visitors who seek an ideally situated eco-nest with local character and historical charm. Cynthia says she saw the task before her as "a giant mixed-media art project—the art of sustainability."
They set about applying the mantra of reduce, reuse, recycle.
Aluminum windows were donated to Habitat for Humanity, as were old appliances. They haunted thrift shops and flea markets and browsed salvage sites and eBay. Fixture foraging in their Volvo wagon, they scored farm sinks, Hoosier cabinets, claw-foot tubs, vintage stoves and light fixtures. Trimmed limbs from the eucalyptus went to the desert to dry out, then were carved into fireplace mantles. Kitchen tiles were reworked as bathroom mosaics. Cut-up license plates became the address numbers on the cottages.
The 1940s to '60s were Foster's design scope, but she gave imagination free rein. Thus, she re-imagined vintage tablecloths as kitchen curtains, crystal doorknobs as curtain finials, and a vintage garden spigot as a decorative hook for a bathroom mirror. Old sewing machine stands topped with glass are now bed tables and a cast-iron birdcage is a swivel chair. Bathroom floors are covered in horizontally cut wine corks (naturally antifungal) edged with remnants of salvaged tile from the kitchens.
Solar panels went up on the roofs. Recycled blue jeans, from Bonded Logic, give environmentally friendly insulation. A green ethos means a healthier habitat. Thus, new building materials used are organic and/or non-toxic, including paints and finishes with no or low VOCs, and all three cottages enjoy a whole-house water filtration system. Foster and Samson also sourced organic mattresses, bedding and shower curtains. Bath towels are a blend of bamboo and organic cotton. Cleaning is done using non-toxic supplies by a green service.
A visit also gives you a chance to do good while feeling good—three percent of your total bill goes to charity.
"Karel and I are so pleased that we were able to put into practice our beliefs about sustainability," says Cynthia. You will be, too.
While you're there, you won't lack for green dining options. A short stroll toward the beach is Seed Kitchen, whose organic vegan and macrobiotic cuisine—think award-winning veggie burgers, paninis, tacos and weekend brunch—is great for a casual meal. Chef/co-owner Eric Lechasseur used to cook for Madonna, Leonardo DiCaprio, Sting and other celebs, and sustainability is the byword here. Over on Abbot Kinney farm-to-table dining is well entrenched. We especially favor AXE (ă • shay). The name is a salutation borrowed from Yoruba (where Nigeria is today) that means "go with the power of the gods and goddesses," and it's committed to "creating and sustaining a healthy, wholesome, and diverse population and planet … by supporting local organic agriculture and earth-friendly businesses." That means buying organic seasonal products directly from local farmers (and sending kitchen scraps back for composting), as well as bulk staples from organic distributors. It offers organic beer and wine choices, and has a reverse-osmosis system to purify its water. All this virtue comes with no penalty: the food is delicious, from simple starters like house-pickled veggies and flatbreads to entrees such as housemade pappardelle pasta with spring veggies and ricotta to hook-and-line-caught blue-nose bass.
Heading to L.A. anytime soon? For a great green experience, think Venice Beach.