| 
A Green Oasis
|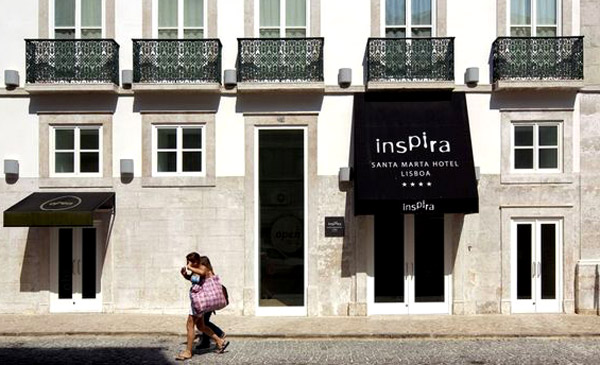 Lisbon isn't a city you can pin down. In terms of both time and space, the Portuguese capital is at once so many different things. A simple decision to turn left or right, or perhaps just a trick of the light, will have you feeling comfortably Mediterranean, or richly Iberian, or even northern European, almost Parisian. From here, it's tree-lined, soft, accommodating—very Old World. From there, it's a vibrant city for the young—colorful, loud, its parties running very late. This paradoxical stance becomes even more dramatic when you realize that the (sometimes) classical city is itself the embankment from which the great and infamous navigators sailed to find the New World. All told, Lisbon defies attempts at categorization. As a visitor, the best you can do is get out of its way and just let it happen. The Hotel Inspira Santa Marta, dedicatedly eco-friendly but decidedly unprepossessing, understands this.
Lisbon is our first stop on what is to become a four-month European tour. Our search for a green stay in the city yielded the Inspira as one of few options. But she proves elusive. Perhaps because we are just getting into the swing of foreign travel again and Lisbon is hardly easy to navigate. Perhaps because, seeing the pictures online, we expect a grand façade, on a main drag—and this is not the case (though it's near the city center, a mere stroll from one of the city's iconic thoroughfares, the Avenida da Liberdade). We finally find the hotel tucked away on an "off" street (almost an alley).
From the outside it's pleasant but unassuming, flanked by delightful-looking cafes and restaurants. Once inside, though, we immediately know we are in a solid space that will make an ideal hole-up from the busy schedule we are planning in this shape-shifting city. We sense the venue's efficiency: the staff is friendly, not cloying, and matching the overall feel of the hotel they are here to facilitate, happy to allow us to rest and relax—nothing is "pushed" and we come and go unfettered.
A perfect neutral zone
This, also, is quickly apparent: The Inspira's not here to compete with the Lisbon, or even to attempt to strike one of the city's many possible poses. Instead it's here to provide what you need. Sufficiently upscale, up-to-date, simple yet elegant, the establishment serves as a perfect neutral zone from which to recharge from a day's or night's explorations. It's a sustainable oasis—a respite from the culture crossfire that surrounds it.
The Inspira Santa Marta is satisfyingly luxurious (by our bootstrap standards, anyway). The interior has an angular, polished-woody feel, with modern, four-star touches and a somewhat minimalist, creative flair. All is simple. All—including our satisfying room—is fresh and designed to harmonize with the concepts of "healthy homes," sustainability and the environmental components of ancient feng shui.
The specs are 89 rooms, with 2 equipped for guests with disabilities or special needs. Guestroom décor is inspired by the traditional Chinese elements of earth, water, fire, metal and wood—clearly articulated through the use of light, color, sound and environmentally friendly materials (their words). The rooms are also set up for basic tech needs, with working Wi-Fi and flat-screen televisions.
Fine trappings for all
There are fine trappings for both leisure and business travelers, as the hotel is also well appointed for groups, corporate or otherwise. There's a lovely restaurant—the Open Mediterranean Brasserie—that mimics the hotels subtleties and doesn't really bow to any particular genre, save local and fresh from organic farms and sustainable fisheries as much as possible. The bar is intimate enough, though we didn't happen to spend much time there.
The hotel also features a sauna and steam bath in a treatment center simply called The Retreat. Here, too, the mood is simple and refreshing. There's also a gym, though walking through town was exercise enough for us. We opted for the spa's water elements, but passed on the not-cheap massage (tempting, though, with plant-based spa products including organic ingredients).
The Inspira is anything but unassuming in one vital regard: It is indeed focused on sustainable strategies and technologies, with infrastructure and service operations designed for a reduced impact on the environment. The hotel's energy is 100 percent renewable, and features solar heating panels and low-energy lighting. Cleaning products are eco and biodegradable. Water efficiencies include taps with sensors for smart use and more. Waste management is taken seriously down to the level of bath amenity dispensers and organic waste recycling.
Good and green
The hotel divvies its sustainability impacts into three buckets—environmental, social, economic. Regarding the first, the Inspira hopes to "reduce consumption in all areas of operation, constantly reviewing and continually improving the environmental impact, complementing development with certification procedures by third parties."
Regarding social, the Inspira is motivated to "inspire and encourage a sustainable attitude among all stakeholders, from partners to vendors, employees to customers." It also supports Lisbon itself through partnerships with a number of local institutions. This dovetails with its commitment to the local economy, which it displays in part by prioritizing the use of products and services from local suppliers and fair trade.
For its efforts, the hotel is Green Globe certified and has been honored with the Green Key award for environmental education and promotion of sustainable tourism. Its affiliations include the APPDA (a Portuguese association for people with autism), the Rui de Castro Osório Foundation (which informs and enlighten parents, children and friends about issues related to pediatric oncology), Amara (a non-profit helping those near death and their families), and Pump Aid (a NGO dedicated to the construction of water pumps and sanitation facilities in African countries).
All told, the Inspira is an excellent green option for Lisbon. It has the right attitude and it's a place where you'll leave only a small footprint. At the same time, it won't step on what's sure to be an eclectic experience in the New-Old World.—Scott Adelson, Contributing Editor
After you've had your culture and history fix in Lisbon, why not balance them out with one of the all-inclusive holidays available in Portugal's Algarve? The coastal cities and towns of this region are justly famed for their great golf and beaches.