|
Awesome Eco Scene
|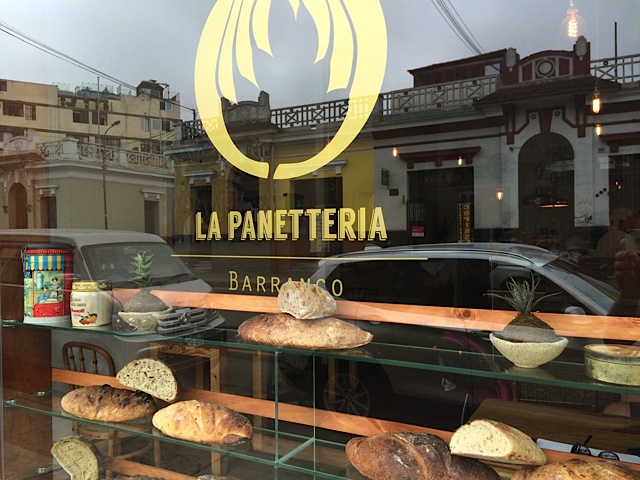 In the past few years, Lima's renowned food scene has grown to include an ever-increasing array of organic, vegetarian and artisan restaurants, cafés and craftsmen. There's even a new Lima Bio Mapa (Green Map) that calls out venues for organic fairs and farmers markets, "conscious shopping," and wellness offerings. But for the epicenter of eco, the Barranco neighborhood, is the place to hang out—plus you get beautiful panoramic strolls along the Pacific Ocean by day and great dancing and casual hang-out scene by night. Here are just a few of my color-me-green favorites; let us know what you discover, and we'll update this article with your recommendations!
Restaurants
La Calandria (28 De Julio 206) From the moment that I walked in, I knew—just knew—that La Calandria was special. The front room is a small grocery, packed with a delectable array of local, organic and sustainably grown staples and snacks. In the backroom, the restaurant—seven tables and bar counter—quickly fills up during lunch, offering an all-organic, vegetarian and vegan selection of salads, entrees and desserts. Moreover, owner Dina Soldevilla del Prado is one of the neighborhood's leading organic advocates, having started the very successful not-for-profit weekly organic farmers market, held every Sunday (see below). Email them; or watch this video (it's in Spanish).
La Bodega Verde (Jiron Sucr 335A) Healthy and hip, with both garden patio and comfortable inside seating available, La Bodega Verde offers fresh juices, smoothies, organic coffee, salads and a wide range of vegan, vegetarian foods. Many gluten-free options, as well as a separate selections of healthy juices formulated by a licensed nutritionist.
La Panetteria (Av. Grau 369) Hands-down, La Panetteria is the best artisan bakery in the 'hood, with must-try croissants, chocolate croissants and a variety of breads that'll make you beg for mercy if you're trying to cut back on your gluten intake! Great Wifi, coffee, and air con, too—making it a perfect place to relax and/or write on your blog. Email them.
1874 Taproom Brewpub lovers should run, not walk, to 1874 Taproom (Facebook them), where an excellent selection of Peru's finest craft beers (including the best IPAs around) awaits. Brewing their own artisan ales since late 2015, 1874 is quickly becoming one of Lima's must-sip microbrewers, with their excellent suds available only at the Taproom or many of Lima's finest restaurants. It's located just a few doors down (toward the ocean) from La Bodega Verde.
Farmers Market
Feria Ecologica d Barranco (Estadio Chipoco & Parque de los Heros) A very special farmers market every Sunday, 9 a.m.–3 p.m., with so much heart and soul that I could barely pull myself away from countless, fascinating conversations with farmers and producers of organic and sustainable, fresh and prepared foods. You can taste the love, and I'm not even exaggerating. Plan your trip to Barranco with this market in mind, and take the time to hear the stories behind the food—you won't be disappointed!
A few of my favorite market vendors:
Bakau Peru Great chocolate, and even better (if that's even possible) espresso drinks! Sandro—an agronomist with expertise in coffee and cacao—met his wife Juliana, both of whom are third-generation farmers, when Sandro was advising Juliana's family. Then they opened Bakau. And not a moment too soon, as far as I'm concerned.
Bikut Café A small company with a big social justice mission, Bikut is dedicated to marketing the products of northern Peru's Awajún native communities. Their success will translate into employment opportunities for their farming partners, who otherwise lack any significant access to markets. Email them.
Prana I almost cried talking with Livtar and Kirpal, owners of this amazing little company. Yes, their food is beautiful, delectable, vegan and organic, but more importantly, these kind, generous, open-hearted souls are introducing meat-eating Peruvians to vegetarian alternatives. Not surprising, they're also longtime Kundalini yoga instructors. I'm looking forward to returning to Lima to enjoy their cooking, training and friendship. Connect with Prana on Facebook.
Marciano Vegano If your logo is an alien, you're my kind of organic foodie! Marciano (aka "Alien") and his partner Issy Marina are a special couple, simultaneously funny and sincere, pouring their hearts and souls at Marciano Vegano into crafting remarkably tasty cheeses and pizzas that are vegan, organic and GMO-free. Their intention: to reduce the ecological footprint caused by grazing animals, and to never hurt any animals. Rather than sounding alien to me, it sounds deeply … human. Email them.
Tao, Sana with Gusto Antropologist Andrea Staeheli—she's also an ayurvedic and traditional Chinese medicine practitioner—makes delicious cashew cheese, almond cheese, granola and nori at Tao, Sano with Gusto. You can also email them.
Paneton del Amor My one and only regret about stopping at this booth was waiting till the end of my market stroll, when I was already too stuffed to enjoy more than the tiniest morsel of their fabulous panetone! Mark my words: Save room! Email them.—Michael Straus, Senior Editor