| Hot Green Fun |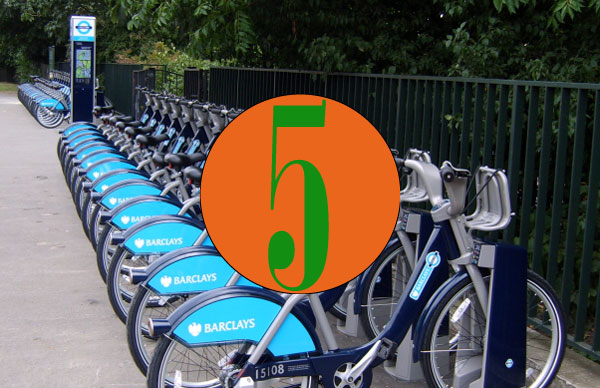 London is one of the world's top 10 most expensive cities. But it's easy to enjoy this classic travel destination on the cheap, and be green about it at the same time. Really, the hard part is narrowing down our favorites for inexpensive green fun. That's why we recommend you check what's on in London before you go (or at least as soon as you arrive)—otherwise you might miss out on other singularly superb happenings.
1.
Walk London via GPS. Be greener and walk at your own pace, on your own timetable, without fear of missing a thing. Central London is awash with tourist sites and attractions, is totally tourist friendly, and you can ask just about anyone for directions if you're in need. Better yet, tap into one of the growing number of GPS-based walking guides that are accessible on your smartphone or tablet. Our favorite works great on an iPhone, iPod Touch or iPad, and currently offers 19 turn-by-turn London itineraries, including the Harry Potter Trail, Shakespeare's London and Dickens' London.  Along the way, you'll be fed all the background info to make your walking tour entertaining and educational.

2.
Cycle the rest with the city's bike share. Yes, the London Underground ("the tube")  is an easy, cheap and eco-friendly way (compared to a taxi!)  to get around. But if you're even moderately fit, why not pedal your way around town? In recent years London has become a much better city to cycle in, and detailed guides are available from Transport for London. Just want to pedal from Point A to Point B? There's a new city bicycle share system that lets you pick up wheels for a small fee and then drop them off at a docking station when you are done.

3.
Start at the Hyde but don't stop there. Hyde Park is unquestionably one of the world's great urban greenspaces. Open to the public since 1637, it's 350 acres are sheltered by some 4,000 trees. Anytime during the year, but in summer, especially, it's one of the best spectator sports in England, as practically everyone in the city heads there for picnics, recreation and milling around attractions like the Serpentine Gallery and Speakers Corner. What could be more eco-friendly (or wallet friendly) than rowing on the lake or taking a dip in the lido? But don't stop there. Hyde is just one of eight royal parks in London. Closest at hand are Kensington Gardens, the Green Park and St. James Park. The Regent's Park & Primrose Hill are not far off, either.
4.
Don't miss the farmers' markets. Better yet, visit a city farm. Farmers' markets, large and small, are arrayed across the city, and most offer tasty, healthy (and often organic) delights that make a perfect and very affordable lunch or snack. For even more family-friendly fun, here's an idea you may not have considered: visit a farm in London. No kidding. There are a number of farms within the city limits where you can interact with animals and the natural environment. Good choices: Spitalfields City Farm, Hackney City Farm and Bocketts Farm Park.

5.
Go to the London Green Fair. Every June for the past two decades, this leading environmental festival holds forth with a dazzling variety of events, exhibitors, workshops, market stalls with a fantastic range of hand-made clothing and crafts, music, art, food and much, much more. Held in Regent's Park, it's entirely powered by renewable forms of energy including hydrogen, wind, solar and recycled vegetable oil. They give away trees to visitors to help offset the carbon created by the event. The London Green Fair celebrates all that is good, great and green about London—and it's free.