|
Storied Past, Green Present
|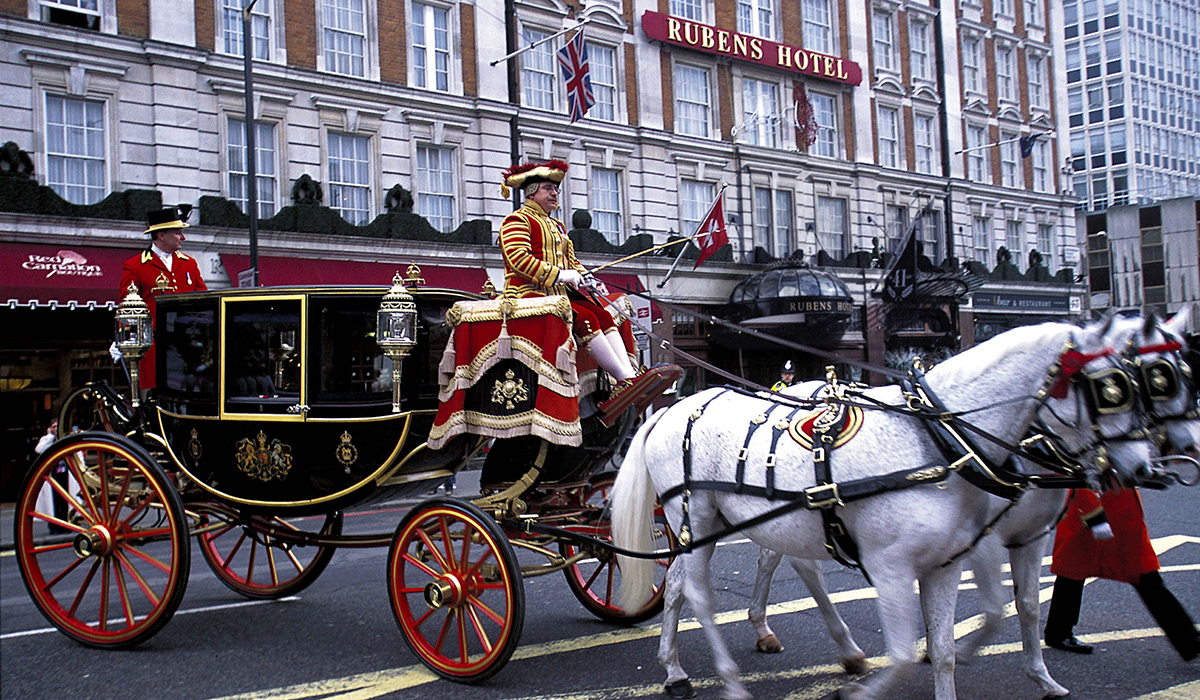 Thank goodness we've fueled ourselves with a proper English breakfast before going toe to toe with the most effervescent hotelier—and evangelist of green—in all of London town. And a hearty repast it was, too, a lavish buffet with thick rashers of bacon two ways (crispy and not), various tempting egg options and, of course, the obligatory baked beans, roasted tomatoes and stewed mushrooms, washed down with the Queen's Favorite Earl Grey tea (the hit of bergamot is the secret). His name: Bastien Peyraud. Young, slim, nattily attired—and, yes, a Frenchman. But there is nothing French about his domain: the Rubens at the Palace. At Number 39, Buckingham Palace Road, it sits directly across from the Queen's Mews and just around the corner from the London home of the longest reigning monarch in British history.
Her royal standard flaps in the breeze atop the palace, so she is in residence. But neither her carriage nor her Bentley have emerged from the Mews this morning. As we are pulled along in Peyraud's wake during a whirlwind tour of the hotel's common areas, we prod for details.
He turns to face us and we come to an abrupt halt. "She is zo tiny!" he says with mild indiscretion, giggling. Moments earlier he had only arched an eyebrow when we speculate that previous monarchs or other royals must have enjoyed assignations in this very hotel. An underground passageway from the palace grounds has long been rumored.
Storied past, green present
What is not in dispute is that the Rubens and its site have a lively, storied past. Highlights: in the 1700s, the house of a vainglorious duke derided as Lord Allpride stood here, and it was he who built what is now Buckingham Palace. For himself, not the royal family. The Rubens opened in 1912. During World War II it was headquarters of General Sikorski's Free State Polish Army and home to General Charles DeGaulle, leader of the Free French.
Today the Rubens still leads a double life. First, as one of the most atmospheric boutique hotels in central London. Then as a strong contender as greenest hotel in London. "If not already the case," asserts Peyraud with a smile.
Peyraud, as deputy general manager of the Rubens, is in charge of the hotel's efforts to be ever-more eco-friendly. A Green Team of staff meets weekly to discuss and adopt new initiatives of sustainability and support for good causes. Their suggestions even extend to the kitchens, where local produce is favored, sustainably caught fish is purchased and the free-range meat comes from the same butcher who serves the queen. Overall, progress to date is impressive, and two splendid examples attest to this: the living wall (10,000 plant species that warm or cool the hotel according to the season) and partnership with the TreadRight Foundation, a not-for-profit that supports sustainable tourism projects worldwide. 
Eco on the plate
His eyes are everywhere as we walk. He smiles constantly, wishing good mornings to arriving guests and hellos to staff, whom he always greets by first name. In short, the very picture of a consummate hotel man. So we take this opportunity to pose the question that still bedevils some colleagues at luxury properties. How do you sell sustainability to customers who expect nothing but pampering?
"It is our responsibility and duty to educate people," he replies without hesitation. "People don't like change. But they can change."
We wish we could change our departure time. But it's off to Victoria Station, only moments away. Leaving, we issue a final challenge. When we come back again, where would he send us for a memorable meal from an eco-savvy chef? We can't wait to try what he later emails:
Tiny Leaf (Notting Hill:  209 Westbourne Park Road) Menus change on a daily basis due to the unpredictable nature of deliveries, but potential dishes may include buckwheat pancakes with blueberry compote, coconut yogurt and bee pollen for breakfast, washed down with nut "mylk." Lunch could include courgetti with hemp pesto with a butter bean ragu; and for dinner, broccoli steaks with baba ganoush. The four-story venue is the dream of Justin Horne, a chef, writer and food activist, along with general manager Jonathan Krauss (formerly of Chiltern Firehouse). This is their attempt to play a part in tackling the 18 million tons of food piled into landfills each year.
Silo (Brighton: 39 Upper Gardner Street, North Laine) Silo is aiming to massively raise the bar when it comes to all things ethical and culinary. It recycles all its waste and has invested in a special compost machine—proudly displayed near the entrance—to process its food scraps. Supplies are delivered in reusable containers. Ingredients are sought from (mostly local) farmers and producers direct. There are no middlemen. Flour for the restaurant's bread is milled on site. Booze is being brewed in the basement.
Grain Store (Kings Cross: Granary Square, 1-3 Stable Street) This new restaurant from chef Bruno Loubet has a maverick concept: It gives vegetables equal billing with meat and fish, meaning they're very often the star of the plate. This is good for sustainability in itself, given that meat production uses far more natural resources than veg, but there's more to it than that. Almost all meat used is organic and free range, the kitchen is fitted with state-of-the-art technology that monitors energy consumption, and half the profits from sales of filtered water go to local charities. Grain Store was voted sustainable restaurant of the year by the Sustainable Restaurant Association in 2015.