|
Earth Friendly L.A.
|
Looking for another reason to visit Los Angeles? The Green Festival, the nation's premier green living event, comes to L.A. September 12-14 at the Los Angeles Convention Center.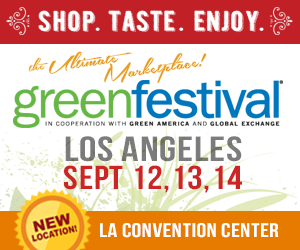 This unique experience celebrates positive, sustainable solutions. It's where people come to meet renowned authors, actors, visionaries and community leaders; shop with hundreds of green businesses; participate in DIY workshops; enjoy live music and local vegan and vegetarian cuisine; and relax at the organic beer and wine garden.
Green Festival offers something for the entire family. Check out the latest in earth-friendly casual wear and couture in the eco-fashion show. View socially and environmentally impactful films. Discover the latest in environmentally responsible construction materials and methods. The Green Marketplace profiles hundreds of green and socially responsible businesses and organizations. Attendees can browse everything from green, non-toxic home furnishings to organic clothing to Fair Trade gifts, children's toys and much more.
"We're excited to host the Green Festival in Los Angeles and bring Angelenos together to learn how to bring sustainability into their lives," said Jonathan Parfrey, Climate Resolve executive director and a commissioner at the Department of Water & Power Board, when the festival first came to L.A. in 2011. "For those of us who care about Los Angeles and its future, the Green Festival is a place to talk about climate change and how to prepare to adapt."
Whether you go to shop, learn, or experience art and music, Green Festival has it all. It's a great place to find the sustainable solutions that fit your lifestyle. A joint project of Green America and Global Exchange, Green Festival is also hosted annually in Washington D.C., Chicago, New York City and San Francisco.
Getting there: If coming from northern California, why not try the Amtrak Coast Starlight, which you can catch in San Jose (with connections from San Francisco and beyond)? It takes you straight to L.A.'s historic Union Station, which isn't far from the convention center. If saving time by flying in, be sure to also choose airport parking that doesn't waste precious minutes and fuel. At London's Gatwick Airport, for instance, the closest and most secure is Gatwick Parking.