|
Green Travel News
|
Molly Phillips, one of the Pacific Northwest's most experienced sustainability leaders, is leading the transformation of the Pan Pacific Seattle hotel into a model of corporate social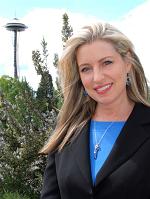 responsibility (CSR). Phillips, manager of CSR for the 160-room property, has established a program called PanEarth that includes a CSR vision based on four community pillars: Caring for Community, Caring for Our Planet, Caring for Challenges, and Caring Globally.
Phillips is one of the few people in the entire U.S. lodging industry with a full-time, property-level CSR position.
Organizations benefiting from the Pan Pacific Seattle's CSR activities include a Seattle senior center, the local Red Cross, an urban farming collective and a shelter for homeless women. Pan Pacific Seattle also donates about 100 pounds of partially used soap each month to Clean the World. The hotel has invested in a number of green initiatives and plans to do more.