|
The Big (Green) Apple
|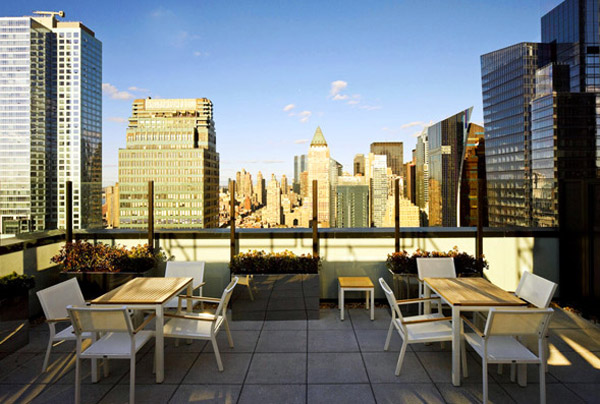 From the bustling street, you might not suspect that Element Times Square West is one of New York City's eco-pioneers. And yet here, hidden in plain sight, this deceptively inconspicuous 40-floor, 411-room hotel—on West 39th Street between Eight and Ninth Avenues in the heart of Manhattan's Times Square neighborhood—offers a thoughtful, comprehensive approach to environmentalism.
"Element by Westin" is part of Starwood Hotels & Resorts' hip "eco-wise" brand—currently numbering 11 properties in North America and with four more opening in 2014—that mandates U.S. Green Building Council LEED (Leadership in Energy and Environmental Design) certification for all its properties.
Nick Swing, this Element's chief engineer, says the certification paperwork has been filed with LEED, which still could take months to process. As you might imagine, given his role, he appreciates the practical benefits of overseeing the workings of an eco-property. At other hotels, he says, he and his staff would be running around changing burnt-out light bulbs, sometimes up to 20 bulbs a day. But he quips that at Element, with so much natural light (from its tall windows), "Now I can't remember even how to change a bulb, it happens so rarely."
He expects to be awarded the silver-level LEED rating in 2015, but adds enthusiastically, ''We're shooting for gold!"
Green from the ground up
While Element Times Square West is certainly not the Big Apple's only green hotel (notable players also include the stylish Crosby Street Hotel in SoHo and the luxe Conrad New York, a Hilton brand), few hotels in this city take a more thorough approach than Element. Built from the ground-up in 2010, its eco-architectural and -design approach was mandated from inception.
Thus you'd expect (and do) find the aforementioned energy-efficient lighting–Element's window-centric design lets in 90 percent of the outside light, reducing the need to illuminate indoor areas with low-flow compact fluorescent light bulbs (and giving guests the benefit of abundant natural light). The hotel's water-efficient fixtures, which include rain-forest showerheads, faucets and dual-flush toilets, save about 942,000 gallons of potable water per year; Green Label Plus-certified carpeting made from post-industrial recycled content and low-emitting materials line the room and corridors; and low-VOC (low off-gassing) paints cover the walls.
Element's tastefully appointed rooms are replete with environmentally conscious furnishings, integrating Forest Stewardship Council (FSC)-certified wood laminates and crafted with eco-sensitive and non-carcinogenic materials (such as recycled metal springs, cushions made partially with soy and pillows made with post-consumer recycled fibers). Greenguard-certified wallcoverings offer an alternative to vinyl backing, and are made with grass clippings and recycled cellulose.
But it's the even more unusual green "elements" that make this hotel really intriguing.
Plastic bottles begone!
In-room recycling containers, for one. Oddly, these are a rather unique feature, as most hotels, even many heavily promoted as green, presume guests don't want to be bothered sorting out their trash. Purified water in the taps is another great surprise, eliminating the need for those all-too-ubiquitous plastic water bottles, which are noticeably … thankfully … absent.
I was also a bit surprised every guest room includes a kitchenette. Really? In New York City, where restaurants of every imaginable type and price level abound? But, yes, indeedy, your room includes everything you'll need for do-it-yourself catering–in addition to counter-tops containing significant recycled content, there's a full complement of cooking and dishware, refrigerator and dishwasher (both Energy Star rated).
Turns out, this is a brand feature that is chain-wide. This location originally thought the kitchenettes would attract longer-term business guests, though in practice it seems cost-conscious international visitors are their biggest users.
Marrying green and value
According to Russell Porter, the hotel's director of sales, the total Element package provides great value for guests by offering not only a way to save on eating out, but also complementary perks like gym access and in-room Wi-Fi. When the hotel opened in 2011, its free bicycle loaners were an innovative plus, offering pedal-powered passage through teeming Manhattan on a first-come, first-served basis. They're still available but have been overshadowed a bit by the city-wide bicycle sharing program started in 2013.
Breakfast also is at no extra charge, and it's tasty though without (unfortunately) any local or organic offerings. The dining room initially provided reusable ceramic plates but I am told a high rate of breakage forced their replacement by disposable paper.
Two perks I particularly enjoy are the fresh fruit in the lobby throughout the day and the free happy hour of beer, wine and snacks in the evenings.
All this for a reasonable (by New York standards) room rate starting at $200 per night. With an occupancy rate of nearly 100 percent after a little more than three years of operation, it would seem that Element Time Square West's approach to marrying green and value has struck the right cord. And if by chance you are looking for an alternative to hotels, you can also check out apartments on House Trip.—Michael Straus, Senior Editor