|
My Brief Tour
|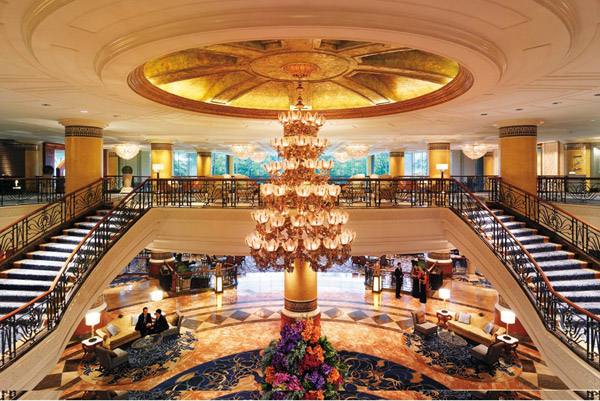 Hailed as one of the world's top eco-tourism destinations, the Philippines and her 7,107 islands offer stunning biodiversity, incomparable diving and pristine white sand beaches from Palawan to Boracay. Yet Manila, the sprawling metropolis that is her capital, poses somewhat more of a challenge for a green-conscious traveler.
Once known as the "pearl of the orient," Manila—a stitched-together aggregation of 16 once-separate cities—has in our time become synonymous with poor air quality and rampant pollution. Fortunately, recent decades have seen multiple public efforts introduced to revitalize and restore some of the city's endangered natural resources, including her storied Manila Bay, even as concerned citizens and enterprising businesses introduce private-sector initiatives.
I'm staying at one of these green-spirited, enterprising businesses, in the heart of a hip Manila neighborhood. The luxurious Makati Shangri-La Hotel has introduced a host of eco-friendly programs in recent years to save natural resources while reducing energy consumption. For these it has received the Association of Southeast Asian Nations (ASEAN) Green Hotel award in 2008 and again in 2010. Shangri-La Hotels and Resorts, which currently owns or manages more than 80 hotels under the Shangri-La brand, was the only Asia-Pacific-based hotel group chosen to be listed on the Dow Jones Sustainability Index in 2013.
A progressive approach
Even hotels hoping to roll out green initiatives, though, are often constrained by the practicalities of working within older buildings, or within a municipality where infrastructure resources may be limited. So sometimes, especially in the developing world, it's the seemingly small improvements that shed light on an underlying progressive approach.
For example: Along with her sister Shangri-La hotels and resorts, the Makati Shangri-La took the bold environmental stand (in Asia) of ceasing to serve shark fin soup, a horribly destructive delicacy. Each year, an estimated 100 million sharks are caught, de-finned and left to die (to learn more, watch the sobering but outstanding documentary film Sharkwater). Soon thereafter, the Shangri-La group also stopped serving other endangered species, including blue fin tuna and Chilean sea bass.
Taking a tour of the hotel's small-but-vibrant rooftop herb garden (where lemongrass, rosemary and mint grow abundantly and which I am told will soon be expanded), I speak with head gardener James Russell, who has been tinkering with innovative natural pest control. Indeed, Russell—a former employee of the government's environmental program—thinks he may have found an effective way to replace toxic pesticides used to control aphids and mosquitos.
To combat aphids, Russell's recipe is quite simple: take 100 cigarette butts (if you've traveled in the Philippines, you know there's no shortage of cigarette butts!), a small piece of hand soap (say, a quarter of a bar—again, no problem, especially in a big hotel) and add them to a quart of water; let the brew steep for 48 hours. Then simply use a spray bottle to squirt the plant leaves as needed. It works!
For mosquitos, Russell sows rows of marigolds, catnip, and citronella on the periphery of the garden, and their strong smell alone is enough to repel the pesky buggers, thereby protecting hotel guests as they sip refreshing San Miguel Pale Pilsen nearby.
Saying hi to M.O.M.
Next morning, with reluctance, I check out, leaving behind the cocooning comfort of the Makati. On my way out, I notice the hotel's gas/electric hybrid Mercedes-Benz S400 parked near the entrance. I'd love to bum a ride, but I'm headed just down the street, to the Legazpi Market.
Always on Sunday, from about 7 a.m.–2 p.m., Legazpi Park (Rufino Street at Legazpi Street), turns into a fabulous outdoor market, the heart of which is Mara's Organic Market (M.O.M.). It's under the visionary leadership of Mara Pardo de Taver, who has not only helped organize organic markets all across the Philippines, but has led the nation's organic trade association. If it's market day when you're in town, don't miss saying hi to M.O.M.
And when you're planning your trip to Manila, be sure to check out Sustainable Manila, a wonderful online resource for organic and sustainable foods.
Quiet weekend, Sofitel-style
My last stop on my all-too-brief tour of Manila is the Sofitel Philippine Plaza Manila, in the Pasay City neighborhood. When I arrive, this hotspot is bustling with activity, hosting four weddings simultaneously and at nearly 70 percent occupancy—a "quiet" weekend, I'm told.
My room's balcony offers views across the Sofitel's lagoon-shaped swimming pool, over a massive sea wall towards Manila Bay and the city skyline. My timing is perfect. I arrive just in time to catch a breathtaking sunset.
That humongous sea wall generally protects the Sofitel from winter flooding, but Andy Martinez, the hotel's head of engineering, later tells me the fury of the 2011 Pedring typhoon (internationally known as Nesat) brought high waves spilling over it and major damage to the ground floor of the Sofitel. Martinez says sea levels have increased significantly since the hotel was built some four decades ago, a major concern for a city so prone to seasonal hurricanes and flooding.
'Clean farming' partners
The flooding necessitated a major reconstruction effort, but what a remodel! The lower floor now houses the jaw-dropping Spiral restaurant, featuring 21 cooking stations that offer a dizzying array of international cuisines to which guests and the community flock, especially on weekends.
Executive Chef Eric Costille, who oversees the culinary program for all 40 Sofitel locations across Asia, including China, recently began developing sustainable food sourcing guidelines for all of them. On the day I speak with him, Chef Eric has, coincidentally, just completed his first company-wide conference call about sustainable foods.
"We want to create guidelines for our hotels in Asia, starting with seasonal products, local resources, 'clean' farming—organic can be very difficult to find—and figuring out how to reduce imports and food miles," Chef Eric says over lunch. "We're looking for farming partners in the Philippines, especially those who are committed to the environment. It's a big project."
Progress and challenges
Sofitel's parent company, Accor Hotels, has designed and begun implementing its own sustainable development initiative called Planet 21, intended to be a comprehensive roadmap to environmental and social sustainability.
Engineer Martinez has already filled me in about progress here in Manila, where the Sofitel has completed required steps in nearly all the 65 energy-saving measures of Planet 21, replacing antiquated air conditioning and control systems, replacing pumps, converting light bulbs from halogen to compact florescent and more. These energy measures are saving the hotel nearly $1 million per year, and Martinez expects to achieve a total return on investment within only two to three years.
Challenges do persist. Martinez cites waste disposal as one of them. Manila has extremely poor infrastructure to handle waste, and that's a fact neither Martinez nor any other local hotelier can do much about.  Still, he plans to personally meet with the waste haulers, to see what improvements can be made.
All too soon, I find myself hopping onto one of Manila's emblematic, awesomely colorful Jeepney buses, on my way to the airport. This visit to the Philippines and its sprawling capital trip has been way too short, but I still come away filled with a quiet sense of inspiration. How can I not, when good people are grappling with the big issues of sustainability, trying their best every day to do right by this fragile island environment and, at the same time, give us great green travel?—Michael Straus, Senior Editor