|
Smell French Fries?
|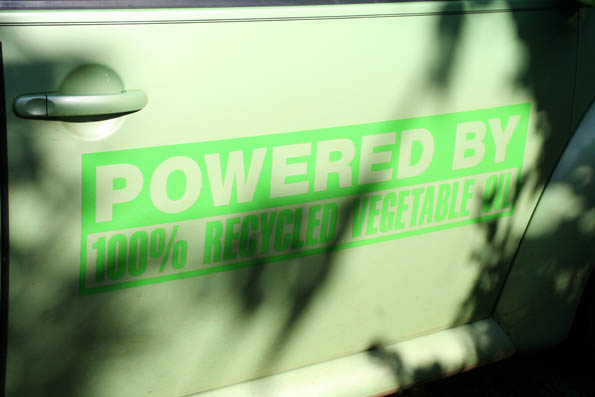 He's a soft-spoken vegetarian who, every day, feeds a herd of feral island cats. Shaun Stenshol doesn't strike you as an eco-warrior. But don't be fooled by the shy smile. This guy means business. As a Greenpeace activist, he once tried to stop a test of a nuclear bomb by riding his bike through the Nevada desert so close to ground zero that the test would be called off. "I delayed testing 45 minutes," he notes with obvious pride. After moving to Maui he tried running for state office on the Green Party ticket. These days he makes less dramatic—but no less important—green waves. Since 2000 he has owned and run Maui Recycling Service, the island's primary commercial recycling hauler and only full-service residential curbside recycling company.
Then, in 2003, he and Pamela Miedtke-Wolf founded Bio-Beetle Eco Rental Cars. They say it's world's first car rental agency dedicated totally to eco-friendly biodiesel- and electric-powered vehicles. All their bio-fueled vehicles run on waste cooking oil and grease collected from Hawaiian restaurants and refined on the island at Pacific Biodiesel (Willie Nelson is an investor). As Shaun declares on the bio-Beetle website, "Our goal is to be the 'greenest,' most environmentally friendly rental car company in the world, and the best all-around rental car company!"
Bio-Beetle is just minutes from the Kahului Airport. (Airport pickup and delivery is free.) Tests show that biodiesel exhaust emits 47% less carbon monoxide and particulate matter than regular diesel, is less toxic than table salt and biodegrades as fast as sugar. Its use decreases our dependence on foreign oil and contributes to our own economy. Bio-Beetle's cars offer great fuel economy (30-45 mpg, or about 500 miles per fill-up), earth-friendly coolants, synthetic engine oil and non-toxic cleaners, and their interiors are leather-free.  For lots of smiles and friendly questions during your Maui stay, ask for a car with big lettering across the driver's door that reads, Powered by 100% recycled vegetable oil.
And, yes, the exhaust does smell kinda like french fries.
Let us guide you to all things green & great in the Aloha State. Download your own copy of our award-winning e-guide, Green Traveler Guides Hawaii. We sleuth out travel you'll love.