Anderson Valley: 'bahl hornin' in America's greenest wine country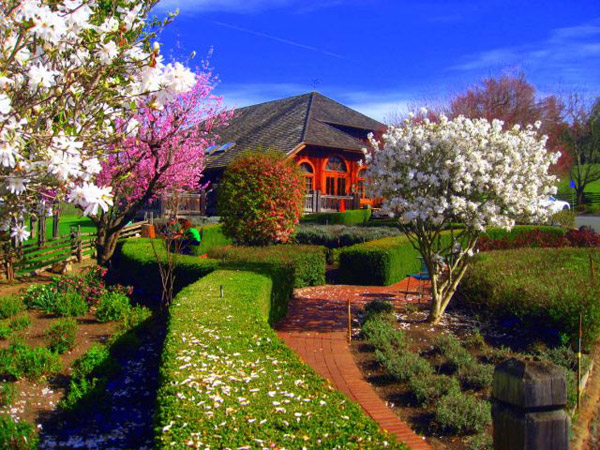 We make it a point to visit a few organic vineyards and farms, too, including the hilltop enclave of Deborah Schatzlein and Cindy Paulson, co-owners and hands-on stewards of their award-winning Bink Wines. With collective degrees in chemistry, biology and environmental engineering, both ladies are staunch advocates of energy efficiency, responsible ecosystem management and small lots of wine with intense flavor and character. As their website puts it, "Bink Wines are deep in color and multi-layered, with a "black ink" quality that is reflected in our name — Bink." Their homestead and vineyard sit on an idyllic 40-acre parcel high up in the Yorkville Highlands, one of Mendocino County's 10 designated appellations.
Their tasting room is housed in The Madrones, a charming Mediterranean-inspired estate just off the highway between Boonville and Philo. Bink is one of four local vintners showcased in the cloistered compound of courtyards and arcades. The complex also offers four artfully appointed guest quarters (where we enjoy a comfortable stay), an art studio, gift shop and casual eatery featuring wood-fired pizzas and daily specialties created with fresh produce from the property's organic garden.
The Madrones showcases the vision, talents and dedication of its congenial and multi-talented owner, James Roberts. An accomplished artist and professional designer, Roberts swapped the corporate world for this more serene and fulfilling lifestyle, a sentiment echoed by many Anderson Valley residents. With equal enthusiasm, he touts his 30-foot-high compost pile and the windows he salvaged from an old warehouse. He hosts classes on his current passions: food preservation, canning, olive oil production, wine sensory evaluation, cheese-making, birding, mushroom foraging, gardening, natural pest management and farm-to-table cooking.
Organic vines = award-winning wines?
Roberts is one of many corporate refugees we met who have joined an eclectic mix of artists, writers, musicians, crafts people and others lured by the area's legendary land-based lifestyles and strong environmental values. Consider, for example, Kit and George Lee, owners and residents of Old Chatham Ranch, a 500-acre historic hillside retreat that dates back to 1856. In 2001 the Lees planted 15 acres of cabernet grapes on a ridge-top site. Their vines are sustainably managed, yielding a limited production of high-quality fruit they sell to selected wineries, including Bink. Kit oversees the production of the estate's award-winning extra virgin olive oil, handcrafted from the fruit of 1,000 trees they planted on the property in the early 1990s and farm organically.
It's George Lee who first informs us that Mendocino County lays claim to being "America's Greenest Wine Region," which is later echoed by Zac Robinson, interim president of Mendocino Winegrowers Inc., an alliance of growers and vintners. Robinson's Husch Vineyards and Winery was the first winery in the Anderson Valley, dating back to the early 1970s, and continues to serve as a role model for earth-friendly winegrowing.  Most of his vineyard is farmed organically, and all of it is certified "fish friendly."
"We don't survey other regions," Robinson tells us, "but we believe that a third of all organic vineyards in California can be found in Mendocino, about three times what you might find in Napa or any other wine region." The county also boasts a disproportionately high number of award-winning vintages. Do organic methods and great wine relate? We like to think so.
Sheep do the mowing
Another notable local winery, Navarro Vineyards, third oldest winery in the Valley, was established in 1972. Offering superior quality at reasonable prices (and no tasting fee),  the estate is one of the loveliest in the area, with manicured grounds splashed in colorful flora and a gorgeous backdrop of gently sloped vineyards and rolling green hills. Most of Navarro's award-winning wines are in the style of Alsatian or Rhone winemaking, and we especially love their pinot noirs  and whites like edelzwicker  and gewürtraminer.
Like many of its wine-growing neighbors, Navarro's family-owned operation is fiercely committed to sustainable farming and winemaking. Vineyard managers avoid the use of synthetic insecticides and herbicides in favor of banding their rows with flowering cover crops that attract beneficial insects to keep pests in check, minimize erosion and provide nutrients to the gravelly loam. Cover crop is "mowed" by a flock of short-legged Babydoll sheep, with help from chickens and geese who also help fertilize the vines. The 90 acres of vineyards are in separately fenced areas to allow mountain lions, deer and other local wildlife to roam over 800 acres of wildlands on the property. As a result, Navarro was the first in the nation to be certified by the Fish Friendly Farming Program, receiving an award for Light Touch Vineyard Development and Operation.
Navarro's herd of Babydoll sheep and goats are key players in the Anderson Valley's first cheese-making company, Pennyroyal Farmstead, headquartered at the family's Boonville farm and open to the public. Here owner Sarah Cahn Bennett (daughter of Navarro owners, Ted Bennett and Sarah Cahn) leads the family's effort to create an innovative, low-input, no-waste farm based on many of the sustainable farming techniques developed at the family winery. Example: the barns, milking parlor and creamery are solar powered and irrigation water comes from stored winter rainfall. Since releasing its first products in the spring of 2012, Pennyroyal's fresh cheeses—try the Boont Corners Tommes—are now offered at some of the Bay Area's finest restaurants and markets.
It's Boontling to us
Boonville is the valley's main gathering spot, with a string of shops and local eateries. The fanciest and best place in town is the Boonville Hotel's Table 128 restaurant, serving an elegant prix fixe menu featuring fresh seasonal products sourced from local growers. We also enjoyed three more of the town's signature dining establishments–Lauren's, Boonville General Store and the newer Aquarelle Café and Wine Bar—offering creative dishes enhanced with farm-to-table ingredients.
The valley's pervasive culinary ethic is perhaps best summed up on the Boonville General Store's menu: "We are dedicated to serving the most delicious food made from the highest- quality ingredients. We make our food from scratch the old-fashioned way with all organic produce, grains and milk. Most of our meats are organic, all are humanely raised without the use of antibiotics or hormones. We don't use items that have been genetically modified, but we do support local farms. In other words, if your grandmother couldn't identify it, we don't want you eating it."
Lucky for us that message is in plain old English instead of Boontling, a quirky, unintelligible jargon created by local residents in the late 19th century. Though mostly lost in the dust of history, the language is kept alive by the iconic Anderson Valley Brewing Company, whose logo slogan, "Bahl Hornin'" means "Good Drinkin'" in Boontling. All their brews are great,  but we're especially partial to the Boont Amber Ale, which balances a hoppy bite with a carmel-y finish. It also should be noted the brewery generates 40 percent of its electricity from solar panels, inspiring the bright starburst wall graphic in the tasting room proclaiming "Solar-Powered Beer." More examples of the company's commitment to the environment can be found in its comprehensive recycling program, a purchasing philosophy that includes using bottle glass made from 50 percent post consumer and 65 percent overall recycled content, and a recent packaging change to aluminum cans, a lighter and more compact option that takes far less energy to recycle than glass.
Yaks and biodynamic fruit
A number of local non-profits promote healthful and nutritious eating habits, including the Anderson Valley Foodshed Group, co-publishers of the Anderson Valley Food Guide and organizers of farm tours, community events, films, educational classes and workshops aimed to "to increase our capacity to grow a diverse, year-long supply of food for all who live here." The group organizes the annual Not-So-Simple Living Fair, a summer weekend festival of hands-on workshops and demonstrations celebrating rural living and homesteading skills staged at Boonville's Mendocino County Fairgrounds.
Referenced as an organic food source on most valley menus, Petit Teton Farm near Yorkville is owned and managed by farmer/artist Nikki Ausschnitt and her partner, ex-corporate attorney Steve Krieg. The couple purchased an old sheep ranch in 2004, expanding the property to 375 acres and adding a licensed commercial kitchen for preparing and canning their harvests. Always energy conscious, they built a gravity-fed water system that incorporates a windmill-powered pump. The farm welcomes visitors who are serious about food, farming, sustainability—and yaks. They keep a small herd, and their youngest yak, born in 2011, lives with the chickens.
No trip to Anderson Valley can conclude without a stop at The Apple Farm, a three-generation family operation near Philo. This same family founded a little fine-dining restaurant in the Napa Valley you may have heard of—The French Laundry—before it was acquired by Thomas Keller. Their farm, a Demeter Certified Biodynamic Farm since 2005, has a postcard-perfect farm stand featuring seasonal fruits (19 varieties of apples, including rare heirlooms like Ashmead's Kernam, an English varietal from the 1700s, and Esopus Spitzenburg, Thomas Jefferson's favorite apple), chutneys, jams and jellies, plus weekend farm stays, cooking classes and hands-on workshops throughout the year. You can find Apple Farm products at the Saturday Farmer's Market in the San Francisco Ferry Building and other select locations throughout the Bay Area.
Whether you go for the wine, the small-town charm, the beauty, the food, the eco-consciousness or all of the above, Anderson Valley is definitely a trip worth taking, especially when you're ready for a break from urban life. But be forewarned… like so many others we met, you may end up yearning to return, live on a farm and learn to speak Boontling.—Linda & Rolly Wahl, Contributing Editors