|
Unspoiled, Low Key
|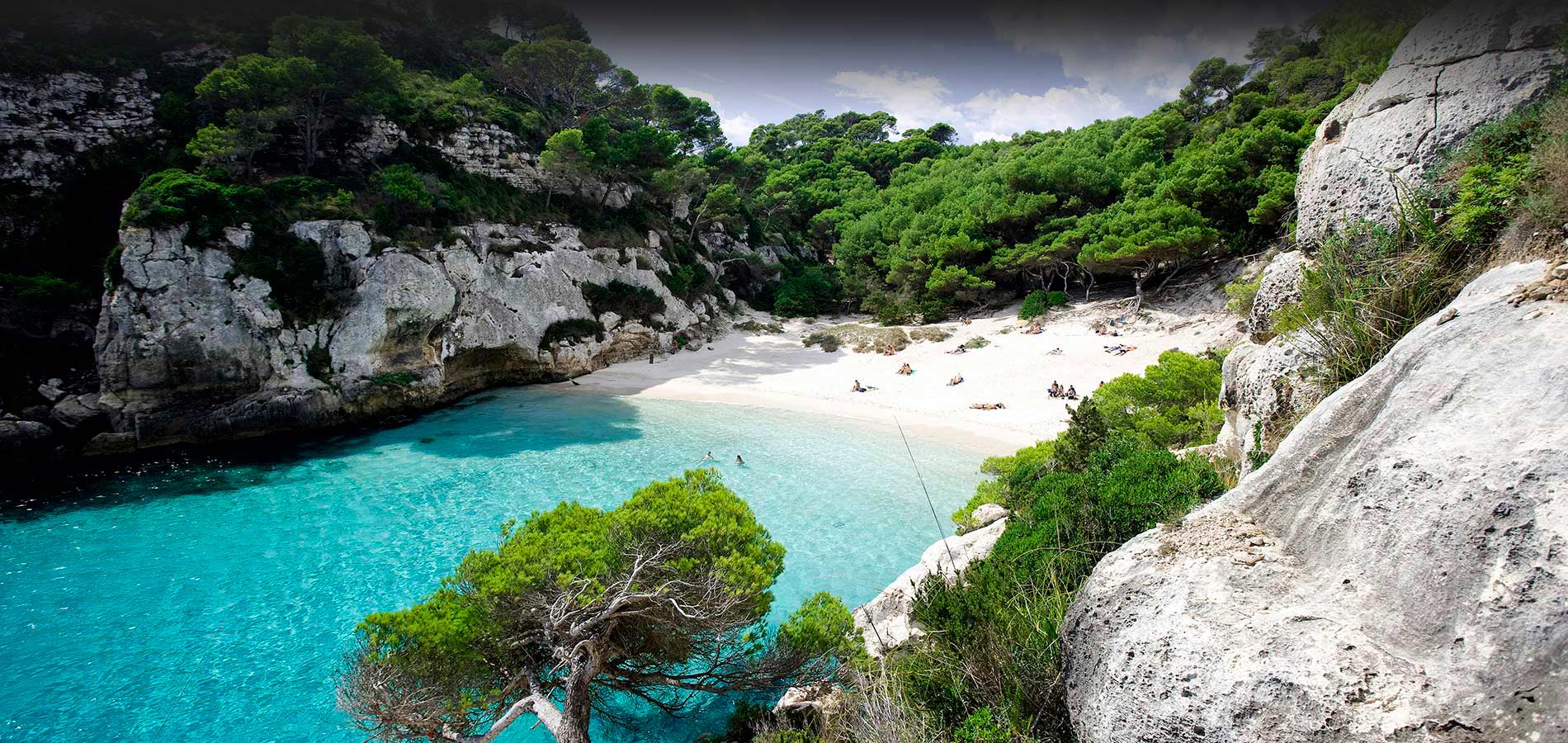 It's high time for Menorca to claim its place as the natural beauty of the Balearic Islands. Too long obscured in the shadows of Mallorca and Ibiza, its jet-setting neighbors of the Spanish Mediterranean, Menorca remains a low-key, largely unspoiled haven for those seeking a rejuvenating getaway focused on eco activities on land and sea.
And for this it has Francisco Franco to thank. To punish the island for refusing to support him during the Spanish Civil War of the 1930s, the fascist dictator refused to send money for infrastructure development. The 435-square-mile island languished largely untouched and unchanged. This turned out to be a blessing, as UNESCO declared all of it a Biosphere Reserve in 1993.
Its natural diversity features a rugged north, with coastal cliffs looming above small, often-empty beaches of red sand; and a flat southern plateau punctuated by plunging wooded ravines and gorges known as barrancs leading to inlets of soft white sand. Some 220 species of birds—including migratory African visitors like Egyptian vultures—and 1,000 species of plants thrive in the gullies, caves, ponds, lagoons and marshes, dunes and islets. The wild olive is the most common tree species on the island. Wild flowers are riotous in spring.
Paradise on a human scale
In all, there are 19 designated areas of special interest and five natural reserves and parks, including a marine reserve.
In other words, Menorca is a paradise for birders, walkers and hikers, cyclists, horseback riders, kayakers, scuba divers and snorkelers. And the scale is quite human. Although it boasts more than 130 miles of coastline, the distance west to east (between the two major towns of Maó and Ciutadella) is less than 30 miles. Fewer than 100,000 residents live here.
Walking trails crisscross the island. Cycling routes lead to areas not accessible by auto, and the Cami de Cavalls, a bridle path which rings the entire island, is tailor made for bikers. Many of the small and pristine beaches are all but inaccessible by land, but in summer they are "discovered" by kayakers and boaters.
Awash in history
At the same time, Menorca is awash in history, with a legacy of megalithic stone monuments that trace to Neolithic prehistory. Strategically situated midway between Marseilles and Tangiers, it's been visited or claimed over the ages by the ancient Phoenicians, the Greeks and Romans. In the 6th century it was part of the Byzantine Empire, and the Muslim Caliphate of Cordoba in the 9th. The Turks attacked in the 16th century. The British ruled from 1708 until 1756, when the French drove them out. Since 1802 it's been a possession of Spain, and both Castilian Spanish and Catalan (as well as a dialect of Catalan with Arab, French and British influences) are spoken.
The island's architecture reflects its Moorish heritage. The cuisine, too, resonates its past—and is distinctly different from mainland Spain and its Balearic neighbors, both typical British holiday destinations. The British, for example, left behind a love of butter and cheese … and gin. That venerable spirit, first distilled for British sailors, continues to be made on the island and is often enjoyed mixed with lemonade.
As UNESCO notes of Menorca, "The biosphere reserve constitutes a rich historical and cultural legacy, expressed in numerous settlements and prehistoric monuments."
Photo: visitmenorca.com