|
Dine Sustainably Con Piacere
|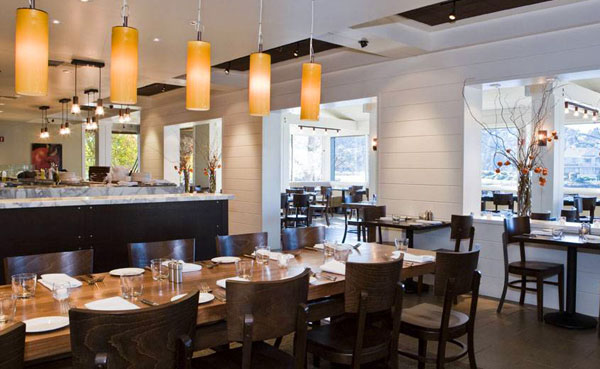 Who doesn't love Italian? This is the first in a series on the best Italian-style green restaurants in northern California.
Todd Shoberg knows what he's doing. For example, he knows how a peach is really supposed to taste—his hometown of Grand Haven, on the shores of Lake Michigan, is famous for them. As a boy, pedaling furiously on his bike, he knew how to eat up the country roads of rural northwestern Michigan (and also where to stop and forage wild blueberries). He was so good on that bike that he eventually became an All-American mountain biker who won a silver at the national collegiate championships, went to the Olympic trials in 2000 and turned pro. These days, he still pedals as often as he can, and it's in one of the best places in America for two wheels—the scenic, serpentine roads and rugged mountain trails of Marin County, north of San Francisco. But his passion has expanded to embrace much more than nose wheelies and granny gears. He's become a chef whose quest to be best is now totally focused on creating very good food at affordable prices from local, organic and sustainable sources. He struts his stuff now at Piatti Ristorante in Mill Valley.
At Piatti, Chef Shoberg's transformed a decent but predictable Italian menu into a locavore's mecca. He's added ever-changing market specials made from whatever's fresh and straight from the farm that day. Like we said, he knows what he's doing, so let the record note that in the process of going green, he has managed not to lose Piatti's longtime customer base; he's kept the beloved Italian stalwarts of antipasti, pizza, pasta—but made them all more interesting, better tasting and better sourced.
He's married to a local cheesemonger's daughter, and they have a young daughter, and mention of this brings a glow to his face on the night we dine. But his Piatti (flagship of eight by the same name in California, Washington and Texas) is definitely his baby, too. When the chef goes to see what the local farmers are selling, he doesn't have a shopping list. He buys what looks good and then figures out what to do with it. As much as 70 percent of the ingredients he uses, he says, are local and organic. Seafood is sustainable—plentiful and wild, caught using sustainable methods or sustainably farmed in open water. Last year he led the charge in making the restaurant certifiably green, with the Marin County Green Business program; that means it adheres to a long list of green practices, like using compostable take-out ware and no plastic bags, and extensive recycling that includes collection of used kitchen oil for biofuel. Wines here include good choices in a barrel-to-table program that pours them through a system which eliminates oxidation as well as the need for corks, foils and bottles.
Served tonight only
We focus on the night's market menu, which is stamped with today's date like a library book. "It's food that I bought this morning at the farmer's market, spent the day handcrafting and am serving only tonight," Chef Shoberg tells us. The five-spice beet and goat cheese "velvet" soup elevates the humble beet into a culinary memory. The risotto is rich and savory, thanks to his addition of thyme-roasted local mushrooms, savoy spinach, bacon, Mt. Tam Triple Cream (a sinfully luxurious cheese made from local organic milk by Marin's award-winning Cowgirl Creamery) and a poached farm egg. Another standout is made-from-scratch stinging nettle tagliatelle with prawns, preserved Meyer lemon and Calabrian chili.
Things are going so well we need to try a few selections from the regular menu, with equally good results. In particular, the gamberi antipasto, plump shrimp subtly redolent of vinegar and smoke from a local adaptation of classic Old Bay seasoning made with California bay laurel the chef grabs on the trail during morning bike rides.
Between bite and sips, we pause to gaze out at Shelter Bay, which looms just off the back dining patio. By day it's a haven for kayakers and rowing shells. At night it's just plain pretty. Chef Shoberg chooses such a moment to reappear at our table. He says he's forgotten to mention he's just volunteered to head up an "eco top chef" program and cooking competition with Teens Turning Green, with the goal of encouraging local middle-school students to transition from conventional to conscious food choices at home and school. And, oh yes, he's also working to help students at a Sausalito school to make great meals from the veggies they grow in their school garden.
Deep local green
Like we said, Piatti's Todd Shoberg knows what he's doing. And we're thrilled what he's doing is a deep shade of local green.