|
Green On A Dry Island
|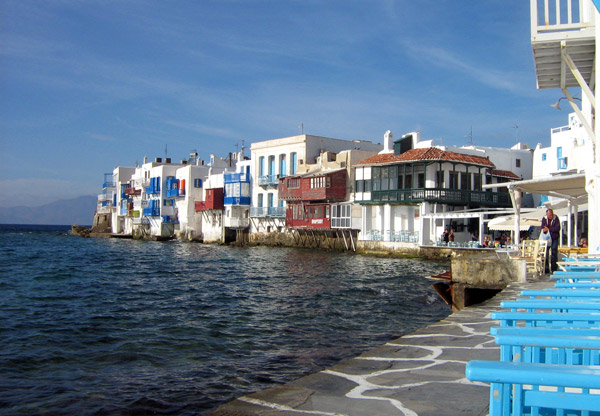 Mykonos. Celebrated island resort of the Cyclades in the Aegean Sea. Famous for its beaches, clear turquoise water, raucous night life, and picture perfect, white-washed buildings with colorful doors—blue, red, green, occasionally yellow. Mykonos is sometimes called the Venice of Greece (because of its rows of fishing houses, some dating to the 18th century, lining the waterfront of the main town, their balconies hanging over the sea), but it could also be the called the Hamptons of Greece as it has too many shops catering to the glitterati of many continents. Even if it's not quite the jetsetting hot spot it once was, it's still overrun with visitors in the summer. I thank the travel gods I have arrived when the tourists are not so thick and the temperature not so hot. Yet I wonder. On this island of sand and scrub and rocks, is there green to be found?
The answer is yes, and to find it you need go no further than a hill just above the popular Mykonos beach of Agios Stefanos. There lies the Rocabella Mykonos Art Hotel & Spa, built in the traditional style of white-washed walls and winding open corridors that mimic the charming alleyways of the island. All is white and light—rooms filled with simple white and off-white furnishings, all with views to the sea through large windows and glass doors. Rocabella Mykonos is Green Key certified, which means it must follow strict guidelines on staff training, recycling, water and energy use. 
Of course I want to stay here, but even in the off season it is full when I arrive. (That says a lot because many hotels on the island are already shuttered for the winter.) Instead my friends and I settle for the best meal any of us had in Greece (after three weeks of tour travel eating in big hotels and tourist restaurants). It is at the Rocabella Mykono's Ergon, an opa! that makes us love this hotel all the more and allows us to celebrate the local artisan food movement in Greece and Mykonos.
A celebrity chef
Ergon serves Greek cuisine sourced only from small farmers and producers in Greece. You are seated around the hotel's pool, which overlooks the sea; at sunset, especially, it is the place to be, and anytime it's a welcome respite from the tourist hordes in Mykonos Town. Ergon Greek Deli & Cuisine is actually a restaurant group and purveyor of fine Greek foods founded by Greece's top celebrity chef, Dimitris Skarmoutsos. The Ergon restaurants offer traditional Greek foods presented in a fresh, contemporary way to give new life to traditional cuisine. They also package and sell local artisanal products. I recommend searching out the Ergon on Mykonos and finding their restaurants and delis wherever you are in Greece or Europe. 
Our dinner, delightful and beautifully presented, still lingers in memory. As appetizers we try the cod roe spread (a take on traditional taramosalata) and the Naxos-style gruyere cheese wrapped as logs coated in carob powder and nuts; both are presented on a slab of black slate. The roe spread is not overly salty and very smooth. The Naxos gruyere is lovely and soft, slightly melted and set off by the carob and nuts. We order a Greek salad as well and, again, it comes beautifully presented with a nice twist on the classic, a hint of basil.
The hit of the evening is the paper-baked rooster with summer vegetables and yogurt, spiced with paprika and fresh herbs. I also have the sea bass, which is lightly sautéed and served on a bed of local greens, which we are told grow all over the island (but no one can translate what they're called into English). No matter. I am thrilled to have local greens as I am suffering withdrawal from the kale in my garden in northern California. The sea bass has a variety of artisan jams at the side—delicious but too much overpowers the delicate fish. The other dish we sample is lamb with housemade orzo cooked in goat's butter and sprinkled with a local mild cheese called mizithra. A little too bland for our taste buds, but good nonetheless.
Help small farmers
We really don't have room for dessert but we're on Mykonos and who can resist? They are traditional Greek spoon sweets. Our waiter tells us this is what his grandma would serve for dessert, a small sweet something that requires a spoon. A bit like a jam but more syrupy and with bigger chunks of fruit or vegetable. You can even have a spoon sweet made from zucchini—everyone around the world has to do something creative with those excess zucchinis, right? Other desserts are served in recycled glass jars and include a chocolate cheese cake, actually more of a mousse than a cake, with crushed digestive biscuits and a chocolate cream with halva and pistachio nuts from the island of Aeguna, as well as puff pastries with cream and rose-flavored ice cream.
In the Rocabella Hotel gift shop you can by Ergon products: olive oils, jams, soaps, nuts and more, all sourced from trusted Greek farmers and producers. We can't resist the rose petal jam (another spoon sweet), and it becomes our new favorite thing. We proceed to put it on everything, absolutely convinced it's the nectar of the gods. We even take jars along with us to our next stop, the island of Naxos, where we pair it with that local gruyere cheese. While on Mykonos, you can also buy local organic and artisan products in at least two small markets that cater to the food-conscious crowd. Finding those stores and buying from them is important. Your dollars will help rebuild a more local and sustainable food system for the Greek islands and keep small farmers in business.—Constance Washburn, Contributing Writer