|
Hacienda Gone Green
|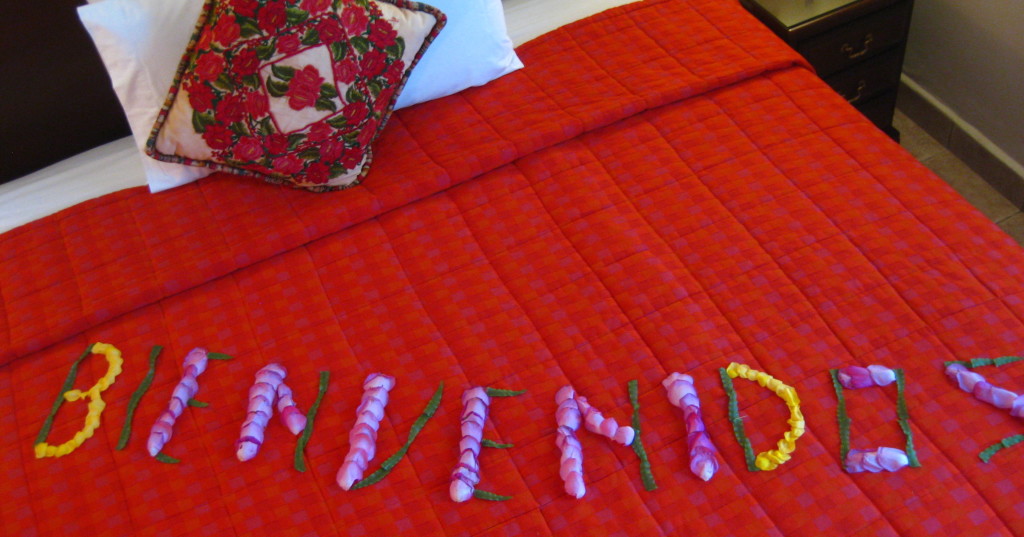 The city of Oaxaca is one of Mexico's great treasures. Renowned as a dining destination—home to the seven moles and eight native food traditions—Oaxaca also famously boasts a historic centro that's a stroller's paradise of lovely colonial architecture, superb artisan crafts made in the outlying pueblos, organic coffee shops and mezcal bars. It's no strictly-for-tourists zone either. Oaxaqueños overflow onto the streets and fill them with processions, parading bands, traditional dance, balloon and street food hawkers, "rocket men" who carry and launch fireworks into the sky… we love it all and could go on and on. But, of course, there are less enthralling aspects: lingering bus fumes on cobblestones designed for horse-drawn carriages, mucho tráfico that plays chicken with pedestrians at intersections, fireworks—sure, we love 'em but not so much at 4 a.m. Even in charming Oaxaca, there comes a need for an oasis of calm and clean air. A place muy tranquilo. And that's why we take refuge in Hotel Hacienda Los Laureles.
It's in San Felipe del Agua, a 10-minute cab ride (for under $3USD) from the centro, in one of the city's best colonias, or residential neighborhoods. In the foothills of Cerro San Felipe, which rises above 11,000 feet and whose rivers and stream provide much of Oaxaca's water, and near Benito Juarez National Park.
Compared to the bustling city it's sleepy. But that's why we're here. In a former hacienda dating to the early 1800s now owned and managed by  Peter and Ligia Kaiser, a gracious German couple with a keen eco-sensibility.
History mingles with luxury
A sense of history mingles effortlessly with the upmarket standards of a luxury hotel. Imposing sixteenth-century Spanish Colonial furnishings of polished wood grace the recepcíon, and we're told the legend of gold and other treasure said to be buried beneath a stone fountain (a not uncommon tactic when wealthy haciendados fled their estates during the Mexican Revolution). There are 200-year-old laurel and cypress trees—one of them enclosed inside a suite—and manicured grounds lush with flora and greenery. As a spa service the hotel boasts one of Oaxaca's few temazcals, a purifying steam bath used in the Zapotec culture that is directed here by a doctor of indigenous and natural medicine.
On a sunny December morning, as we enjoy breakfast at our patio table just outside our elegant quarters (there are only 23 rooms and suites in all), Peter Kaiser introduces himself. He quickly makes it evident he takes a hands-on approach to keeping his hotel green. "I never allow chlorine to be used in cleaning the guest rooms," he declares as we discuss his non-toxic cleaning regimen. "Never," he repeats.
He personally inspects local farms that supply his kitchen, to satisfy himself they use no harmful chemicals. We had already noticed the European-style keycard system that switches off the AC when we leave our room. He's also proud that water from sinks and showers as well as rain water is recycled for garden irrigation, which he says is unique among hotels in Oaxaca. Hot water and the swimming pool are solar heated. He composts and recycles, which, unfortunately, is not the norm here.
Tranquilidad
We breathe deeply.
Nearby, a colorful colibri (hummingbird) flits into equally colorful blossoms. We glance over at the terrace restaurant, where an extended Mexican family and friends are gaily celebrating a child's birthday with special floral arrangements and clusters of pink balloons. We feel immersed in Mexican hospitality and tradition.
There are no fireworks involved.
Ahhhhhh….
Top photo: Our "Bienvenidos" (welcome) in petals and leaves