|
SoCal's Eco-Friendly Oasis
|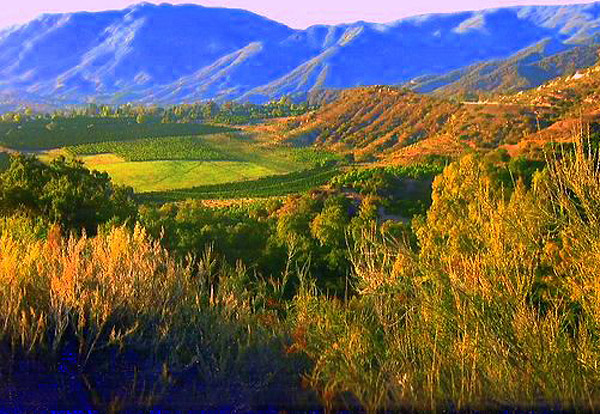 Go to beginning of Ojai article 
More than anything else, though, we love it that the community really gets behind environmental preservation by supporting organizations like the Ojai Valley Defense Fund (OVDF), a non-profit aiding groups who take legal action "to protect and sustain the environmental quality of the Ojai Valley for the public benefit."
It's amazing, in fact, how many environmental battles have been waged—and won— by local citizens groups  like OVDF in this small valley (10 miles long, 3 miles wide) of fewer than 10,000 inhabitants.
Our personal Shangri-La
Always on the lookout for green lodging in our personal Shangri-Las, we're delighted to discover the 47-room Casa Ojai Inn, one the first properties in the area to earn the highest ranking from the state-run California Green Lodging Program by passing a comprehensive eco-audit inspection.
Our "deluxe Eco-room" at Casa Ojai is all we can ask of a moderately priced accommodation—well appointed, clean and comfortable, with noticeable green touches like in-room recycling, energy-efficient lighting, low-flow toilets and shower heads, motion-controlled heating and cooling systems, and bulk toiletries and soap dispensers.
"We're dedicated to healthy, sustainable hospitality with a smile," says the inn's manager Jim Johnson. "Like many of our guests, I want to stay in environmentally sustainable hotels whenever we travel. So we're making every effort to create an eco-friendly experience without sacrificing comfort and service." Among the eco-upgrades Johnson says he's most proud of is the recent conversion of the pool to algaecide-free salt water. Thus eliminating the need for (and cost of) chemicals, as well as being much gentler on skin.
Johnson even offers a five percent discount for guests driving hybrid or electric vehicles. Take a look at the complete list of Casa Ojai Inn's green practices, and we think you'll be impressed.
Pedal power
At check-in, we notice several bikes outside the office with "Casa Ojai" imprinted on rear baskets. They're to encourage guests to leave their cars parked in the lot and rely on pedal power to explore town and beyond.
Other area lodges are doing the same by partnering with the Mob Shop, a bicycle store which also rents bikes and hosts biking tours of the area. It sits near the center of town, in what was a long-abandoned gas station and local eyesore. The store's three owners recycled and reused as many of the original building materials as possible, including transforming hydraulic lift columns into display racks, reclaiming excavated cement for outdoor benches and salvaging old tile for floors, walls and counters. One of these resourceful guys, Tim Rhone, tells us their rental relationship with one local hotel saved more than 4,000 auto miles last year.
Don't feel like pedaling? Check out the shop's new line of electric bikes—even the Ojai PD is trying them out, for officer patrol duty. This new breed of exertion-less bikes, like the iZip eBike or the local Dogleg hybrids, offer emissions-free alternatives for sightseeing around town, or even a trip to the beach 20 miles away.
Unique architectural heritage, great parks & trails
What's to see as you pedal (or glide effortlessly)? Distinctive architecture, for one, in and around the charming Village Center, an alabaster arcade of boutiques specializing in local and ecologically friendly art, design and home improvement.
"We have this unique Mission Revival style of architecture that needs to be maintained," in the words of local architect David Bury, a former mayor and a staunch preservationist. He notes that Ojai's heritage is to be treasured just as much as Pasadena's Craftsman buildings and Santa Barbara's Spanish Revival landmarks.
Ojai's outdoor spaces are also great to hang out in. Oak-filled Libbey Park, which graces the center of town, offers pathways, picnic areas and Libbey Bowl Amphitheater, site of the annual Ojai Music Festival and local concerts throughout the summer.
Sustainable fine dining
It's almost like being in a park amid the gardens, streams and lush foliage at the The Ranch House in Meiners Oaks, a small rural community three miles from downtown Ojai. Founded in 1953 as a vegetarian restaurant, the 60-year-old eatery is not strictly veggie anymore, but it is the most highly regarded fine-dining destination in the valley. Citrus, roses and herbs grow almost within reach of our table on the dining patio. It's quiet here, blissfully peaceful. What a contrast to so many of L.A.'s (or any city's, for that matter) cacophonous culinary settings!
Trendy chefs these days love to crow about their kitchen gardens, but The Ranch House was one of the first restaurants in California to offer fresh herbs and produce directly from its organic garden or from neighboring farms, pioneering "California cuisine" popularized by Alice Waters and others. Longtime chef Stuart Farnham supplements his very local harvest with seasonal produce from local growers, and most of his fresh seafood comes from Santa Monica Seafood Company, a leader in responsibly sourced ocean products. Stuart tells us he's been recycling all the restaurant's glass and aluminum for the past 24 years, often driving loads to the recycling center himself.
The Ranch House is also steeped in Old California history, including the brightly hand-painted vintage furniture by the late Beatrice Wood, a local artist of renown who also supplied handmade pitchers and creamers until her fame spread and her table creations started disappearing into customers' handbags.
Of chocolate and young men
For the last four decades of her life, "Beato" (as she was called) dressed exclusively in bright Indian saris and ample amounts of silver-and-turquoise jewelry, even when throwing pots, with her thick, hip-length hair twisted into braids or a bun. An independent woman inclined to say whatever was on her mind, she famously attributed her longevity to "chocolate and young men" and, just as memorably, titled her 1985 autobiography, "I Shock Myself."
Ah, but we digress.
The Ranch House cuisine did not disappoint. From our shared appetizer, a salad of grilled quail—marinated in red wine, Dijon mustard, fresh thyme from the garden and local honey, then grilled and served on organic baby lettuces—to entrees of free-range chicken (stuffed with wilted spinach, wild mushrooms, Chavrie goat's milk cheese, toasted walnuts and thyme, with a sun-dried tomato pesto and a cranberry tequila glaze) to Sonoma rack of lamb with a pineapple guava chutney. And, yes, there was a vegetarian entrée on the menu, too.
Pretty in pink
Whether it's the wine, the memorable meal or the magical spell Ojai casts, we are mellow to the max by nightfall. And then, to our disbelieving eyes, the Topa Topa Mountains blush like a new bride, and we gasp. We are experiencing what locals refer to as "The Pink Moment," a pretty-in-pink goodbye from the waning sun. It's a sight that's rare throughout the world, we are later told, a phenomenon created by the Ojai Valley's precise east-west orientation.
We sleep the sleep of the young and carefree. And the next morning we travel back to Meiners Oaks for a healthy organic breakfast at The Farmer and the Cook, an unpretentious cafe with a Mexican flair. Steve Sprinkle is "the farmer." He grows much of the produce for the all-organic vegetarian menu. Olivia Chase is "the cook" who brings her kitchen crew to the farm to select fresh ingredients and create new recipes. Produce and more are also for sale in a small on-site organic market.
Muy deliciosa is the how we describe our handmade breakfast burrito—a mixta of farm veggies, cashew-nut cheese and scrambled eggs wrapped in a homemade flour tortilla—and a creative blend of pineapple, carrot, fresh coconut, walnuts and chia seeds in a smoothie called "the carrot cake." The vegan muffins are also very tasty.
Calmed and centered
Sprinkle and Chase also run a Community Supported Agriculture program where members buy a season's share in the farmer's produce with weekly boxes of the harvest.
"When our members pick up on time each week," says Olivia, "they can trust that their produce hasn't been out of the ground or off the stalk for more than five or six hours."
"This is the freshest way to buy produce in the Ojai Valley," adds Steve, "as well as a great way to know your grower, and in doing so, support the local economy, decrease oil dependence, and express your power to build community."
Calmed and centered by our pink and green moments in Ojai, the magnetic center of the earth and a mecca of eco-friendly living, we navigate our hybrid vehicle back onto Hwy. 33 toward the polar opposite environs of the City of Angels—Linda & Rolly Wahl, Contributing Editors.