|
Finding 'Undiscovered' Bali
|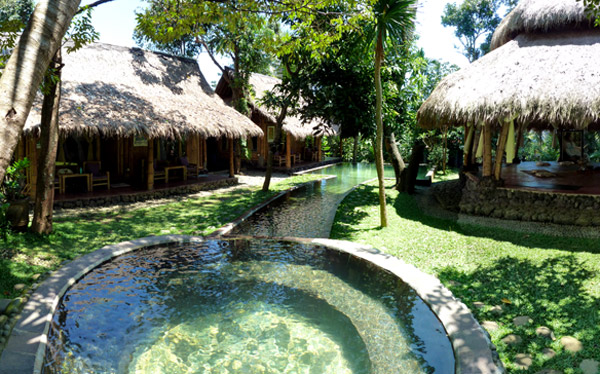 My quest for 'undiscovered' Bali continues. I yearn to be alone in the wilds, with scarcely another tourist within miles, in the Bali of my imagining before it was inundated by outsiders like me. This road trip is to the island's north coast, following rumors of a sweet treat of an eco-retreat, way off the well-beaten track. OMunity Bali awaits.
My old Honda Tiger motorcycle is perfectly suited to the narrow, windy roads (perhaps better than me as its driver, as I manage to hit nearly as many potholes as I dodge). I drive past Mt. Batur, where a midnight hike to the crest of the active volcano gives an unsurpassed, 360-degree view of the island. I drive down, down, down through remote villages where the locals still bathe in irrigation ditches and traffic halts for a cremation procession, replete with truckloads of villagers in their ceremonial white sarongs. Eventually I reach what I hope is Sudaji, the village I seek, said to be nestled amid gently sloping stands of forest and fruit trees, just a few miles inland from the shores of the Bali Sea.
Yet Sudaji remains somehow … elusive. The GPS has long since become utterly and hopelessly lost. Again and again, I stop to ask local villagers. Everyone points in the same general direction, but then come more unmarked, secondary roads, and I begin to worry that OMunity Bali simply doesn't want to be found.
The big idea
Eventually, a local waves me down and I get another embarrassing reminder that I really, really need to practice my language skills. After a combination of my paltry Indonesian, a quasi-pantomime routine and a whole lot of smiles, he somehow, miraculously, understands—and then actually leads me there (which, it turns out, is still way over there, across the river, through the jungle and down yet another series of entirely unmarked "this is a road?" roads).
Casually leaning against a wall, is Zanzan, OMunity Bali's founder, beaming as if a beacon for lost travelers.
He walks me into OMunity Bali, hands me a refreshingly cold, freshly opened coconut, and shares his big idea. OMunity Bali is intended to demonstrate that environmental sustainability and community development go hand-in-hand. Our fields are totally organic, he explains, and at every step, we work with nature to find the best solutions. Sustainable construction, environmental education and clean-up programs with local children, reestablishing tribal crafts—his list is long, and underpinning it all is a quiet but profound desire to help lift his community from poverty while preserving the ecological balance.
Lovely cow houses
The heart of OMunity Bali is what he calls OM Stay, located in Zanzan's own family compound. It consists of four traditionally built bamboo cottages, each about the same size as a local cow house—and intentionally reminiscent of the shed in which Zanzan slept most nights growing up. Having slept in cowsheds myself, I can confirm that these lovely cottages–simply but stylishly decorated–are fit for cows in their dimensions only. The compound is also the central gathering place, with a hand-crafted, octagonal meditation/yoga platform and a lovely spring-fed swimming pool designed around the traditional Hindu symbols of the yoni and lingam.
In addition, OMunity Bali actually boasts another 65 rooms in a unique Om Village designed to raise the economic tide for the entire local community. Many houses in the village have spare bedrooms and suites originally built for children who've since grown up and moved away. Zanzan has identified the best rooms and friendliest host families, and provided each with tasteful furnishings and a housekeeping program. Some rooms include kitchenettes; at others the families offer coffee/tea service. Zanzan proudly notes that here in his eco-retreat, none of the rooms come with TV or telephones (Internet, too, is not readily accessible).
For meals, guests gather in Zanzan's main compound, where his mother, aunt and other local women cook expansive and sumptuous feasts. We say a short prayer of thanks before diving in. His mother watches me like, well, like a mother hawk—refilling my plate and encouraging me to eat more.
"Our guests are part of our family from a long time ago that we never met," Zanzan says during dinner with warmth and sincerity in his gaze.
Zanzan's path
It quickly becomes evident to me much more is at play here than homespun hospitality and a naive desire to save the local economy and ecology. OMunity Bali reflects both experience and spirituality. So it is no surprise to learn that before coming home to create his private green village, Zanzan worked at top Bali resorts like the Ritz-Carlton, Arma and Fivelements. Along the way, he pursued a personal path to enlightenment, dedicated to the teachings of Sai Baba, Peter Foss and Sri Chimnoy, the India-born Nobel Peace Prize laureate and spiritual master who encouraged selfless service. The influence of these spiritual teachers can be felt throughout OMunity Bali and even in the most casual conversations with Zanzan. (At one point, he mentions that his name was created to connote balance, as the letters themselves represent the extremes and middle of the alphabet, which he prefers written as ZANZAN, in all caps, to "symbolize a strong vision of balance and sustainability.")
The next day we set off to explore. First, to the Sudaji waterfalls. They await at the bottom of nearly 400 stairs—magnificently isolated, a pristine series of seven waterfalls, some 300 feet high. I can't wait to jump under the cascading avalanche of water. There, I fight against the pounding force to prolong the sensation for just another minute. This is the pure and natural Bali I'd hoped for.
Then we ride our motorcycles to the edge of the community, across the narrowest rice paddy paths, where I struggle between driving too slowly and losing balance, and going too fast and losing control (a harrowing, roof-top motorcycle chase scene in Skyfall, the latest James Bond movie, reminds me to postpone, at least temporarily, an alternate career as a stunt driver). Eventually emerging onto dirt paths that lead us to even more remote mountainside villages. We come to an ancient pre-Hindu animist temple, likely dating back millennia. I'm about to open the metal gates to enter, but Zanzan stops me, pointing to the handful of rice grass innocuously tied in a bunch across the gates. "Someone has recently died here, and the grass is a sign for all to stay out."
Like Ubud used to be
Zanzan believes this region will eventually become a haven for spirituality seekers wanting quiet and serenity, "like Ubud used to be, years ago." In his initial research into his community's history, he is both encouraged and mystified. "Why do our villages have such powerful names?" Zanzan asks as he rattles them off: Sudaji (Holy Knowledge), Sekumpul (Unity), Bebetin (Quality), Menyali (Brightness) and Sawan (Wisdom). "There is holy knowledge here—the names are just the gateway to unseen synergies. We're asking the elders and reading ancient texts to see what we can discover."
As everywhere in Bali, Sudaji has her mystical undertones and merely awaits an opportunity to reveal her mysteries, if only slightly.
Case in point: Zanzan tells the remarkable story of his infancy. His mother gave birth to four boys, all of whom died within a short time for no apparent reason. "When my mother was pregnant with me, my father was so distraught that he was preparing to destroy the family temple if I died," Zanzan says. Then, the local priests advised that, to save the child, his father should wrap the newborn Zanzan with white cotton, put him in an intersection of the road, and leave him there without saying anything to anyone.
Desperate, his parents followed the priests' advice. His grandparents found infant Zanzan and raised him as their own until the age of twelve. Later, his real parents, encouraged that Zanzan was thriving, conceived again. Days after being born, that boy, too, died mysteriously.
"The priests told my parents the energy field between them was so strong that nothing could survive."
Preserving the future
Looking out from OMunity Bali, the Sudaji temple is visible on a distant, often cloud-shrouded mountaintop. The slopes leading to her are covered with old-growth bamboo, teak and candlenut trees, which the community has made a concerted effort to protect. In 2007, Sudaji won the top national award for conservation, presented by the President of Indonesia himself.
Zanzan points to another mountainside, this one painfully eroded. Uncontrolled clear-cutting by other communities has left the region vulnerable to erosion, landslides and flooding. Indeed, as we walk through rice paddies to the river where Zanzan played and bathed as a kid (and still does, he tells me), there is stark evidence of massive flooding: building-size boulders and walls of mud lifted, destroying three bridges, acres of crops and re-routing the river itself. Zanzan leads community efforts to restore a riverside fresh-water spring and Hindu temple, and wants to install new systems to keep the river clean to provide more easily accessible drinking water for the village.
Back in the OM Stay, pointing to some fruit trees, Zanzan recalls a conversation with his now-deceased father from years ago. "Why are you planting those trees, Dad? You are so old, you will never see the fruit." His father replied, "This is not for me, this is for my grandchildren." I'm struck by the similarity between Zanzan and his father.
Preparing to leave after my all-too-brief visit, I turn to Zanzan. "By the way," I ask, "have you considered putting street signs out, to make OMunity Bali easier to find?" "No," he says, laughing hard. "We don't have signs on purpose … that way, visitors have to meet the locals!"—Michael Straus, Senior Editor