|
Staying Green & Local
|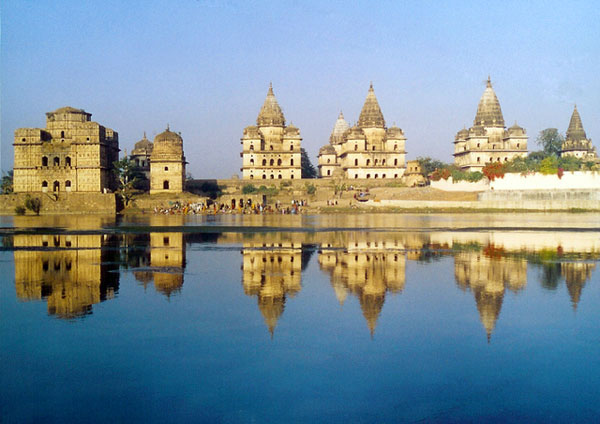 I have a hot lead on a green home stay (and a very cool community organization that fosters them) in the dusty central India town of Orchha. And so with my travel buddy Canada Mike, I hop a local bus and hit the road.
Located in Madhya Pradesh state, Orchha is sandwiched between two much better-known destinations—the famously erotic and often kinky Kama Sutra sculptures of Khajuraho, and  the exquisite 16th-century fortress city of Gwalior (where the Hollywood movie Singularity, starring Josh Harknett, is being filmed. Canada Mike and I lurch along on our bus, blissfully unaware that we'll soon be enticed into playing the role of … well, stay tuned).
This once-sleepy region of India has exploded with tourism. Even Indians, who usually vacation on their western coastline or in the northern desert and mountains, began to arrive after the arrest of the Bandit Queen—a low-caste peasant turned gang leader who became an international legend for fighting class-based injustice and abuse of women.
Attention it deserves
After years of anonymity, Orchha (pop. 10,000) is also attracting its share of the curious. As we discover, it richly deserves the attention. Founded in 1501, Orchha boasts magnificent temple and fortress ruins, in its bustling downtown and along the Betwa River. Here, Rama, the Hindu lord of virtue, is revered as a god and a king, due to a strange series of events in which a palace was "transformed" into a temple. A nightly sound-and-light show inside these fortress walls helps illuminate the tale and the city's rise to glory.
When you visit, enjoy the town's sights and sounds and then head for a little hamlet on the outskirts where Friends of Orchha awaits your arrival. It's about ten minutes' walk from the magnificent Lakshmi temple-fortress (which boasts a 360-degree view of the entire valley). What, you ask, is Friends of Orchha? Nothing less than a vitally important non-governmental organization (NGO, or in American terminology, an international non-profit) masquerading as a home stay that offers more than a clean, green place to spend the night.
It was founded in 2006 by Indian-born sociologist Asha D'Souza and her Dutch husband, anthropologist and documentary film-maker Louk Vreeswijk, just as Orchha was emerging from a terrible drought. Those fortunate enough to be living in the heart of town could benefit from the growing tourist economy, but too many in poor neighborhoods on the periphery struggled below the poverty line, with very few options available.
Income and cultural exchange
D'Souza and Vreeswijk gathered together a core group of these poverty-plagued women. After numerous meetings they agreed to create a new home-stay program, which would not only offer income for participating families, but would also provide a rich opportunity for cultural exchange for both villagers and their guests.
We find our home-stay house, and step inside. As promised, it's spotless. A cooler hums noisily, for which we're grateful on this blistering hot day. We kick back and chill after the day's journey, but as great as that feels, the real highlight is yet to come—sharing our evening meal with the host family. You are encouraged to do so, and the additional cost is about US$1.50 for dinner. Some families speak little English, but Friends of Orchha will gladly provide an interpreter if you want. In our case we managed just fine with a combination of gestures and a few simple English and Hindi phrases. We feel totally welcome—like honored guests, in fact. Sitting cross-legged on a blanket on the ground, we watch the mother and three daughters prepare the repast—a wonderfully aromatic thali of lentils, curried vegetables, basmati rice and fresh, hot chapati bread. I'm really famished, and it's delicious. But I do remember to curtail my appetite, recalling that when eating with a traditional Indian family, the women who serve the food will wait until the guests and the men of the house are finished before they eat whatever's left-over.
In a relatively short time, Friends of Orchha has grown to five home-stay houses. Using a revolving loan fund, participating families build guest housing using green building techniques that vastly reduce energy consumption. They install state-of-the-art composting toilets. These need no water source, and composted waste provides high-quality natural fertilizer, as well as bio-gas to replace wood for cooking (reducing deforestation).
Designed to succeed
The loan repayment process is designed to succeed. For each night a guest stays, the home-stay family earns 20% of the room rate directly. Another 20% pays for housekeeping, booking and management. The remaining 60% automatically pays off the zero-interest construction loan. If the rooms are unoccupied, loan payments simply stop until more guests show up. Besides, the family gets the whole amount charged for meals. The economic benefits of the home-stay enterprise have been spectacular—thanks to it, all the host families have more than doubled their incomes. The extra cash has served to repair leaking roofs, keep their kids in school, set up other small businesses.
Friends of Orchha supports a number of other community services, too: a youth center which merges education, sports, theater and activities to combat caste discrimination; local entrepreneurial development (including the training of local women to make paper bags from handmade paper to replace the scourge of plastic, which currently despoils the countryside); and plans for a municipal waste facility to compost, recycle and vastly reduce solid-waste landfill.
Mike and I are loving Orchha and our green accommodations, and we decide to spend at least a few more nights here. But there's that old John Lennon line … something about adjusting to Plan B. It happens like this: We're sitting at a café near the palace. Suddenly we are approached by a stranger. Remember that Hollywood film being shot in nearby Gwalior? A scout from its crew has found us, and almost before we know it, we're signed on to perform in front of the camera.
Memories of Orchha
I'm going to be an 18th‑century British general.
Yes, they are desperate for extras. BUT … I come all the way to India to find my fame and fortune on the Silver Screen! And it's a paying gig.
I love traveling.
I also love green heroes who care enough to create something like Friends of Orchha … and who give green travelers like me and Mike much more than a healthy, safe place to sleep: because of them, our memories of this ancient place include a warm welcome from a grateful local family. Update: Friends of Orchha anticipates management changes will take place in 2012. Check their website for updates to their Home Stay program.—Michael Straus, Contributing Editor