|
Greening in PV
|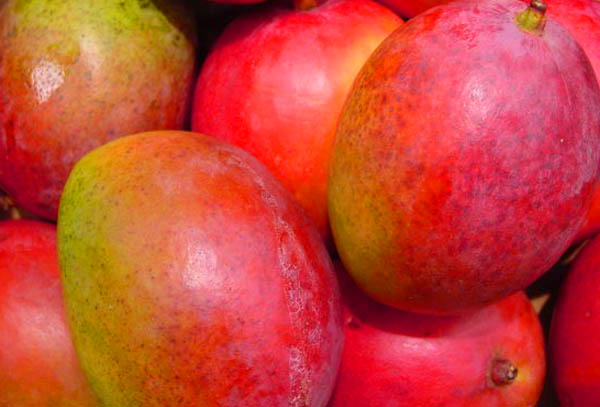 It's mango mania around Puerto Vallarta, on Mexico's central Pacific coast. Everywhere—mangoes, mangoes, mangoes. Awash in mangoes. Un problema fantastico!  In the early mornings where we're staying, first I skim a flotilla of delicate coconut palm flowers floating in the pool, and scoop out chlorinated land crabs big as salad plates, up to a dozen a day. Then it's mango time. There's our handsome tree … no sprays, no fertilizer … ahhhh, creamy, incomparably sweet, organic mangoes. If I can get to them before the happy-happy-sing-sing birds; before the meter-long, iridescent-green iguana who leaves the mango skins hollowed out like gourds, the big stringy-hairy seeds obscenely at their sides. 
We gobble the ripe mangoes in thick slices, juices sluicing down our faces. We load mango onto our ensalada mixta, cut it up with other local fruit. We make mango salsa, mango marmalada, mango nieve … a creamy rich Mexican-style sorbet. Que problema! Too many mangoes! Before, we could not have imagined this problem. Now, we crave an apple. A pear. Proving once again that too much of anything is … too much.
At least we know our mangoes are organic, even if they aren't certified or anything.
La Problema Mexicana
Not so with fruits and veggies at the local fruterias. Visitors may assume industrial agriculture has not invaded developing countries such as Mexico.
Wrong.
If anything, the pesticides and fertilizers banned in the so-called First World may still be sold in much of the rest of the world.
And so, for green travelers, the big Mexican problema is not the much-maligned Moctezuma's revenge.
La Problema Organica
La problema to which we refer is eating organic in Mexico. It's not that the stuff isn't grown here. Organic farming and ranching are big business in Mexico, and growing fast. But almost all these products are shipped to el norte, the U.S. and Canadian markets, where demand and prices are higher. Domestic demand is growing, too, but is being choked by lack of supply. So when you see the occasional organic item listed on your Puerto Vallarta restaurant's menu—salads, mostly—order it, of course, but go the extra step of thanking the manager or chef for caring about the health of their customers, the environment, the farm workers.
When you order fish, go local—around PV, that would include varieties like huachinango (red snapper) and dorado (mahi mahi), which are netted by fishing families in small boats. Oysters are wild harvested. Local shrimp, well, they're more dicey: during the fall and winter season, wild shrimp (potentially good, if by-catch issues are successfully resolved) are harvested, but the rest of the year your shrimp is almost certainly pond farmed about 2 hours north, in and around San Blas (not good, because of mangrove and other wildlife habitat destruction and, in some cases, dubious aquaculture practices).
Is the Water Safe?

Restaurants here are required by law now to use purified water to wash produce, in ice cubes and for drinking. Most do, and if you get sick, it's usually a hygiene issue—be careful with that street food! We've traveled extensively in Mexico, and in recent years have never gotten sick from a restaurant meal (knock on madera). We do eat the salads, except in the most basic of places, non-tourist places. Granted, we also do our research. We're fussy when it comes to what we put in our bellies. Unless we have no choice, seldom do we just walk into a place we haven't read about or had recommended to us. If we must, then the litmus tests are: is it busy with other customers? What does the food look like on their plates? Is the place clean-looking (the baños are always a good indicator)?
Buy Organic Here
In Puerto Vallarta, the sole organic item usually stocked by regular supermarkets is almost always coffee. Look for Peñita de Occidente Café,  excellent organic beans grown and roasted in nearby Nayarit. PV's lonely retail vanguard for organic food (as well as a few health and beauty products) is a tiny shop in Old Town (Zona Romántico): Organic Superfoods, 509 Venustiano Carranza. Stop by even if you're not cooking where you're staying—who can resist organic coconut ice cream on the half-shell? A hand-made chocolate turtle? If you're in need of organic groceries, you will find frozen buffalo burger patties … gluten-free products … eggs and dairy … and much more. Including vegetarian and vegan items.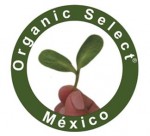 But there's an even easier way. We're talking weekly delivery right to your door. Organic Select Mexico is a "community-supported agricultural grass roots movement," a local business of Mexican and North American families headed up by Oregonian Krystal Frost, who has spent years seeking out local and regional organic growers, interviewing producers and locating high-quality regional products, including its own urban organic garden. All to bring you flavorful, pesticide-free produce, flours, eggs, chicken, beef, breads and muffins, even prepared foods. Residents pay a yearly fee, but it's waived for visitors—with a minimum order, which you can place online up to 4 days before delivery.
Buen provecho orgánico!