|
New Chef Shines
|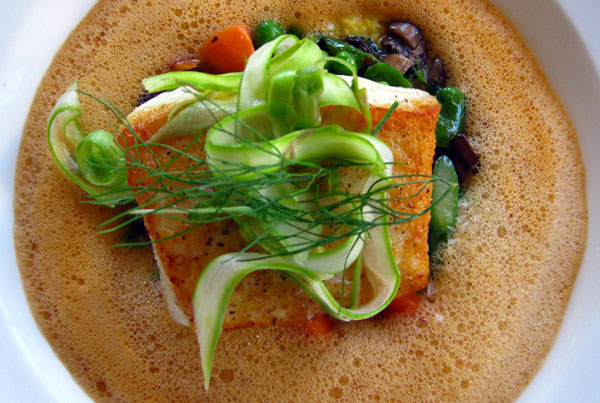 It's a lovely evening, and the tourists are trolling the sidewalks of Sonoma around the city's delightful, leafy square. They're looking for a place to eat, and so are we. Not that Sonoma is short on dining options, not at all. It has plenty of those. But when you narrow your search to establishments that focus on seasonal, local and organic in ways that are both interesting and earth-friendly, well, then your choices contract. On this night we decide to return to an old favorite, El Dorado Kitchen. A new man by the name of Armando Navarro has recently begun presiding over EDK's cuisine, so we're not sure just what to expect. We're hoping Chef Armando is the new golden boy who can win over our green dining hearts.
When we last reviewed EDK and the El Dorado Hotel in which it is located, we loved it. Justin Everett was the executive chef then, and earlier this year he left to take over Sausalito's Murray Circle. After an extensive search, Chef Armando was hired to take his place.
The dining room is the same as we remember it. Dark wood tones give it warmth, and spare, modern accents lend sophistication. In the center of the room, a 21-foot-long communal table was fashioned from a single wood plank reclaimed from a Vermont bridge. An outdoor courtyard allows diners to enjoy a meal under fig trees, but we are pleased to be seated near the wall of windows that let in light and the streetscape. It also affords good views to goings-on in the open kitchen.
Before ordering, questions
An unobtrusive young man named Ryan introduces himself as our server. It will turn out that he guides us well through our evening, particularly when it comes to pairing our food choices with the wine list, on which Sonoma's younger, smaller wineries predominate. As we sip triple-filtered house water, we peruse the cocktail list; most are inventions of the house, another good sign.
Before ordering, we ask a few questions. A competent chef can make any food taste good, but it takes a conscious chef to create exceptional fare from whatever the terroir yields (rather than from what the wholesale purveyors can truck and fly in from hither and yon). We are immediately reassured. All fish on the menu are wild caught, we are told, and a local fisherman lugs in his halibut and salmon in a saltwater slurry. Chicken is organic and raised humanely in nearby Petaluma. Pork is also local, and in certain times of the year comes from a Santa Rosa farmer who mates his sows with wild boar to intensify the flavors. Lamb is from a Napa producer who delivers in a pickup. "When it comes to the proteins, everything comes in whole," notes Treg Finney, the new general manager at EDK, whose experience spans more than two decades at prestigious San Francisco and Wine Country restaurants. We sense a a commitment and dedication that is in line with El Dorado's overall eco-friendly green initiatives.
Chef Armando's own story is even more impressive. He left Mexico in the 1980s, leaving his family behind to pursue a profession and secure a future. He was drawn to the restaurant scene, which reminded him of the emphasis on food and work he grew up with on his family's ranch. Beginning at the bottom, he worked his way through several kitchens, then enrolled in the Napa Valley Cooking School in 1995. That led to a line position at renowned Auberge du Soleil in Napa's Rutherford, where he worked his way up to executive sous chef. He wanted to go even further, and so he apprenticed in New York City at such culinary icons as Le Bernardin, Jean Georges, Daniel Boulud and The Essex House. Then, back in the Bay Area, he worked at Jardiniere, was executive sous chef at Masa's and chef du cuisine at Redd, in Yountville. Before coming to Sonoma, he was also executive chef at The Larkspur Restaurant in Vail, Colorado.
The story that counts
His food, though, is the only story that counts. It does not disappoint. Farm-driven, earthy yet elevated, complex yet straightforward. Dishes that showcase the essence of seasonal produce, with flavor combinations that are subtle and not assertive. Spicing is a hint, not a hit. We start with a chilled corn soup with dungeness crab, corn salsa, sliced almonds and a drizzle of chili oil. Delicious even with just a touch of cream (thickening is mostly from the corn starch). The fried green tomato appetizer is equally good, and enjoyed even more when we learn the tomatoes are from the biodynamic gardens at Imagery Estates Winery in Glen Ellen.
Often, even at the best restaurants, we find the starters more adventuresome and memorable than the mains, but here the entrees trump. An ample tasting of Napa spring lamb is served as tenderloin, a "lollipop chop" and loin. "It's taking the same thing, but making something completely different out of it—each with their own unique flavor profiles and textures," Navarro says later. "It gives me the opportunity to show a variety of interpretations to a single item just by preparing it differently." As wonderful and tender as the lamb is, the halibut in a rich lobster emulsion with corn pudding, asparagus and fava beans is off the charts. It goes beautifully with a roussane from the Carneros district, as does the lamb with a pinot noir from the Russian River Valley.
We're feeling pretty sated by now, but who can resist at least sharing a dessert? We decide on the cherry parfait, a paen to the classic assembled from flourless chocolate cake, coconut mousse and chocolate sorbet. "Yum" just about sums it up.
The café option
Chef Armando's sustainable and satisfying cuisine can also be enjoyed at the hotel's  "European-style café," El Dorado Corner Café & Wine Bar, where he's offering breakfast treats like duck confit hash with poached eggs and small bites at lunch like wagyu beef carpaccio with fingerling potato chips and truffle aioli.
Will we visit El Dorado Kitchen again when we're in Sonoma? You bet. Indeed, green dining like this is worth a special trip.