|
Green Travel News
|
With more than 50 million visitors each year, Orlando is one of the world's most popular vacation and business travel destinations. Green Destination Orlando wants to make Orlando the "leading green destination in the world" by creating a completely sustainable loop that never breaks from the moment visitors step off the plane, including local transportation, where they stay, what they do (be it a conference or family vacation) and back again to the airport.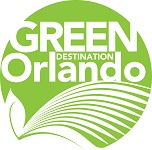 The U.S. Green Building Council (USGBC), Central Florida Chapter, announced the launch of Green Destination Orlando after a successful pilot program. According to USGBC's Dina Belon, the program was created to answer increasing inquiries from meeting planners who wanted real and verifiable documentation of local sustainability efforts to help them make green choices.
Pilot participants included a cross section of hotels, convention centers, retail stores, restaurants and theme parks. These included Rosen Shingle Creek, Hilton Orlando, Peabody Orlando, Universal Orlando, Pointe Orlando and the Orange County Convention Center. All are leaders in Orlando-area green building operations, notes Belon.
Participating businesses must demonstrate ongoing improvement year over year until achieving the highest—Evergreen—designation.