Green Traveler Guides goes prime time with Reuters
Media giant syndicates award-winning green travel website
Green Traveler Guides today becomes the only green travel website to have its content syndicated by Reuters, the world's largest international multimedia news provider. All Green Traveler Guides content is now republished on Reuters Business Traveler, a new web channel on Reuters' website.
Green Traveler Guides, based in California's San Francisco Bay Area, is an award-winning website launched in 2008 that seeks out and reviews the world's best earth-friendly travel.
"Naturally, we are delighted to have our content picked up by a media giant like Reuters," said Gary Diedrichs, co-publisher and editorial director of Green Traveler Guides. "We look forward to introducing ourselves—and the great green travel we write about—to a vastly larger audience around the world as a result."
Green Traveler Guides is unique among green travel websites in that it only recommends eco-friendly travel it has researched and experienced. Its wide-ranging content, written by experienced travel journalists and green experts, features articles on everything from the best green lodging, restaurants, shopping and experiences around the globe to general advice on how to travel green to timely green travel news.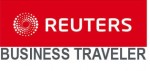 "We spent months looking for the best business travel blogs in the world," said Peter Myers, editor of Reuters Business Traveler. "Green Traveler Guides is easily one of the very best blogs focused on traveling green we've ever seen—and we reviewed thousands!" Myers praised Green Traveler Guides as "a stunningly comprehensive, professional and helpful blog for anyone at all interested in traveling in an eco-friendly manner." Among other factors he cited for its inclusion on Reuters Business Traveler are its worldwide breadth of coverage and "tips that are perfect for those who want to be more responsible in where they choose to stay and how they choose to travel."
Reuters, the news and media division of Thomson Reuters, touches more than 1 billion people a day with its real-time, high-impact, multimedia news and information services to newspapers, television and cable networks, radio stations and websites.
2/8 /2011