|
Eco-Friendly Greece
|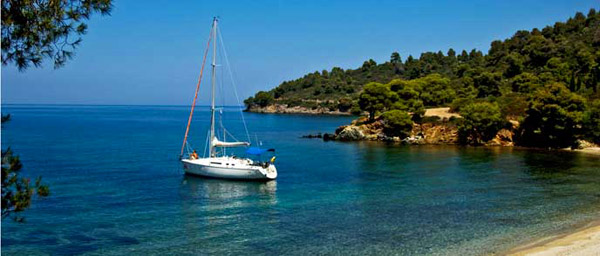 The Peloponnese, a region of southern mainland Greece, offers a wonderful variety of experiences and adventures for visitors. There are historical towns like Mycenae and Epidavros, for instance. And only a few hundred yards off the Peloponnese coast, Poros was the home of Poseidon and remains of the Temple of Poseidon can still be seen. At the southern tip of the Pelopennese peninsula is Spetses, much of which is covered with pines planted in the 19th century; the island is a favorite getaway for Athenians, who give it a stylish air. Tucked away at the top of the Argolic Gulf is Navplion, the first capital of modern Greece and dominated by a Venetian citadel which affords spectacular views on a clear day.
While most tourists rely on package tours to explore this part of Greece, there is another, quite incredible way to experience this destination's wonders—by chartered boat. Sailing around the Peloponnese gives you access to secluded harbors and anchorages that land-locked travelers never see, plus an unparalleled look at this naturally beautiful coastline.
Best of all from a green perspective, sailing is intrinsically more eco-friendly than overland travel (assuming you ask your crew to stay under sail as much as possible rather than resorting to engine cruising).
Choosing the right yacht charter company is key to greener sailing, of course. In the Peloponnese, look for charter companies that will take you to different out-of-the-way places each day, places which then enjoy the extra revenue generated by your visit. Shopping for groceries and eating out at the local tavernas in each port of call is an integral part of the social aspect of a sustainable sailing holiday, especially in today's economically challenged Greece. The best companies make sure their sailing guests are supplied with a handbook of tips on how to help preserve the unspoiled locations you will sail in. And it should also detail how your crew will do its part by, for instance, reusing old materials (turning old yacht ropes into mooring lines for dinghies or old sailcloth into laundry bags). Other green sailing basics:
Minimizing quantities of soap and detergent sent overboard from sinks, showers, clothes washing and onboard cleaning;
Using environmentally friendly products: soaps, cleaning materials, toilet paper, bags and so on;
Never throwing rubbish overboard (keeping all of it for correct disposal onshore);
Reducing speed in sensitive areas—excessive wake can disturb bird nests, erode the shoreline and damage vegetation;
Making sure there are no reefs or sensitive areas when you drop anchor.
A final suggestion: ask if the operator's yachts are registered under the Greek flag. Not only does this benefit the local economy, it signals that this company is serious about cementing good relations with the Greek community.
Off the boat, try to make a little time for other green adventures. Here are three of the best in the Peloponnese:
Bungee the Corinth Canal. It's considered one of the best bungee plunges in the world, and it's in the north-east Peloponnese. Go for it if you dare!
Cycling is a fabulous way to discover what the Greek mainland has to offer, particularly along the region's winery routes—the perfect way to learn why the Peloponnese wine country is gaining worldwide admiration;
Hiking the Neda Gorge will be a highlight of any Peloponnese visit and, with nearly 10 miles of trail, you decide how challenging to make it.
Bottom line: Take full advantage of your opportunity to get to know the beautiful, historic Peloponnese. As you'll discover, it's a Greek treasure quite different from the far-flung islands and the congested metropolis of Athens. Opa!