|
Green Travel News
|
With more than 5 million visitors from around the world expected in San Francisco for the drama of the America's Cup 2013, both the city and organizers of the sailing world's most prestigious event are promising it will be the greenest in its history—and as cutting edge in sustainability practice and education as the sleek, high-tech craft that will vie for the coveted cup.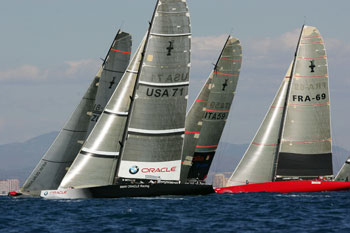 For the first time in memory, competing boats will be easily viewable on shore instead of only by boat or helicopter. In anticipation of this, the San Francisco Port Commission has announced a new zero-waste policy for major events. Banned from sale are single-use plastic bottles (not only for water but also for carbonated and flavored-water drinks), plastic bags or utensils that aren't compostable, and the "intentional release of balloons." Anyone who knows the city's often-breezy shores can appreciate why: trash is easily blown aloft and into the bay.
Spectators, says Jill Savery, head of sustainability for the America's Cup, will be encouraged to bring reusable water bottles. "Our ambition is to be able to provide water refilling stations to the public." She adds that her goal is nothing less than a "model sustainable event." The city's new mandates, she adds, are "in line with the plans and strategies that we've been developing for the last year."
Bicycling will be promoted as the best way to get along the waterfront during the races. Proposals under consideration include a bike-share program, park-and-ride lots where visitors can park their cars and pedal the rest of the way, and secure valet bike parking lots. Bike entrepreneurs will also likely pop up to rent two-wheeled transport to spectators. On big event days, the plan calls for temporarily designating an existing lane along the Embarcadero, the city's main waterfront avenue, as a bicycle-only space. Leah Shahum of the San Francisco Bicycle Coalition is urging city leaders to take advantage of this opportunity to pilot a permanent, dedicated bikeway on the thoroughfare—the EmBIKEadero. "It's a low-cost, easy way to reconnect people with the waterfront and offer an unparalleled biking experience," she wrote in the San Francisco Bay Guardian.
Then there is the America's Cup Healthy Oceans Project—a global initiative to educate the world's populations about the issues facing our oceans and inspire them to act. This massive educational outreach is intended to raise awareness of pollution and marine sustainability issues.
In late January the America's Cup Event Authority released a 50+ page sustainability plan. It defines a "sustainable event" as one that minimizes "negative event impacts (such as air pollution from spectator travel or spectator waste) and maximizes event benefits (such as habitat preservation and promoting new green technologies) now and into the future."