|
Amamos los verdes
|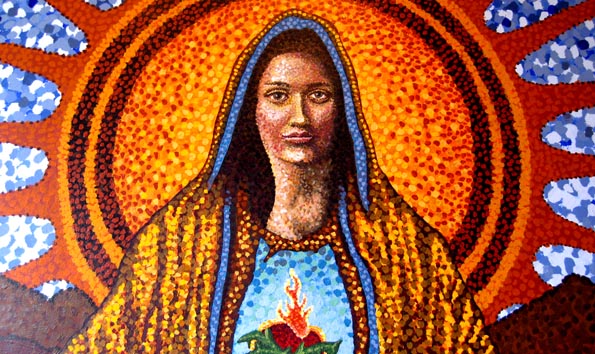 We love Mexican food. Who doesn't? What we typically wonder when salivating for a Mexican meal in a restaurant, though, is: where exactly does this stuff come from?
At its highest expressions, south-of-the-border cuisine can, of course, be as subtle and complex as an Octavio Paz poem. But like other American "ethnic" fare, Mexican for most of us primarily means plentiful and cheap, whether the establishment is a latter-day Chi-Chi's or a neighborhood madre-y-padre joint. That means "don't ask, don't tell" when it comes to the sourcing for what's tucked inside that humongous burrito or beneath the oozing melted cheese on that groaning platter of brownish-red goopy stuff.
Happily, we see signs of positive change. At least in northern California's Bay Area, which is finally beginning to extend its standing as the greenest food city in the country beyond the food high temples like Chez Panisse and its many farmers' market-driven bistros. And so in case you haven't yet met them, we'd like to introduce you now to San Francisco's pair of muy sabroso (very tasty) organic Mexicans.
The little sister

Nopalito is just marking a first birthday. A "vibrant neighborhood Mexican kitchen" that celebrates the "traditional cookery of Mexico … utilizing our philosophy of purchasing local, organic and sustainable ingredients," she's also wordplay times 2. Her name refers to the slices of nopal (cactus leaf) used in Mexican cooking and is also a clever nod to nearby NOPA ("north of the panhandle")—her widely acclaimed bigger sister (she'll be 4 this year) who specializes in organic wood-fired cuisine.
Nopalito's setting is  simple and spare, and lunch and dinner are first-come, first-served, 7 days a week (there's even free parking). The full menu is available to go from a take-out counter. But what the kitchen turns out is anything but Taco Bell. The masa for tortillas and tamales is house-ground from organic corn. Chorizo sausage and queso fresco (fresh white cheese) are made there. Slow-cooked rustic dishes like birria de chivo (goat stewed in chilis, chocolate, roasted tomato, pinquito beans, spices) and pozole rojo (a stew of pork shoulder, hominy corn and chile mulato) vie for your appetite along with blue corn quesadillas, adobo-seared fish tacos and panucho de pollo al pibil (a black bean-stuffed tortilla with citrus-achiote chicken).
Accompany these or any other tempting choice with a Dupont "Foret" organic Belgian ale or juicy sustainable chardonnay from Sedna in Napa or housemade organic almond horchata, and you'll be in green, green Mexico.
Vegan Mex

Now let's head over to the heart of Hispanic San Francisco, the Mission District. There, Matthew and Terces Engelhart, founders and owners of the several organic and vegan Café Gratitudes in the Bay Area, have recently birthed Gracias Madre, which is 100% organic Mexican, but also totally vegan. All "cheeses," milks and ice creams are made using nuts. Tortillas and tamales are handmade from non-GMO organic heirloom corn, some of which is grown on the Engelhart's Be Love Farm in Pleasants Valley, east of Sacramento. The majority of the produce served here is also from this 0rganic and biodynamic farm.
Terces, it seems, has had a lifelong love affair with Mexican.  In the late '70s, she created and managed what she says was the very first Mexican restaurant in the whole state of Pennsylvania—driving all the way to Virginia to buy her fresh corn tortillas.  On their farm, she loves making vegan Mexican meals for the farm family, using her own corn grinder and tortilla press. The Engelharts noticed that their Cafe Gratitude crew loved Mexican food, too, but that nowhere in the Bay Area was there a Mexican restaurant that was organic, vegan and non-GMO. So they created Gracias Madre.
It's a handsome space on Mission Avenue, just north of 18th Street, that's also open every day, lunch through dinner. The entryway is presided over by an amazing mural of Our Lady of Guadalupe completed with the help of students from Mission High School. Inside, art by local Mission artists enlivens the walls.
What a wonderful world?
When we visited one late afternoon, gringos made up most of the clientele. But there was one lively table of Spanish-speaking locals, and they seemed to be enjoying a vegan take on classic dishes like chile relleno (roasted poblano chile stuffed with squash, epazote and cashew cheese) and enchiladas con molé rojo (molé enchiladas topped with mushrooms and cashew cheese). Maybe, like us, they favor the lighter, healthier flavors. Not that you can't indulge yourself here: In the something-sweet realm, the Mexican wedding cookies are outstanding, and it's hard to believe that silken flan is wholly dairy-free.
At Gracias Madre, all wines and beers are organic or biodynamic, and the ginger ale and lemonade are housemade.
We can only hope that, soon, our other ethnic favorites will follow the Mexicans' lead. Imagine organic Thai … Indian … Vietnamese … Chinese … what a wonderful world that would be. A final note. Our Mexican duo does not disappoint in yet another expectation: They are not expensive. Neither prices an entrada (entree) above $15 (most are $11–$13), and antojitos (appetizers) start at or under $5. Fantástico.