|
The Power of Dos
|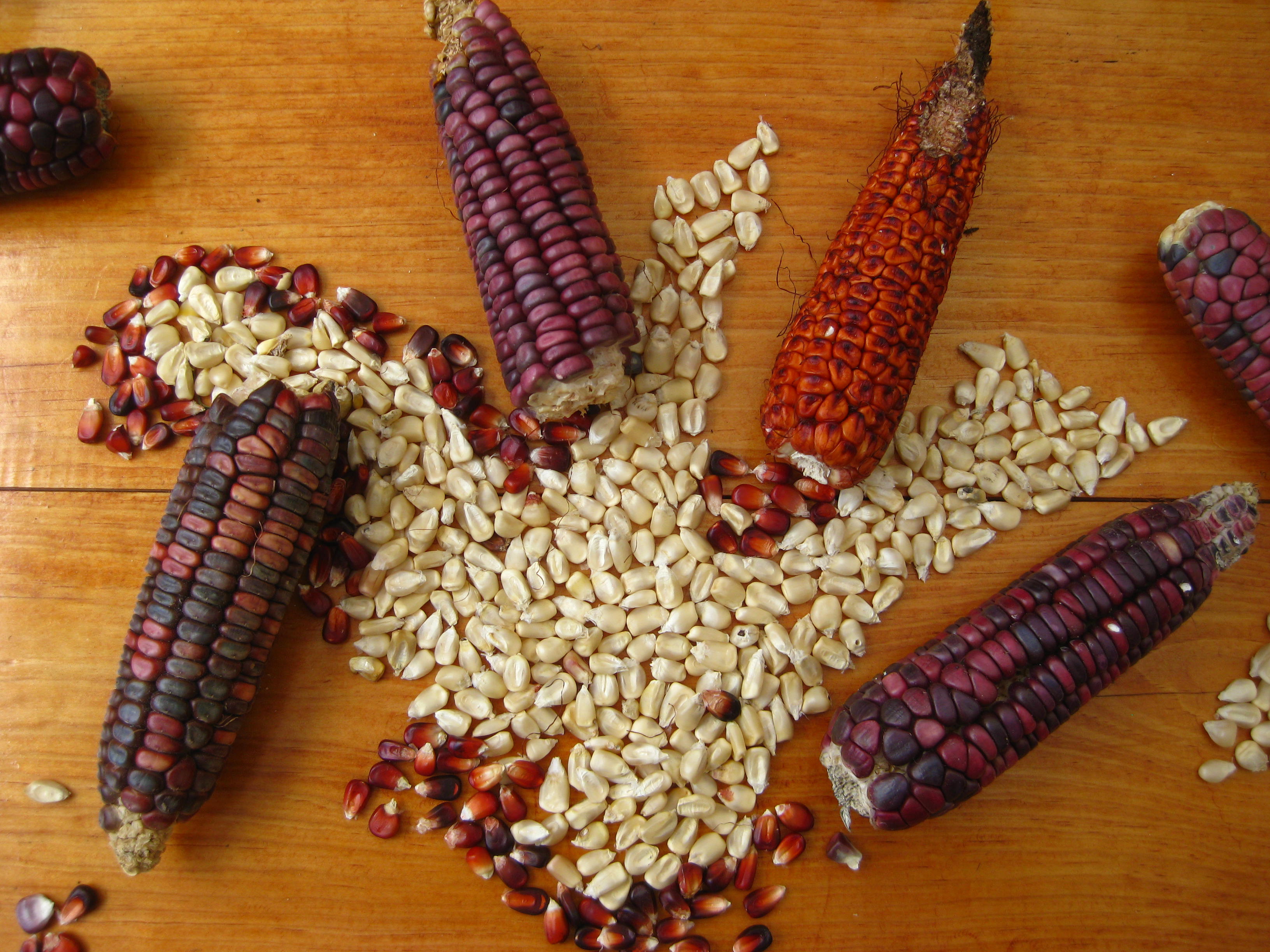 It's our first day back at our favorite place in central Mexico, and our rental's fridge yawns empty.The weekly organic tianguis—biggest and, in our opinion, finest organic farmers market in the entire country—is still a few days away. So the go-to today in San Miguel de Allende is definitely Via Organica. We've written previously about this impressive nonprofit that's a market, café and more, and whose lofty mission is to "promote healthy eating and a sustainable future through regenerative organic agriculture, fair trade, social justice, sustainable life and protecting the planet." It's in Colonia Guadalupe just above the centro. Locals shop and eat here (most of them gringo expats but, increasingly, also upwardly mobile Mexicans) because they know the fresh fruit, veggies and meats are from nearby farms that, while not all certified organic, tend to their GMO-free crops and animals without resorting to Monsanto or other toxic agricultural chemicals.
Well, guess what. We luck into the culmination of a week-long celebration of heritage maiz. Wow, how perfect for Via Organica—especially in the wake of this year's terrible court ruling (after 93 appeals by the biotech industry) that overturned a Mexican ban on the planting of GMO corn because of its "risk of imminent harm to the environment." The intermingling of the people and cultures of Mesoamerica with this ancient native cereal grass cannot be separated or underestimated. The oldest pre-hispanic civilizations, from the Olmec and Teotihuacan in Mexico to the Inca and Quechua in the Andes of South America, were molded by its domestication and use.The spread of bioengineered corn threatens this ancient heritage.
And so today the short calle of Margarito Ledesma outside the store has been transformed into an homage to criollo (pure and clean) maiz and a mercadito rural, a gathering of very small local farmers and artisan food producers curated by Via Organica, is underway.
Indomitable Rosana  
And in the middle of it all, as usual when it comes to advocating for sustainable living in San Miguel and beyond, is the indomitable Rosana Alvarez. She has one of those smiles that makes you want to hug her. So we do. She tells us she's trying to encourage these farmers, to show them there is a market for their healthy but hard labors that will pay them a premium even if they are not certified organic.Whenever this San Miguel native is romping through the surrounding campo, she's always on the lookout for the little casa with an avocado tree or a nice patch of backyard tomatoes. "I ask, 'Do you use chemicals?' If they say no, I tell them, 'Why don't you bring the extra fruit to us, to sell at Via Organica?'" She says she hopes to make the mercadito rural a regular event, to help these farmers who can't get into the weekly tianguis.
Typical Rosana. She thinks small when it helps the little guys who are good growers. She thinks big when there's a big country and a big world to be saved.
And she's just one half of the San Miguel equation. Her husband of 30 years, Roger D. Jones, is equally visionary. We find that out during a memorable day on horseback. More on that in a moment. For now, know that, together, they are Mexico's Señora y Señor Verde. Mrs. and Mr. Green.
"My real business"
Via Organica has always been more than a place to shop and eat. It was formed in 2009 as the Mexican sister organization of Organic Consumers Association (OCA), a Minnesota-based consumer protection and advocacy group that is the largest network of organic consumers in the United States. Rosana is president of Via Organica and on the OCA staff. The nonprofit she directs here gets involved in all sorts of educational projects related to local organic agriculture and the regional economy. It participates in international networks like Millions Against Monsanto. And in Mexican coalitions like Without Corn There Is No Country and the Parliamentary Front Against Hunger.
A few days later Rosana enthusiastically shows off "my real business": a lovely, eco-friendly (but of course) boutique hotel called Casa Angelitos high on a hillside, with panoramic views from terraces and balconies down to San Miguel's colonial, cobblestoned centro. Almost everywhere you look there are exquisite Mexican handicrafts and art. (Roger takes a collection of fine Mexican artisanship north each year to sell in his native Massachusetts.) Casa Angelitos has only nine guestrooms, on multiple levels, each one different and lovely. She and Roger built the place themselves and have operated the hotel for more than two decades.They often host visiting musicians, artists and dignitaries from the U.S. and around the world—soulful San Miguel entices an endless stream.
We're rendezvousing with Roger at Casa Angelitos for a day of adventure sponsored by Via Organica. First, a visit to their organic farm, Via Rancho Ecological and Organic Education Center, a few minutes out of town. Along the drive Roger is Roger—bubbling over with ideas on positive solutions to intractable environmental problems, bubbling over with an unaffected joy of life.
Mount up!
He paints a word picture of wooing Rosana as they were holding hands as novios in El Jardin de San Miguel back before the tourists had discovered it, dreaming of a beautiful future together.The angelic-faced, towheaded Roger; the brown-skinned, beautiful Rosana of the huggable smile.They were the Rainbow Generation before it had a name.
At the farm we see firsthand the innovative mission:"fighting climate change, environmental degradation and rural poverty through training in regenerative organic agriculture, eco-technologies and the union of farmers, consumers and activists from around the country." It offers educational tours and workshops, a conference center, green buildings, reforestation, heritage seed saving and regenerative agriculture. Recognize that last one? It means organic farming that renews the soil and does not deplete it. Among the demonstration projects underway here is the creation and use of biochar, a 2,000 year-old practice that converts agricultural waste into a dark, crumbly soil enhancer that can hold carbon and increase soil biodiversity.
Then the real fun begins. Roger calls his posse together and we mount up."We're going to a village so remote the Mexican Revolution couldn't find it." he says, and he may not be joking.We jounce along goat and mule trails, the hills of Los Picachos hovering on the horizon, watching campesinos ready fields for the planting of garbanzos with horse-drawn plows.The clippety-clop of the horses. Fresh breezes and glorious vistas. It feels good. Until the painted gelding riden by Harry, a former Puerto Vallarta bar owner, decides to stretch his legs. My own mare, a feisty runt of the litter, won't be bested. Off she gallops, hellbent for leather down a rough stone incline. Hat flies off. We do not. Somehow.
Moments later, though it seems more like eons, the mare responds to our frantic tugging of the reins. She slows to a crawl, and all is well. We take a deep breath, the hat is returned—and we have one more travel tale.
Pulque, anyone?
The afternoon is capped by a memorable Mexican meal, in the aforesaid forgotten village, prepared by a señora who is addicted to the Food Channel. (Apparently, TV satellite dishes have penetrated where the revolution failed.) Our comida is accompanied by copious amounts of her surprisingly refreshing, homebrewed pulque, a lightly alcoholic beverage made from the fermented sap of the maguey plant. We're told some of the best pulque in the country is made in this region, and Rosana is working to elevate its status as an artisan product.
The ride back is wonderfully uneventful. Still slightly soused, we then readily agree to Roger's suggestion that we sally forth to La Joyita, his sustainable park & eco-retreat. Why not? We've come to trust he could have any number of fantastic surprises up his sleeve. Leaving the paved road after a time, we climb a stony track in his SUV, up up up, finally arriving at his dream. The mountainous setting could not be more breathtaking. We eagerly survey the rudiments of what he hopes will be a sustainable community of like-minded eco- and nature-enthusiasts in an off-the-grid community. His enthusiasm is contagious. Even if it's a hell of a long and bumpy way back down to Via Organica to buy a loaf of bread, we can almost envision giving it a go.
All in all, it's a truly remarkable day. You can have one like it, too—Via Organica offers farm tours and horseback rides among its monthly events.
Off to Paris
A few days later, in the midst trying to arrange another get-together, we find a Facebook message from Roger in our inbox. Rosana is off to Paris. Why? To join the world's most dedicated environmental activists to demand substantive change from the delegates at the United Nations Climate Change Conference.
"It's rumored she'll be rooming with Vandana Shiva," Roger slyly says. It seems Rosana and the Indian environmentalist and anti-GMO crusader "hit it off the last time they met."
Of course they did.