|
A New Eco-Hotel in a Revitalized Arts District
|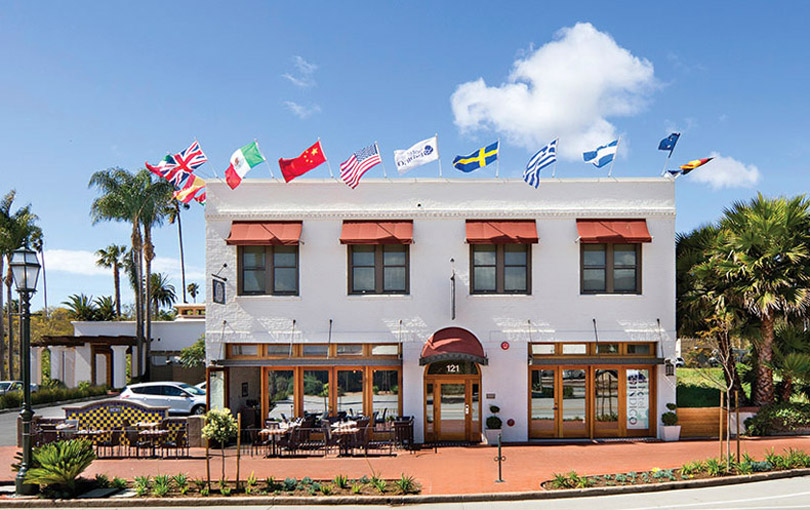 I grew up an hour south of Santa Barbara, and have lived there twice over the last two decades. At risk of dating myself, during that stretch of time I've witnessed a staggering amount of change and development on this self-proclaimed "American Riviera." Both good and bad. While it still has its sleepy moments and neighborhoods, it's not the Santa Barbara I grew up with, and, ultimately, I moved away for the second time in late 2006 (returning to the mountains of Colorado), because I felt the proverbial sun had set on this Riviera. As a food and travel writer focused on sustainability issues, I scratched my head over why this wealthy city with such a sophisticated visitor base didn't have a dining scene or green hospitality movement to match. This, in a region known worldwide for its family farms, wine and seafood. (Its small fleet of generational fishermen use sustainable catch methods and other superlative marine resource management practices). But I'm happy to report this tale has a new beginning … and it's very cool and very green and called Hotel Indigo.
Forgive me. My enthusiasm is showing, and I'm getting ahead of my story.
As I was saying, I never regretted leaving … until two months ago, on my most recent visit. It seems that while I was playing in the snow, something has happened. A group of enterprising developers, architects, designers and restaurateurs saw the gaping hole in this international tourist destination: they decided to fill it with green construction and businesses, and a non-corporate-driven hospitality industry. Starting in 2013, they began zeroing in on grotty lower State Street's half-assed Funk Zone, bent on transforming this desolate beachfront railroad district into a world-class representation of local agriculture, art, green renovation and indie businesses. Anchoring the entire makeover is three-year-old Hotel Indigo. Santa Barbara's only eco-hotel is a sexy, stylish, affordable 41-room property, housed in a 1912 former Amtrak employee building across the tracks from the bustling and renovated train station and a mere block-and-a-half from the beach.
 Santa Barbara then and now
Growing up outside of Santa Barbara in the '70s and early '80s, I knew it as a sleepy country town. My parents used to make the drive to visit Jedlicka's Saddlery (still there), because we lived on a small ranch. We'd always stop for brunch at El Paseo (still there, since 1922), captivated by the 1826 adobe complex's open interior courtyard covered with netting to keep the birds out. I lived for their Monte Cristo sandwich, and the inevitable postprandial stroll along State Street (which grew increasingly sketchy as you walked west toward the railroad tracks). Many of the Spanish Colonial Revival storefronts we passed in those days were empty, and in varying stages of decay. It wasn't unusual to see one or two guys riding horseback—this is before Highway 101 bypassed the town, and instead bottle-necked on lower State, where it ended at historic Stearn's Wharf. The Santa Barbara Mission off upper State—a regal National Historic Landmark dating to 1786 as part of the mission chain stretching the length of California's El Camino Real— attracted loads of tourists and school groups, but the nearby guest amenities were mostly limited to grim motels (rental by the hour optional). There were notable exceptions, of course, like the famed 1920s resort El Encanto, Montecito Inn and the San Ysidro Ranch.
Today, Santa Barbara is effectively a suburb of L.A., by which I mean it's packed with high-end, on-trend boutiques, chain eateries, and yoga and Pilates studios, and a surplus of Botoxed, boob-jobbed and overly-toned, -tweaked, and -tanned bodies. State Street is thronged with tourists. After my last move, I decided that, for me, Santa Barbara was like a weekend fling. I didn't want to date it, but I certainly loved spending a weekend enjoying its aesthetic charms and binging at my favorite taquerias (Lily's, and Rincon Alteno, FYI).
Santa Barbara has long been ahead of its time with regard to historical preservation. After the devastating 1925 earthquake, the city enacted strict building codes requiring all new structures in the downtown core to be Spanish Colonial Revival style; there are also height and sign requirements. These laws are still enforced, as a way to protect the city's considerable cultural heritage and crowd-drawing mountain and ocean views. In the mid-'90s, when the area gentrified, downtown kept its curbside charm but blithely cast off independent businesses. I'll never forget the uproar when The Earthling—a landmark indie bookstore—went under after big box competitors opened down the street. This incident proved a harbinger of a grim era in Santa Barbara's history that saw the shuttering of many of its most historic, beloved places: Mel's Bar, Jimmy's Oriental Garden, Tom's Toys. It was painful to watch. Although I love the city, quality of life and climate, I fled back to Colorado, dismayed by the lack of a legit dining scene that could enable me to earn a living as a food journalist. I was also totally over the L.A. types who had led me to leave Southern California in the first place.
Hotel Indigo kickstarts the new era
Still, I miss the architecture and easy, beachy way of life and look forward to my yearly reunions. Preparing for my visit this past October, I found Hotel Indigo's website, and its intriguing billing as an "environmentally friendly, upscale boutique brand offering hip, affordable accommodations for style-minded clientele." There are 64 international Indigo properties, all managed by InterContinental Hotels Group and all different in design to "reflect the culture, character and history of the surrounding neighborhood."
Santa Barbara's Hotel Indigo is independently owned by a local entity, Santa Barbara Beach House Hotel, LP.  I recall the two-story adobe building well—for years, it moldered on the corner of State and Yanonali, most recently as a dingy "residence hotel," and a sad reminder of the city's formerly glorious era of rail travel when the space had rooms with shared baths for Amtrak employees. Construction of  Highway 101 killed off rail travel for generations; fortunately, it's now revived (in part because its lower carbon footprint but also because it can be cheaper and much less stressful than driving). Amtrak's popular Pacific Surfliner route provides gorgeous coastal views and allows bikes, making Santa Barbara—and the Indigo—a popular, affordable getaway for L.A. and S.F. staycationeers.
A multi-million-dollar renovation turned the neglected Spanish Colonial into Santa Barbara's first legit eco- and art-hotel. Explains Daniel Alvarado, the gregarious general manager who helped open the place, "We wanted to keep a smaller, space-efficient footprint because people don't come to Santa Barbara to stay in their rooms." Despite their cozy square footage, however, the guest rooms boast a clean, airy, modern style, enhanced by hardwood floors, eggshell-colored walls and glossy, white-tiled, Euro-style bathrooms with collapsible glass-wall showers and minimalist furnishings. Pops of color are added via textiles and photographic murals by a local artist. There's also free WiFi, iHome stations and flat-screen TVs. All rooms are different, with those on the eastern side featuring original exposed brick, adding an unexpected and appealing rustic vibe. There are 13 lower-level accommodations with private outdoor gardens. A public outdoor lounge on the second floor affords views of downtown against the backdrop of the Santa Ynez Mountains.
The Indigo is the beating heart of Santa Barbara's thriving new arts district, which isn't coincidence. The hotel is a satellite space for the Museum of Contemporary Art Santa Barbara, and features rotating exhibits (even if you're not a guest, it's worth dropping by to check them out). It's also set up for green exploration: Free cruiser bikes for guests, as well as discounts for those who arrive car-free (part of its alliance with the of the Santa Barbara Car Free initiative). It's also extremely pet-friendly.
The Indigo is more than just a place for out-of-towners, however. Locals flock to lower State for consulting Peruvian chef Ricardo Zarate's menu at Indigo's Blue Tavern (note that the celebrated L.A.-area chef  is only the vision-setter here). Open for breakfast, lunch and dinner, it's also a favorite local's happy hour hangout, known for its creative, Latin-inspired cocktails. Folks also love the light- and art-filled lobby, as well as the upstairs library, stocked with hundreds of books, many on contemporary art. The focal point amid the gleaming blonde hardwood floors and wall art is a giant living wall, off-set by a skylight.  It's one of the few hotels I've visited where you actually want to hang out in the hallway, because it's such a pleasant, soothing space.
Eco-initiatives for a new era
Shall we enumerate the eco-design features? OK, for starters: double-pane windows, energy-efficient lighting, water-conserving bathrooms, on-demand water heaters. There's drip irrigation for the drought-tolerant landscaping, and Blue Tavern composts and sources locally as much as possible. There's no bottled water; instead, the hotel sells branded stainless bottles and refillable, reverse-osmosis water options ("Our guests are very active," notes Alvarado.  There are no to-go cups "because they just end up in the trash.").
Perhaps most impressive for a hotel already clearly going beyond a token "please reuse your linens" greenwashing is Indigo's housekeeping. All laundry is done in-house with energy-efficient washer-dryers and eco-detergent. Carpeting is cleaned with a green solution, and surface areas such as tabletops, bathrooms, phones, TV screens and remotes are cleaned using commercial Ionators. When Alvarado first mentions Ionators to me, I am baffled. It sounds like a sequel to a Schwarzenegger film. In reality, it's a handheld system that ionizes tap water, enabling it to kill harmful microorganisms. Alvarado has one of the housekeepers loan me one, and I completely geek out. After you spray, you need to wait a few seconds for the water to bubble, and then you wipe down the surface. There's something supremely satisfying about wielding a sci-fi-looking spray bottle and annihilating bacteria (at least for clean freaks like me); Alvarado and the housekeeper practically had to pry it out of my grip.
Alvarado is particularly proud of the hotel's alliance with Clean the World, a non-profit that recycles their hotel soap. The soap is sanitized and distributed in hygiene kits (soap, shampoo, conditioner, toothpaste and toothbrushes) to needy recipients in developing nations. The hotel donates partially used hair and body products to the Santa Barbara Rescue Mission down the street (this struck a sympathetic chord, as I used to donate leftover food from my cooking classes and hotel amenities to the Mission when I lived in SB). These small but meaningful contributions by the hotel are emblematic of a much greater waste problem within the hospitality industry, and sets a standard that will hopefully be embraced by more and more (and larger) hotel chains as well as independent properties. Says Alvarado proudly, "I couldn't do any of this without my housekeeping and maintenance teams."
 Santa Barbara's renaissance
After checking into the hotel, I cross State Street to have a look at an intriguing shop (Raoul Textiles), and find myself literally blown away by what has transpired in the Funk Zone (the lame moniker remains, but the area has been rebranded as the Santa Barbara Arts District). What had once been home to a few stuffy tasting rooms and a token coffee house (now a happening wine bar, Red's Bin 211) is now an energetic few square blocks of converted warehouses, homes and industrial lots. It's the city's intention to create an affordable, accessible place for the city's many artists and new-gen boutique winemakers to open indie businesses, and to say they've succeeded is an understatement.
The Funk Zone is now home to more than two dozen edgy wine-tasting rooms (including the city's first distillery) that are part of a revamped Santa Barbara Urban Wine Trail; a brewery/restaurant, a handful of locavore-centric, high-style restaurants and cafes; galleries, boutiques, a surf museum and stylish, affordable accommodations (none, alas, with a green focus as of this writing). These spaces border the Yanonali Street side of a three-block, nine-business complex that in the 1920s housed the Santa Barbara Fish Market. Today, the open courtyard, U-shaped space is home to three of the city's most exciting dining-and-drinking establishments, which could stand on their own in Los Angeles, the Bay Area, even New York.
The latter is no surprise, given the resumes of the sustainability-minded developers and owners, who hail from Portland (aka Green Design Central) and San Francisco (ditto). The lynchpin is The Lark, named for the former Pullman sleeper that serviced Santa Barbara from 1910 to 1968. The ambitious, 130-seat restaurant succeeds in part due to the talents of veteran restaurateur Doug Washington (of the amazing Town Hall and Salt House in SF). The lively space features a 24-seat communal table, tiled back-walls, handmade furniture, lots of reclaimed wood and vintage touches, plus the kind of homey-yet-refined, hyper-seasonal, locally sourced menu for which Washington has achieved renown. This time of year, it's crispy brussel sprouts with medjool dates, garum, sesame and lime … and herb-roasted diver scallops with ruby red grapefruit, Venus clams, fingerling potatoes, pickled Fresno chilies and Thai basil. The cocktail program is impressive: complementing an extensive and esoteric beer list and the expected killer wines, libations like my June Gloom (black rum, Aperol, almond falernum, grapefruit, ginger beer) are intelligently and expertly crafted.
The Lark is sandwiched between two other compelling eateries that showcase local family farms and fisheries. Lucky Penny is an adorable, dime-sized coffee/breakfast house and wood-fired pizzeria that also does seriously good sandwiches (the spiced lamb meatball with harissa marinara, blistered Anaheim chilies, pecorino, and arugula is aces); if you can, eat on the charming patio set with vintage outdoor seating and cleverly repurposed items turned into planters. At Les Marchands Wine Bar & Merchant, Master Sommelier Brian McClintic—star of the 2012 documentary Somm—and former RN74 (San Francisco) sommelier Eric Railsback have created the ultimate SB tasting room and bottle shop, also designed by Washington. The European-inspired space is a mix of high, wooden-beamed ceilings, exposed brick, chandeliers, nearly floor-to-ceiling shelves … and a fascinating artifact. Look up, and you'll see the original railings used to hang the daily catch in the fish market. There's incredible food of the small plate variety, too, but what draws crowds from as far as L.A. is the Friday-to-Sunday ramen special (5 p.m. 'til they run out). Trust me when I say it's worth waiting for (it takes days to make the broth so insanely rich and porky, and the noodles are handmade). I actually extend my visit by eight hours just to get a taste after I'd had several random people tell me about it. It's pricey ($15) but worth every bite.
And that, in a nutshell, sums up the new Santa Barbara. Eclectic, handcrafted, locally focused, and dedicated to doing things the right way, even if it takes longer. Here's to new beginnings.—Laurel Miller, Contributing Editor