|
The Perfect Balance
|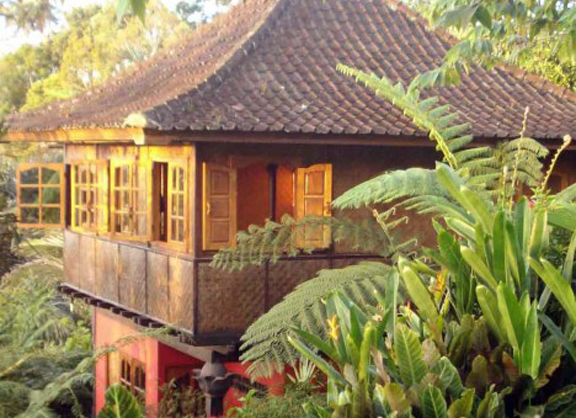 Great green travel is, like many things, a matter of healthy balance. Often the places we sleuth out are quite green … but not great enough. So, regrettably, we can't sing their praises. We're not necessarily talking fancy, exclusive or pricey. What's our definition of great? That's easy: Can we wholeheartedly recommend it to family and friends? Does it give us the GGWFs (Great Green Warm and Fuzzies)? Sarinbuana Eco-Lodge, perched on the slopes of Mt. Batukaru a black eagle's cry from the largest remaining rainforest on the Indonesian island of Bali, gives us the GGWFs all over. In Indonesian, hijau means green. Great is bagus. We're all about hijau and bagus, and so is this delightful place.
Start with its green creds. Sarinbuana's 4 guest bungalows of traditional Balinese design are handcrafted of local and sustainable timbers and materials. Lighting is energy-efficient. A no-burn policy means everything possible is recycled or composted and remaining trash is not tossed onto a bonfire (as is so widely done here). A no-chemical policy means not only is the kitchen garden organic, so are the rest of the 100+ food, medicinal and ceremonial plants and trees of this mountain retreat's permaculture "food forest." All cleaning and laundering is done with natural products. Simple but effective waste water treatment reclaims all used water for irrigation: plants in "waste water gardens" do the job of removing harmful bacteria.
Waiting in your guest bungalow is what at first glance looks to be standard info about property amenities and services. Look more closely, and you find one of the most impressive articulations of what it means to be an eco-lodge we've seen, a point-by-point listing of Sarinbuana's support of the natural, built and social environments. There's even a section about being an "eco-guest" with suggestions such as avoiding chemical-based shampoo and insect repellent (the lodge supplies a plant-based bug spray), donating used children's books in English to Sarinbuana's tutoring program for village kids and ordering eco-friendly meals (made from food grown within a 20 km radius) from the lodge's menu. Another way to be earth-friendly as a green traveler, of course, is to offset the carbon impact of your journey. The lodge has its own offset program of planting and maintaining fruit-bearing trees in nearby Batukaru National Park. This increases food sources for wildlife and also creates new income for local villagers who grow the seedlings.
Now for the great
The guest accommodations are wonderful without pretension. The Orchid Bungalow, where we lodged, is simple, natural and colorful, with a lovely outdoor shower and a front balcony with jaw-dropping views to the lush mountainside and the distant south coast more than 2 thousand feet below; you enjoy complete privacy, yet light fills your world through elaborately hand-carved windows—the work of a local who, after becoming disabled from a fall from a coconut palm, taught himself the island way of shaping wood into art. Terracotta floor and roof tiles were hand-made from local clays, the copper sink hand-beaten by a Bali craftsman, the furniture locally made.
Sarinbuana's cooks turn out both Indonesian and Western fare with care and considerable flair. This is the place to introduce yourself to local wonders like sambol bongkot (a mildly fiery salsa made with the flower of the ginger plant), banana stem with coconut cream, and the powerhouse kelor leaf (moringa oleifera), said to contain 7 times the vitamin C in oranges, 4 times the calcium in milk and vitamin A in carrots, 3 times the potassium in bananas and twice the protein in milk! Oh, yes—for dessert, don't miss the crumble of snakeskin fruit (also known as salak) with a scoop of housemade coconut ice cream sweetened with palm sugar.
Activities are firmly rooted in nature and local culture. In addition to rainforest treks and walks to a mountain Hindu temple (with local guides paid twice what they could earn working in construction), you can take an Indonesian language lesson, learn Balinese calligraphy, ceremonial costumes and make-up and more. We took a fascinating garden walk that showcased plants and herbs used in traditional Balinese medicine and cuisine.
Norm and Linda vant Hoff own Sarinbuana and live on property with their family. Norm, an engaging Australian, is a former boat captain who helped to institute a network of moorings throughout the Great Barrier Reef to protect coral from anchor damage. When not at Sarinbuana, he consults with international aid organizations on permaculture and sanitation projects—most recently, in areas of Sumatra still recovering from tsunami devastation. Linda, Sarinbuana's attentive and soft-spoken hostess, is originally from New Zealand; she's a dedicated organic farmer who set up Australia's first organic/biodynamic farmers' markets a decade ago. The vant Hoffs have worked tirelessly to build bridges to the local community, even managing to attract grants that have funded rainforest walk pathways, a new village community building, school computers and library books. In exchange the village elders have declared a 800-hectare area under community protection, with a ban on harvesting, hunting, gathering or the cutting down of trees. "This was just coconuts and grazing land when I arrived," says Norm, with a sweep of an arm across the incredibly lush panorama of his lodge property. "We planted all of it."