|
Organic in Marin
|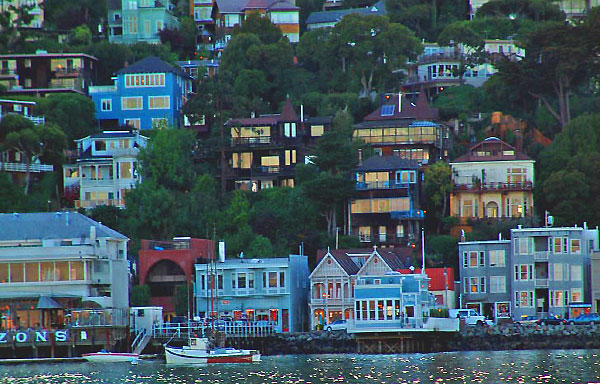 These Sausalito green restaurants (plus a casual café) share a culinary stance that insists fresh, local and organic are simply better: better tasting, better for you. They share something else, too: seriously good cooking. On your way to or from Wine Country, or after an exhilarating ferry ride from San Francisco, they are all excellent reasons to linger in this Marin County bayfront icon just across the Golden Gate Bridge. We say skip the touristy joints—go where the locals go for the best farm-to-table meals in town.
1. Fish restaurant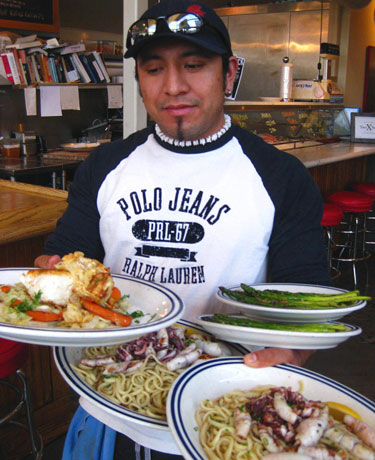 You won't just stumble across Fish. The best sustainable seafood restaurant in Sausalito, if not in the entire known world, is in a boat marina a few minute's north of downtown, tucked away so you have to know where to find it. Take it from us—we've been regulars since the day it opened in 2004—it's worth the search. It's a casual place with truly great food. You order at the counter, eat at picnic tables overlooking the harbor. How committed to sustainablity is the menu? Kenny Belov, one of the owners, is a former fisherman. His standards for what's OK to catch (i.e., not endangered by overfishing) are more strict than those of the Monterey Bay Aquarium, where he used to work. The chalkboard menu lists the boat that reeled in most of the finny creatures they serve. Current chef Chris Ball, who's likely to be spotted chatting up the area's best organic farmers at the farmers' markets, likes to play with Asian flavors (e.g., house-smoked wild salmon in rice noodles dressed in a sweet-spicy chili) but standbys like perfectly executed fish and chips and seafood chowders are hard to resist. Food Network's Tyler Florence featured Fish's dungeness crab roll on The Best Thing I Ever Ate.  GTG Tip: portions are huge, perfect for sharing. French fries are the best in town.
2. Murray Circle

It's the only Michelin-starred restaurant in Marin, with a setting that's both historic and dramatic. Murray Circle is situated in the former enlisted men's barracks of a historic military post, with beautifully restored tin ceilings and a trio of fireplaces. Just outside, on the vintage porch, are panoramic views of San Francisco and the Golden Gate Bridge. The restaurant is part of LEED Gold-certified Cavallo Point Lodge in Fort Baker, the country's newest luxury accommodation in a national park. In mid-2011, new chef Justin Everett arrived from Sonoma's El Dorado Kitchen, where he cultivated relationships with local farmers and created a regionally inspired menu that featured approachable seasonal cuisine. With numerous awards and recognition under his belt, including Best Chef of Napa/Sonoma for 2009 and 2010, he is known for his handcrafted charcuterie and whole-animal cooking. GTG Tip: In a hurry or on a budget? Experience the delicious organic goodness of Murray Circle's kitchen by ordering a small plate at the adjoining Farley Bar. Or grab and go with a ready-made salad or sandwich in the Cavallo Point Mercantile. Murray Circle also boasts the best breakfast and weekend brunch in Sausalito.
3. Plate Shop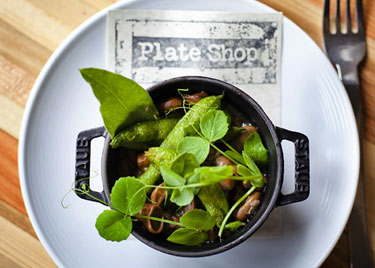 The name is a double entendre—a sly reference to food as well as an homage to the site's history. During World War II, massive steel plates were forged here for use at the ship-building yard in Sausalito's Marinship. Plate Shop is on Caledonia (the "local's street" that runs parallel to the more touristy Bridgeway), and new GM Kent Liggett and chef Peter Erickson bring a tried-and-true farm-to-table, California cuisine approach from their former  neighborhood restaurant, the beloved 1550 Hyde, on the city's Russian Hill. Not only is the meat and much of the produce served here raised by small, local organic farms, but some of the veggies grow right out back, alongside the hens that lay the eggs. GTG Tip: Don't miss the seasonal, creative inventions (often retro) of Chris Burgeson, the barman, who shops at farmers' markets and even forages his organic garnishes and herbal ingredients.
And one more…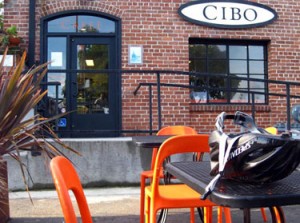 Cibo (which literally translates to food in Italian) is not a full-out restaurant, but a modestly priced, stylish café (or caffe, in the Italian spelling) on Bridgeway, at the corner of Pine. Its chalkboard menu posts the many local and organic farms from which it buys fresh ingredients—for breakfasts the likes of house-made granola with Marin's Straus organic yogurt, or poached eggs on toast served with award-winning Straus butter, broccoli di ciccio, parsnip and pine nuts with ricotta cheese. Later in the day, you won't go wrong with their house-made vegetarian soups, a salad or panini (go for the open-face Monterey calamari stew with red wine and onions on levain toast, if available). Anytime is perfect for a little something from Cibo's tempting selection of baked goods with a coffee concoction from Blue Bottle, the organic microroaster from nearby Oakland that may be the Bay Area's best. GTG Tip: This is also the only place in Sausalito to enjoy Straus' amazing soft-serve ice cream.
Are these Sausalito's best green restaurants? We think so. What's your opinion?