|
Green Travel Paragon
|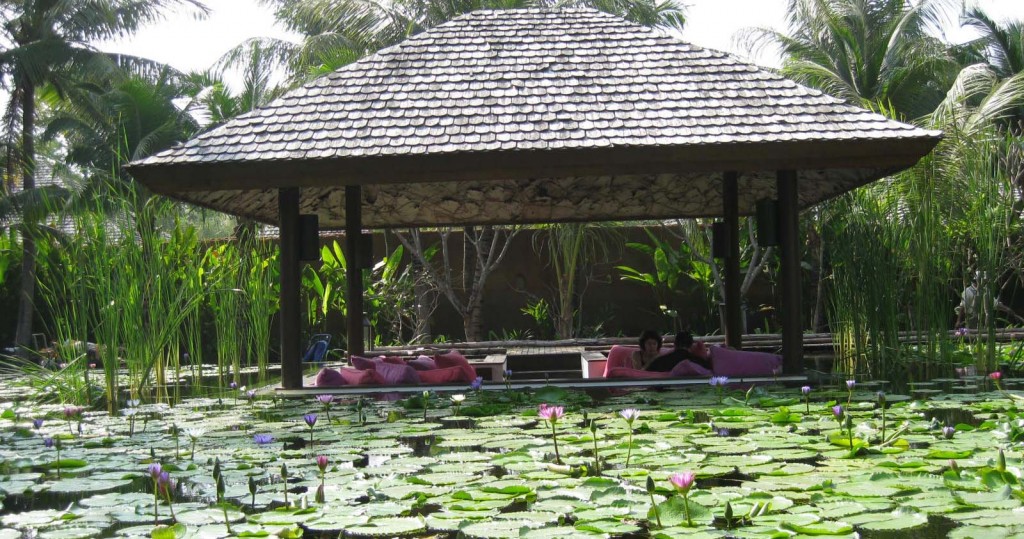 As we hope you know by now, we absolutely believe that green travel will thrive only if it is great travel. And in our global search for the greatest in green travel, we've encountered no one who understands this better than Sonu and Eva Shivdasani.
And no one who masters the alchemy of creating gold from green more deftly than this extraordinary husband-and-wife team.
You may already know their story, but just in case: Sonu is British-born, Eton- and Oxford-educated, of Indian descent; Eva's a former top Swedish fashion model with a flair for style and interior design. Their dream was to create a collection of resorts that would stand as a paragon of eco-luxury. Starting in the mid-1990s, they launched the Thailand-based company they named Six Senses Resorts & Spas.
Its properties in Thailand, Vietnam and the Maldives are branded as Six Senses, Soneva and Evason. All are unique, individual destinations that are as memorable as they are earth-friendly. Or as Sonu puts it, "It has to be rare of course. If it isn't rare, then it's not going to give you that sparkle."
The slogan they use here is: where 'eco' meets luxury. So what's green about the place? What isn't? The resort was designed and built to reduce energy consumption; operates using a 14-point "holistic environmental management program;" and, like all Six Senses resorts, is committed to reducing its environmental and social impacts by regular monitoring and measuring while working up the levels of EarthCheck green certification. When purchasing, priority goes to local, Thai and organic, as well as Fair Trade products and Marine Stewardship certified fish. Almost all the resort's materials, products, furnishings and decorations are made of natural materials by Thai craftspeople. In its immaculately kept organic gardens (you can enjoy very good creations from the resort's kitchens using this bounty, paired with organic wines), raised vegetable beds are bordered by low walls made from recycled bottles, aluminum cans, and mud brick; the planting medium includes newspaper and compost from the resort's own organic mushrooms. Gardens are irrigated using recycled water. In each guest accommodation you'll find the excellent and extensive Little Green Book, which details the resort's many sustainability policies and practices, eco-tourism activities (a "pro-poor" policy assures that these benefit those most in need) and offers tips for being a green guest.
Our own 'palace'
Sparkle is the perfect word for it. We were asparkle during our entire stay at Six Senses Hideaway Hua Hin. Thailand's oldest beach resort area, Hua Hin is about 3 hours by car southwest of Bangkok. The Thai Royal Family keeps a beachside palace here. Our own "palace" was one of 55 airy, bright pool villas enclosed by traditional Thai mud walls—a luxury lodging concept pioneered in Thailand by Sonu and Eva at their adjoining Evason property. In addition to our private infinity pool, the sumptuous sleeping quarters opened onto a two-person sunken tub edged by a lily pond and a spacious sala outfitted with cushy seating and adjustable speakers with which to enjoy music from the villa's audio system. There is both indoor and outdoor shower. A butler is on call—should you, say, wish to book activities or sample any of the 15 choices on the pillow menu. Nearby, the Earth Spa is a cluster of circular domed buildings made of all natural materials set amid lily ponds; its comprehensive treatments focus on "skin food," preparations of organic foods, fruits, roots and leaves. Other sparkling touches abound.
Get the green picture? Believe us, we could go on. But suffice it to say that perhaps the most remarkable aspect of Six Senses is that it keeps getting better. Yes, its very first resort, Soneva Fushi in the Maldives, is still winning awards. But its latest, Soneva Kiri on the island of Koh Kood in southern Thailand, features zero-carbon-emission villas being built without cement, using rocks for foundations, and local sustainable woods. Water in the private pools is pumped using solar power to a collecting pond on a hilltop, to trickle down again at night after being cleaned with oxygenating plants, creating hydroelectric energy along the way.
Six Senses earmarks 1/2% of all revenues to its local communities and charities, and is partnered with Care For Children, an organization that assists abandoned and orphaned kids. A major sponsorship at Hua Hin is financial support to the Sirinart Rajinee International Learning Center for Mangrove Biodiversity. We toured this facility with Srichan Monrakkharom, Six Senses' resident Social and Environmental Manager (each Six Senses property has an environmentalist, permaculturalist or marine biologist). It overlooks acres of restored mangrove marsh in what had been denuded and devastated land abandoned by a shrimp farming operation; the center's excellent multimedia displays tell the story of the mangroves' critical role in maintaining the health of the planet and those who inhabit it—especially traditional Thai coastal villages.
How will Sonu and Eva top this? We feel confident they will find a way.