|
Surreal Nights In Malaysia's Capital
|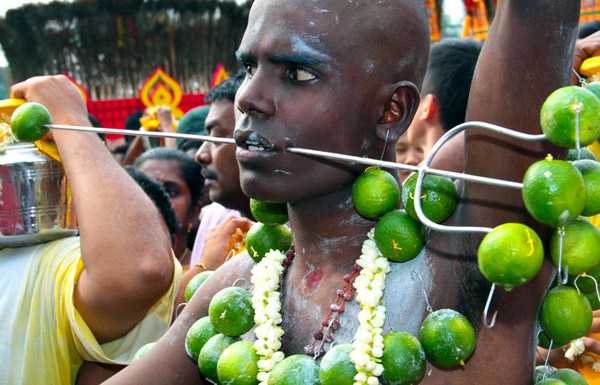 Circling high above Kuala Lumpur, I'm in a free-fall. It's about the weirdness of what waits in that vast metropolis below. I'm about to witness an outrageous  Hindu festival that promises to make San Francisco's fetish parades preposterously tame by comparison. But I'll also be shacking up in another world entirely. This will involve a frantic flurry of hopping from bed to bed, checking out a troika of eco-luxury hotels: the G Tower Hotel, the Grand Hyatt and the Mandarin Oriental—each representing a different approach to greening the upmarket hotel sector of Malaysia's capital.
Here I go, I think, as I cinch my culture shock seatbelt tighter. It's going to be a bumpy landing.
My AirAsia flight from Bali actually touches down with the lightness of a feather. A good beginning, as is the über-eco Kuala Lumpur International Airport (KLIA), one of few in the world to achieve platinum level certification from the eco-auditors at Earth Check. I'm in and out of the sleek terminal quickly, then whisked away by the fantastically easy and efficient network of public transportation that lands me, in short order, in the very heart of KL.
Malaysia's first green hotel
My first stop is the G Tower Hotel, Malaysia's first green hotel. And green it obviously is—entering the lobby, you immediately notice the "living walls," a very cool (and cooling) use of live plants to naturally generate oxygen and clean the hotel's air. Okay, it's not quite like trekking into a Malaysian rainforest, but I love it for being a pleasant respite from the densely packed concrete jungle just outside.
The hotel takes up only about a fifth of the newly constructed G Tower office tower, and the entire building has been constructed with energy efficiency at its foundation. Using standards initially created for hotels in nearby Singapore, G Tower boasts a number of significant green features, ranging from rooftop gardens (natural shade, reducing air-conditioning needs) to an ingenious way to heat all the guestrooms' hot water from waste energy from the AC system. That same system also heats the infinity-style swimming pool, one of few I've seen at luxury hotels that foregoes chlorine for a more eco- (and eye-) friendly salt solution.
I have time enough at the G to sleuth out that its Tanzini restaurant, on the 28th floor, specializes in farm-to-table cuisine, with organic and local ingredients. But alas, there's no time to dilly-dally over an elegant supper when, nearby, a million Hindu devotees of South India descent, are gathering—many having subjected themselves to weeks of extreme purification rituals, including extended fasting, celibacy (this qualifies as "extreme" for me) and "mortification of the flesh"—to celebrate Thaipusam, a truly mind-boggling full moon festival and Malaysia's most extraordinary religious event.
Holy mortification!
The event, dedicated to the deity Lord Murugan and his victory over an evil demon, culminates in a 12-mile midnight procession to the mystical Batu Caves, and what a bizarre feast for the eyes! As throngs of barefooted worshipers troop by, carrying ceremonial offerings (most commonly, a pail of milk!) on their freshly shaven heads, I'm transfixed by the seemingly incomprehensible body piercings. One man hauls, and is surrounded by, a huge cage made of metallic rods, several of which are connected through him. Men and women alike chant melodically, strolling past with beatific smiles that belie their heavy, painful-looking piercings.
Another celebrant—his back skewered with massive metallic hooks from which dangle limes, oranges and gourds—lunges past pulling a chariot. It's tethered to his back by still more hooks. He merrily smiles at me and other astonished onlookers.
Push the culture reset button…!
Green windows to the world
Back in KL, I check into the Grand Hyatt Kuala Lumpur, within walking distance of the City Center. And while it is grand indeed, this year-old hotel was also designed and built in accordance with Malaysia's new Green Building Index (GBI) rating system.
Perhaps the Grand Hyatt's most visually striking features are floor-to-ceiling windows that offer much more than unparalleled views: they maximize natural daylight and are glazed with a high-performance reflective bronze coating to keep Malaysia's sometimes-suffocating tropical heat outside, where it belongs. My suite boasts an endless, uninterrupted cityscape view, even from the bathroom, where remote-controlled "privacy blinders" protect me from potential peeping Toms in neighboring high-rises. With the mere push of a button, my shower glass turns opaque.
The signature restaurant, Thirty8, boasts more jaw-dropping vistas, and serves up an incredible breakfast buffet, a groaning board of local and international options, from fresh-baked artisan breads, tangy Roquefort cheeses and freshly squeezed carrot juice, to impeccably prepared Western fare such as frittatas and grilled mushrooms, as well as Malay favorites like nasi lawak (coconut rice) and curries. I'm assured that local, sustainable and even organic ingredients are tucked in here, though it's impossible to know where without asking. (In 2011, the worldwide Hyatt chain launched a new approach to sourcing food ingredients called "Food. Thoughtfully Sourced. Carefully Served," as part of its Thrive Corporate Social Responsibilty—CSR—program.)
Other green eats—and a caution
No complaints, but my hotels feed me so well on this visit that I don't have the appetite to check out the KL organic eateries I hear about: Be Lohas, with 11 restaurants and 34 organic-oriented grocery stores; and EcoGreen Organic, specializing in Malaysian cuisine made from sustainable ingredients.
One night, however, I do check out the Sky Bar at Trader's Hotel where, while there's nothing organic, green or sustainable about the over-priced cocktails, they do offer yet another spectacular view of the city.
One recommendation if you go: drink moderately. Why? Because while the outside world is safely walled off by huge windows, the bar's swimming pool is precariously poised at the edge of the bar, eagerly awaiting the slightest drunken misstep.  Don't ask me how I know.
The wandering hippie arrives
My final night in KL is spent in the true elegance of the Mandarin Oriental Kuala Lumpur. Though I arrive looking more like lost world-wandering hippie than luxury hotel reviewer—read: dusty backpack, all-too-worn T-shirt and flip flops—I'm greeted warmly. The reception clerk offers a conspiratorial wink, whispering so as not to be overheard by her co-workers, "It's okay, I'm a backpacker, too!"
The Mandarin—5-star deluxe class—oozes opulence from every pore, yet, as always, I am most interested in the environmental stance it takes. Unlike the other green hotels I've investigated here, the Mandarin is situated within an older building, where eco initiatives must be implemented primarily in daily operations rather than in the construction and infrastructure of the building itself. The luxurious spa is an excellent example. Massage oils and products are made from essential oils from organically grown plants, with 100% natural ingredients and many fair trade suppliers, and no GMOs. The Mandarin also promotes locally made crafts throughout the hotel, working with Malay artists to decorate its restaurants, lobbies and conference rooms.
The hotel's ongoing sustainability efforts, stretching back a full decade, have not only earned it a number of awards, including two from the International ASEAN Tourism Forum, but it has also led the way for a comprehensive, company-wide CSR program.
Karma ahead
It's already time to depart. After this surreal dive into the excesses of Malaysia, sybaritic and spiritual, I will definitely need recovery time. So next I am journeying to central Thailand, where I'll spend a 10 days in silent meditation, at an austere Buddhist monastery where my bedroom-cum-cell will be furnished solely with a concrete slab, paper-thin bamboo mat and a pillow of hand-carved wood.
Now, that's karma!
And when I'm all alone in my head, what thoughts will work hardest to disrupt my meditative consciousness, I wonder? Will they be of splendid eco-luxe nights? Or chariots harnessed to human flesh?—Michael Straus, Senior Editor