|
Agrarian Base Camp
|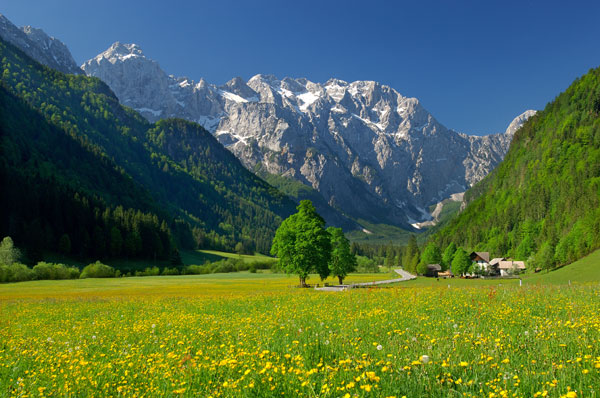 I am in search of some of Slovenia's best eco-tourist farms, and my way is up, up, up, on mountain roads that prove an adventure in themselves. Driving is certainly not the greenest way to go. I pass plenty of bicycle riders pedaling their way up these same impossibly steep Alpine hills, and I'm sure they have an easier time than I do finding the tiny signs marking the turnoffs to small villages. On the other hand, I manage to cover more than 600 kilometers in five days on less than a tank of gas in a rented Renault compact that would surely be more powerful with hamsters under the hood.
The first stop on my tourist farm circuit is Makek, which sits high in the Kočna Mountains near Jezersko, a few kilometers south of the Austrian border. Overlooked by a dazzling jumble of jagged peaks, the 80-hectare (about 200 acres) farm has been in one family for nearly a thousand years, according to Luka Šenk, who runs it with his brother Roc. They raise sheep and horses, cut and sell firewood and grow vegetables in a pesticide-free garden. Their farm received an "Eko" designation in 2000, and like all eco-tourist farms, is visited biannually by state inspectors.
Guests stay in a gorgeous farmhouse filled with antique Victorian furniture. There's a big basket of slippers by the door, where you can leave your shoes and feel even more at home after a welcome drink in the dining room, where Roc breaks out the slivovitz (plum brandy) and local hiking maps. My room upstairs has an enormous double bed, desk, armoire and still enough space for a morning yoga workout, plus an attached modern bath.
A perfect eco-escape
Roc recommends a short hike that starts at a nearby lake. It's just enough to sample the scenery and work up an appetite for a dinner of pumpkin soup, mixed green salad with chickpeas, a generous pork cutlet with potato wedges and marinated peppers, and apple fritters for dessert. After coffee, I sit outside and watch the purple twilight deepen into night, listening to the owls hoot as they begin their nocturnal hunt. A bright, nearly full moon darts in and out of the black-on-black mountain peaks ringing the farm.
In the morning, after a breakfast of farm eggs, cereal, yogurt and fresh fruit, Luka talks about taking over the farm operations from his mother, who is nearing retirement. "I must marry and get babies," he says with a grin. Better marketing is high on his list of chores; booked guests have not been covering costs, and the farm, which is not easy to find, does not pull in passersby. "A man in the village is supposed to be making a sign for us," Luka said. "But things move slowly here."
Which is exactly the point. With its spectacular vistas and timeless air of tranquility, Makek would be an easy place to linger for … a long time. Even on the Slovenia tourist maps the Jezersko area gets little attention, as it offers few places to stay, no information services, and attractions you mostly need to discover on your own. In short, it's perfect for an eco-escape.
On to EDEN
The flip side of this trail blazing are Slovenia's four EDEN (European Destinations of Excellence) areas, a European Commission program that promotes sustainable tourism in specially designated scenic areas that have been developed to attract and accommodate tourists. I journey on to the one nearest Jezersko: Solčavsko, a set of three adjoining valleys in the Kamnik-Savinja Alps about 20 kilometers east of Makek (as the crow flies; the drive was a bit more complicated).
Solčavsko is Slovenia's only Alpine EDEN destination. The others are the Soča Valley, River Kolpa and the medieval mining town of Idrija.
Solčavsko has everything Jezersko does not: a new information center where everyone speaks English, a wealth of well-marked attractions, and a glacial valley (Logarska Dolina) so widely known for its beauty that its costs 6 euros just to drive through. Still, there's no mistaking the history and character of the region. Long ago, its relative isolation forced the inhabitants to adopt a sustainable lifestyle anchored by sheep breeding and woodworking. The spruce and larch that cover the mountains are so sturdy that beams dating from 1285 were discovered in a local church—still in good condition.
'A little crazy to do this'
"We don't have malls or hospitals or anything like that," acknowledges Helena Krivec, the proprietress of tourist farm Ramšak, where I spend a cozy night. "People here have to survive on their own." For her, that means running a 36-hectare farm where she raises cattle, pigs, chickens and bees, and produces organic meat and dairy products. Her accommodations are modest—three rooms, and a separate guest house that sleeps up to five.
As I am the night's only guest, Krivec does not make dinner. I eat at a restaurant in the village. But after serving a hearty farm breakfast of eggs and pancakes, she shows me an organic menu she offers in-season that includes beefsteak, roast potatoes and vegetables. "Everything you ate this morning is also organic, but I can't call it that because the menu is not certified by state inspectors," she says, shaking her head in bemusement. "It's complicated. Sometimes I think I'm a little crazy to do this."
The drive through Logarska Dolina lives up to its billing. And the valley looks even better from Okrešelj, a mountain hut that I hike to after stopping at the Rinka waterfall. Hiking the Alps is not a casual endeavor; the trails are gravel-strewn and steep, with cables or makeshift ladders hammered into the rocks at particularly precarious junctures. Which makes it even odder to scramble over a final precipice or break out of the forest and suddenly find yourself confronted by a large lodge with full bar service, which is standard for mountain huts in Slovenia. But there's nothing as rewarding as enjoying the view with a fresh, cold beer—if it's organic, even better.
Tito's revenge?
I would be remiss not to mention that I contract a touch of dysentery during my travels, which I promptly dub Tito's Revenge. This may be the logical outcome of sampling so much new indigenous food, though I suspect the source is a roadside spring I stop at while driving through the mountains. It's a hot afternoon, the water tastes good and, feeling like Mr. Natural, I breezily toss aside my usual caution.
But what lingers afterward is the memory of the carved wooden dwarf that guards the trough. As my companion reading has been a collection of Grimm's Fairy Tales, a bit of mischief by a mountain dwarf is in keeping with the literary themes of the trip. And a perfectly natural experience in an otherwise enchanting storybook setting. Do not let my small misadventure deter you from enjoying the upcountry hospitality of Slovenia's eco-farms—perfect base camps from which to experience the unspoiled glory of this green-spirited nation. —Frank Kuznik, Contributing Editor