|
Central Europe's Eco-treasure
|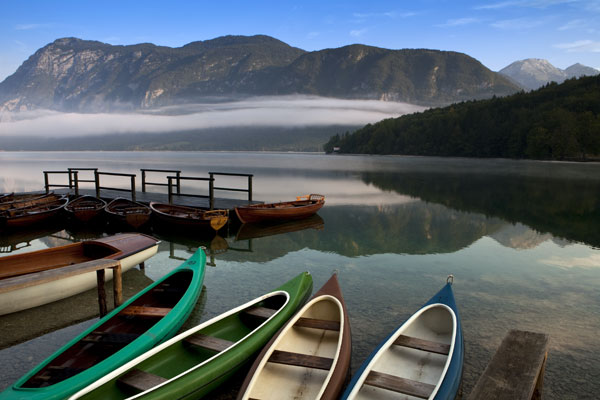 Church bells herald my arrival at the Bohinj Park Hotel, the starting point of my green tour of Slovenia. That's not unusual; in this predominantly Catholic country, ornate church steeples overlook almost every town and village. What's jarring is walking into the lobby of a five-star, 102-room luxury hotel in a rustic area noted for its mountain trails, ski slopes and traditional lifestyle. Every September, this idyllic Alpine area overlooking Lake Bohinj in Triglav National Park still hosts the Kravji Bal (Cows' Ball), which celebrates the return of the cows from their mountain grazing pastures.
After my initial shock, though, I remind myself that Slovenia—smaller than the state of Vermont—is a treasure trove of the unexpected and undiscovered. Where I live in the Czech Republic, the closest thing to green is the recycling bins on Prague's street corners, for which I am grateful. Here, in a mostly drive-through country for people on their way to the Croatian coast, or the mountains in Italy or Austria, the primary appeal is environmental. When Slovenia launched a branding campaign in 2007, green tourism was its natural pitch.
Slovenia, you might say, is Central Europe's green mouse that roars.
Blessed with unspoiled resources
"We're a country with a lot of unspoiled nature—that's always been our core," is how Maša Puklavec of the Slovenian Tourist Board puts it. "Now we're focused on developing an infrastructure to support sustainable tourism."
Slovenia is indeed blessed with unspoiled resources. Nearly 60 percent of the country's 8,000 square miles is blanketed by forests. Pristine mountain rivers splash from the Alps in the north, wineries dot the Adriatic region in the south, and extensive thermal springs support a network of wellness centers and spas in the east. Slovenia is also an active participant in the European Commission's EDEN (European Destinations of Excellence) program, which promotes sustainable tourism in specially designated scenic areas.
Characteristic of a culture that offers a beguiling blend of tradition and modernity, Slovenia offers an array of green travel options, from simple country comforts to sophisticated luxury.
Certified green luxury
Luxury seems a good place to begin.
Bohinj Park Hotel quickly has its calming effect. It is tastefully constructed from local lumber, stone and recycled materials, with generous expanses of glass. Open since 2009, it's one of the most environmentally sensitive facilities in Central Europe. And the engineering is state-of-the-art. The hotel gets most of its energy from a 1,400-foot-deep geothermal well, which provides not only heat and electricity, but water for showers, laundry and the accompanying aquapark. The heating and cooling systems are so efficient that even the heat generated by the office computers is captured and recycled.
This is all the work of Boštjan Čokl, a retired construction magnate who opened the aquapark in 2004 and then decided to attach a hotel. When European Union funding for environmental projects became available, the price tag went from 16 million to 20 million euros, and the progressive design earned the hotel Green Globe certification for sustainability last year—a first for a hotel in Slovenia. "Boštjan invested his life savings in the project," says hotel PR Director Polona Meglič. "And we are continuing to grow and refine it. A Green Globe inspection committee comes every two years, and you have to show a five percent improvement."
Light, local cuisine
The cuisine mixes upscale hotel standards with regional specialties, and in a country where portions are typically large and heavy, is refreshingly light. I pass on the smoked bovine tongue at dinner but enjoy some delightful grilled sole, pot barley with mushrooms and sinfully tasty chicken wrapped in bacon.
And the dessert tray is quite good, with fresh-baked slices of apple strudel and an airy nut cake topped with whipped frosting.
According to Meglič, the hotel tries to keep the food "as local as possible" and for its other needs looks for Fair Trade products. All the meat is local, all the wine is local, all the cheese is local—the area, in fact, is noted for a type of cheese called mohant.
Green inside and out
In guestrooms, electricity is powered by a "smart card" system. You put your room card in a slot when you enter, which activates everything, then shuts it off again when you remove the card as you leave. All lighting is LED. Windows are made to retain heat, as are the drapes. Furnishings are made of recycled materials, especially approved for people with allergies. Paints and lacquers are water-based and eco-friendly. Rooms are cleaned using green, biodegradable products.
Likewise, hotel laundry is washed in biodegradable detergent, and the washing machines are super energy efficient. The laundry room also boasts a special feature—all the warmth is captured by a heat pump and reused.
The aquapark includes both indoor and outdoor pools. Water filtering is done without chemical chlorine, and the outdoor pools are heated from "waste warmth" from the hotel. I do laps outside and then relax in the Jacuzzi jets in the large, meandering indoor pool. It is the perfect cap to a day spent exploring Bohinj, which offers ambitious hiking trails, swimming, boating and sweet spots to relax on the lakeshore, where the mythical animal god Zlatorog keeps watch. Though I am biased about this area, which I first visited in 2004, I will stand by what I wrote on a postcard that day: "If this isn't the most beautiful place in Europe, it's a close second."
Taking the waters
Water being a good theme to follow in Slovenia, I next make for Terme Snovik, which was awarded an EU "Daisy" in 2006 for its environmentally friendly facilities and operations. An hour's drive from the capital city of Ljuljblana, Terme Snovik offers comfortable accommodations in the verdant hills of Tuhinj Valley.
An indoor/outdoor spa and wellness center built on the edge of a forest, Snovik offers accommodations in a series of two-story "apartment houses" with rooms ranging from singles to family suites with their own kitchens. The heating and a portion of the other energy comes from solar collectors and burning local biomass.
The real draw at Snovik is the water, rich in calcium and magnesium and reportedly good for a variety of ailments—but most significantly, potable when it comes from the ground. That means almost no chemical treatment is needed to make it suitable for drinking and bathing. I have taken the waters at spas ranging from the Greenbrier in West Virginia to the storied baths in Marienbad, but none are like this—buoyant, invigorating and velvet-smooth. Doing laps is a pleasure and the water tastes so good with dinner that I break my rule about buying bottled water when I check out, and pick up six to go.
Even a frigidarium
"We respect free will," Snovik Director Matjaž Konda tells me when we are discussing cuisine, which is another way of saying that while there are light, healthy items on the menu, you can indulge in heaping plates of pasta and regional meat if you prefer. Still, the spa offers the best organic—commonly called "bio" throughout much of Central Europe—breakfast I have in Slovenia, with a generous variety of cereal and fruit, rice cakes, soy products, yogurt, butter and fresh honey and jams alongside the usual eggs, sausage, cold cuts and pastries.
And there are certainly plenty of opportunities to work it off. The front desk has hiking maps of the area, and you can rent walking poles or bicycles. Along with the pools, the spa offers a variety of therapeutic treatments, massages and saunas (including a "frigidarium," a room built mostly from snow and ice in the winter, with a wooden heated floor, used to cool down after a hot sauna!) and even a private nude sunbathing area.
Americans might be put off by the unisex locker room, a ubiquitous feature of European spas, as well as the bad '70s pop music that permeates practically every dining room in the country. But the rest is a green traveler's dream.
Next: farms in EDEN
Now it's time to get down on the farm—by going up.
My destination: one of the four EDEN sites in Slovenia, which are all easily accessible from tourist farms, where green travelers can live with the locals and eat from their gardens while exploring the countryside. Eco-friendly tourist farms offer organic meat, produce, dairy products and local spirits in a chemical-free environment.
If my introduction to green luxury living, Slovenia style, is any indication, making like a peasant will be anything but the drudgery of serfdom. Stay tuned for the final installment of my green Slovenia sojourn. Coming soon!—Frank Kuznik, Contributing Editor