|
Green Wine News
|
Sonoma County just got a little greener.  J Vineyards & Winery, in Russian River Valley, has achieved certified sustainable status through the California Sustainable Winegrowers Alliance (CSWA). The sustainable certification covers all vineyard and winery operations.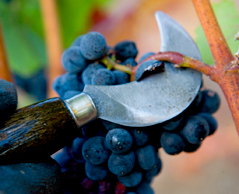 J Vineyards & Winery, located just south of Healdsburg, is independently owned and has ten estate vineyards totaling 250+ acres. It focuses on sparkling wines, as well as pinot noir, chardonnay, and pinot gris varietal wines.
"For the past two years, we've been diligently working on aligning J with CSWA's commitment to wine quality," says John Erbe, viticulturalist at J, which was founded in 1986.  "Our estate vineyards have been planted utilizing the latest techniques in water conservation, wildlife habitat corridors, and soil erosion reduction."
Founded in 2010, the CSWA program is a third-party verification and certification process based on 227 "best practices" designed to ensure environmental stewardship, conservation of energy and natural resources and socially equitable business practices.
Some of the green initiatives at J:
Integrated Pest Management (IPM) and cover-crop programs throughout the winery's vineyards to protect riparian habitats, build soil tilth and attract beneficial insects
Replacing all inefficient incandescent lights in the winery with new, high-intensity, lower-energy lighting
Recycling all paper, corks and glass used throughout the winery
Reducing water used throughout the winegrowing and winemaking process
Computerization of refrigeration compressors to reduce energy consumption, coupled with energy-efficient cooling towers
Replacing existing water boilers with higher-efficiency heaters
Reduction in the weight of wine bottles
Using low VOC paints throughout the winery.