| Natural Green Magic |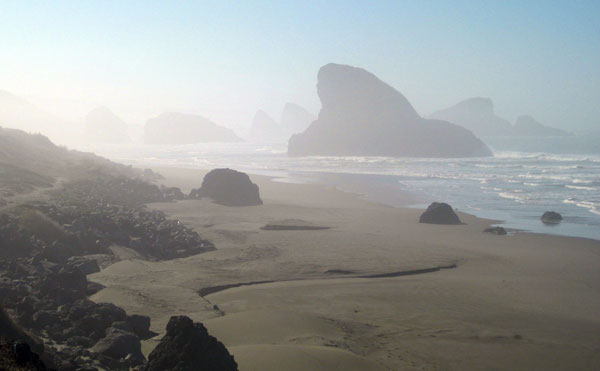 When we arrive, it's like time traveling back, oh, a generation or so. This funky little artist enclave of Port Orford, the oldest town in Oregon, is barely 60 miles north into the Beaver State, yet three hours to anywhere. It's quiet. Quirky. "Where Northern Exposure meets Lake Woebegon," we will hear it described. At the checkout in the town's supermarket, we see Paul Bunyan in line behind Sid Vicious. Nonetheless, there are excellent reasons to be here. Views to the broad curve of mocha latte-colored beach and glistening Port Orford Bay, for one, are breathtaking, with the dramatic Redfish Rocks just off shore. Even the local fishermen embrace these beautiful seastacks as a marine reserve area, which bodes well for the underlying spirit here. But later for more poking around town. Motoring up the Pacific coast, beautiful as it is, has us road weary, and right now, we just want to get out of the car and chill. And so we follow our directions into the forest above town—where hidden in the Douglas fir, ponderosa pine, Port Orford cedar and myrtlewood there's a deep green hideaway with a zero carbon footprint that calls itself WildSpring Guest Habitat.
Guest habitat? What's that all about? The picture begins to clarify as soon as we pull inside the front gate and the cedar-plank fence that fronts the five-acre property. If you have any kid left in you, you're suddenly eight years old again. And this is Never Never Land … Sherwood Forest … a magical guest habitat. A forested park, with 100-foot trees filtering the afternoon light in dazzling shafts. No reception lodge, only an open-air check-in gazebo, where a welcome note—"congratulations, you made it! call us on the intercom if you'd like to say hi"—and a map awaits. Fun! We plop our luggage onto the waiting cart, and, like eager woodland sprites, make our way along a short trail to Raintree, our "cabin suite," named for the legendary tree planted by Johnny Appleseed in the book Raintree County.
Raintree, like the other four cabins at WildSpring, brings the fantasy back into adult focus. Casual elegance is as good a description as any: overstuffed loveseats with cushy pillows and soft chenille throws in the sitting room, a top-of-the-line pillow-top Simmons queen-sized bed with down comforter and vintage quilt, and a designer bathroom with spa-quality robes, towels and bath amenities, plus a huge slate-walled shower. Radiant-heated floors throughout. Guests are asked to switch off their cell phone ringers and avoid cologne, perfumes and incense in their cabins. Should you desire, there's a list of boutique Oregon wines to order by the bottle for delivery to your cabin. Or guided meditation, tai chi, massage, guest bikes and more.
A zen playground
After you get settled in, says the welcome information, we suggest going up to the Guest Hall; help yourself to refreshments (coffee, teas, hot chocolate, juices, fruit, popcorn and dark chocolate kisses), relax and enjoy the view. Why not? It's not quite dusk yet, but we grab the flashlight (it's attached to our key) and venture forth. Never Never Land, we see now, is also an art park, a zen playground … wherever we look, something or someone, serious or whimsical, is peeking out from behind a fern or the crook of a tree or lining the trails. We discover a walking labyrinth, picnic areas, meditation alcoves, hammocks strung between trees, artistic fencing positioned to ensure privacy and maintain the illusion this spell will never be broken.
About a two-minute walk up a little hill is the Guest Hall. We've left the forest and before us spans glorious views of the Pacific down to Humbug Mountain.
The Hall itself turns out to be an inviting greatroom with its own radiant heating and floor-to-ceiling windows for sumptuous views; there's an expansive outdoor deck with tables and chairs. Perfect for hanging out, working on the ongoing jigsaw puzzle, listening to music or the surf—and whale watching year-round. A library of more than 500 DVDs, books, CDs and games can be borrowed for your cabin. Breakfast is served here, too, a healthy, homey buffet that includes a hot course that changes daily (and caters to special dietary needs). Coffee is organic and fair trade Batdorf & Bronson, where beans are roasted using 100% renewable energy.
The steamy showstopper
The Hall has only simple rules: Play nice. Use your inside voice at all times.
Oh, and just beyond, at the edge of a sculpture garden, is the absolute showstopper—a  big spa tub handcrafted of slate for ocean gazing—or starry, starry sky by night—while up to your chin in steaming water (treated with bromine, not chlorine). The Milky Way must be an awesome experience from this spoiled-rotten soak, because Port Orford is a dark skies initiative town.
Okay, okay … this fantasy  has us really hooked now. Who are the wizards making the magic? What's their story?
Mr. & Mrs. Wizard
Dean and Michelle Duarte came from the Hollywood Hills, in California. He was a stagehand. He built sets, managed props and worked live music performances and daytime TV soaps; he's also a sculptor, rock climber and "rockin' singer." Michelle was a creative director and writer who optioned a few screenplays and worked in media and hospitality marketing. They were married in legendary Big Sur on the Central California coast, and fell in love with the similarly rugged and jaw-droppingly scenic Oregon seashore after attending a wedding here. By that time they were over the L.A. hassle, the congestion, the smog. And like many of us, started playing the "what if" game: What if we found a secluded spot and created a natural and peaceful place that gave people room to play and hang out, or to pursue whatever they consider sacred, with all the creature comforts of a luxury inn?
Searching the Oregon coast, they found Port Orford and these former Native American grounds with a 1950s-era home and a guest house (now the Guest Hall), and set about weaving the enchanting web that became WildSpring. Giving jobs to responsible local contractors, carefully tunneling under tree roots, removing only two living trees during the entire development. Their design concept was that everything guests see or touch be made of natural materials. By dint of their careful planning and hard work, they reduced their energy footprint to almost nothing and offset the remaining carbon emissions. (They also offer an easy way for guests to offset their trip, through TerraPass.)
Their sustainable and environmentally responsible policies and operations have earned WildSpring the highest Gold Level in Oregon's Sustainable Travel program. And they're a National Wildlife Federation certified habitat for wild animals, too.
Beyond the bliss
But the mood here goes way beyond eco-consciousness. The former set builder and his "what if" wife have created an experience—they call it "nature with four stars"—unlike any ordinary coastal inn or B&B. "We really like the process of discovery, of surprise …" Michelle offers by way of explanation after breakfast the next morning. "We don't have an agenda here, other than to get people to interact with the natural environment." She laughs. "We get stressed out business travelers who leave florid thank-you notes after one-night's stay. They arrive cranky and leave blissed."
Blissed describes us well. Even more so when we get our energy up to venture beyond WildSpring again. Port Orford is, we decide, a hoot. Especially after we wander into Hawthorne Gallery, the best of eight locally owned art galleries, and meet Chris Hawthorne, a lifelong local, and admire the astoundingly good and eclectic works on display by him, his family and friends. Amazed at this level of quality in this remote town of 1,200, it all makes sense when he tells us his brother operates the renowned gallery of the same name in Big Sur. Our delight ratchets up several more clicks when we venture next door, to the stylish, art-filled restaurant with stunning ocean views named Redfish after the bay's iconic seastacks. The Hawthornes own this one, too, and Chef Jeremy Kelly knows what he's doing, sourcing as much as possible locally and organically. We loved his caramelized sea scallops and local wild salmon, both served with white truffle polenta. Service was professional as any bright lights, big city spot and the bar scene hopping.
Also close at hand: Tidepools to gather mussels and clams in season, spot sea birds, starfish, limpets, dogwinkles, Oregon Tritons, hermit crabs and sea urchins. The Orford Reefs, home to the country's second-largest Stellar sea lion rookery. Spectacular hiking for every level of exertion. Historic Port Orford Lifeboat Station Museum, where you can imagine Coast Guard "surfmen" scrambling down 532 steep, slippery steps in raging storms to a 36-foot boat, to rescue sailors on a ship in trouble. The site of the bombing, in September, 1942 by the Japanese Imperial Navy, after a single pilot took off from a submarine near Port Orford in a tiny, modified Zero fighter with a folding wing.
Another famous local attraction is Battle Rock Park, site of bloody fighting between white settlers and the natives in 1851. The settlers got the best of those melees, but local legend has it that the Native Americans put a curse on Port Orford. If so, that curse is our blessing, for it meant this virtually untouched natural setting was waiting for WildSpring, a most unique green guest habitat, to be created.