|
Green Wine Country in SoCal
|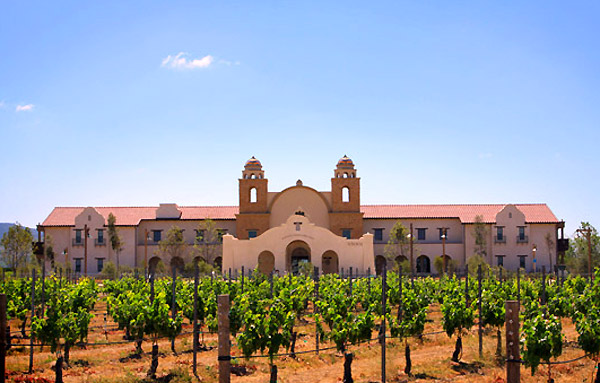 Take a lazy drive along Rancho California Road, lined with vineyards, olive trees, and cypress, and you might, for a moment, imagine yourself in Tuscany rather than SoCal's Temecula, an easy hour-or-so trip from San Diego, Orange County and Palm Springs. While the Temecula Valley doesn't have the name recognition or (as yet) commercialism of Napa and Sonoma, its more established neighbors to the north, this wine growing region is, well, growing up. And, we are delighted to add, sprouting some green as well.
Padres from the early California missions established the first vineyards here in 1800s. As it turned out, the terrain and climate were the perfect pairing. Gaps in the Coastal Mountain Range to the west allow ocean breezes to flow into this hot valley, moderating temperatures and creating ideal conditions—warm days and cool nights—for growing grapes. Ely Callaway Jr. (who would later become well-known for golf as well as grapes) opened the first winery here in 1974. Since then, dozens of wineries have taken root, as well as more and more places to overnight, from charming B&Bs to bustling resort hotels. But the 300-acre Ponte Family Estate, with its vineyards, tasting rooms, and the recently opened Ponte Vineyard Inn, is the only Temecula Valley winery certified by the California Sustainable Winegrowing Alliance (CSWA), the nonprofit created by the Wine Institute and the California Association of Winegrape Growers.
The people at Ponte are justifiably proud of their green vineyard and winery practices and insist they didn't suddenly decide to jump through the CSWA's certification hoops for the mere sake of public relations. Indeed, they sincerely believe that what's good for the environment is also good for their business.
No greenwashing here
"There's a buzz about that in the wine industry, about being sustainable," says Amy Landolt, Ponte's marketing manager, as we stroll through the lush vineyard-view garden where ladybugs, rather than insecticides, keep pests from nibbling the roses. "But we really wanted to make sure we weren't just talking about it, that we weren't greenwashing it. We really believe it's going to be the best for us over the long term as well as the best for the community and the environment."
Ponte searched out organizations that could not only provide certification but "hold our toes to the fire and make sure we're doing the right thing."They discovered CSWA, and the winery went through the rigorous, time-consuming process, including yearly audits, that led to its designation. "For us, it's worth it," Landolt says emphatically, "because we can say, 'Hey, we have the certification.' We really are making the changes and putting the effort in to be sustainable."
This leadership in sustainability is especially important in the Temecula Valley because Ponte is its single biggest grower of wine grapes—23 types in all, including Italian varietals rarely found in the New World like Arneis and Vermentino.
Reasons to linger
The winery's latest green effort is the lovely Ponte Vineyard Inn, which opened in May 2012, marrying old California Mission style architecture with the needs and services of a thoroughly modern eco-conscious hotel. Built only two stories high to blend in with the surrounding vineyards, the 60-room, AAA Four Diamond resort conserves water and uses solar power, among many other earth-friendly features, to reduce its environmental footprint. And all without sacrificing comfort or charm—who would guess, for example, that stylish lighting fixtures can be fashioned from repurposed roof tiles?
Indeed, the inn offers plenty of reasons to linger after a long day of touring and tasting. The Mediterranean-inspired lobby lounge has the look of an elegantly rustic living room with tile floors, and comfortable couches and easy chairs flanking the fireplace. A mosaic depicting La Cosecha ("the harvest") presides over a buffet table that serves as a Bloody Mary bar on weekends. (The work was shipped from Portugal and assembled tile by tile at Ponte.) Bouquet, the inn's intimate restaurant, has seating inside, but we preferred the brick courtyard outside with views of the vineyards, surrounded by the Mt. Palomar and San Jacinto mountain ranges. Paths wind through the Vineyard Garden with its fountain and fire pits, where you can pull up a rocking chair. Planted with California pepper trees, magnolia and roses, the garden leads to a gazebo at the property's edge, a picturesque spot for weddings and special events. The inn's Cellar Lounge is a gourmet gastro-pub, serving wine, craft beers and cocktails with such casual fare as Kobe beef sliders, a pork belly BLT, or prosciutto-and-arugula flatbread with gorgonzola and figs drizzled with port.
Next door, just off the barn-inspired tasting room, guests can dine alfresco year-round at the winery's Restaurant at Ponte, just steps from the garden and vineyards. At all the restaurants, and in the wine club members-only Reserve Room, chefs have blended green practices into their way of doing things and use ingredients that are sustainable and seasonal, creating menus based on produce that's sourced locally and grown organically. Seafood is wild caught or sustainably-farmed following guidelines from Seafood Watch from the Monterey Bay Aquarium; meat and game are hormone-free. The summer menu, for instance, might include seared arctic char with fruit salsa, lemon butter and local summer vegetables; raviolis with pea shoots and wild mushroom cream sauce; and a wine country salad of organic baby greens and heirloom tomatoes. Handmade craft pizzas are fired in a wood-burning oven using reclaimed grape vines. Ponte also believes in educating its guests without preaching. Its newsletters suggest local farmer's markets and offer "conscious cuisine resources" that include sustainable kitchen tips and websites to help you find fruits and vegetables in season.
Elegant and eco-conscious
The inn's guest rooms, both elegant and eco-conscious, have private balconies overlooking the vineyards. Dressed in a sophisticated palette of taupe and green, rooms have fine linens, fluffy pillow top mattresses and granite countertops, along with the latest in high-tech, from flat-screen TVs to WiFi. But don't let the luxe touches fool you, the inn is also serious about the environment. Thermostats automatically adjust air conditioning or heat when guests leave the room or open patio doors. Those bits of left-over soap and half-used bottles of shampoo go to Clean the World, a non-profit that recycles them into soap bars for needy children around the globe. Glass, paper and plastic are also repurposed. The inn offers green tips in each room, from reusing towels to turning off lights "just like your mother used to tell you." In the belief that the winery has "a responsibility and a unique opportunity to influence positive change," Ponte contributes to charitable causes, focusing most of its giving on Rancho Damacitas, a local group home for abused and neglected children.
From paper water cups certified compostable, to owl boxes (that look like mini tasting rooms) in the vineyards, no detail is too small for Ponte when it comes to growing green. "When it comes to sustainability at Ponte, we don't just talk the talk, we walk the walk," owner Claudio Ponte wrote in the winery's August 2011 newsletter. After calculating that the 12-pager used the equivalent of 640 reams of paper and 38 trees each year, Ponte trimmed it to four pages—and started a blog.
Venturing forth, there are dozens of other wineries in the Temecula Valley worth exploring, including Foote Path Winery, whose estate-grown grapes are certified organic, and Leoness Cellars, where owls and hawks, not chemicals, kill rodents. Nearby Old Town Temecula has scores of shops and restaurants, including the Public House, a favorite with locals that buys from local organic farmers and features sustainably sourced seafood. Stock up on olive oil, vinegars and spices at the Temecula Olive Oil Company (which grows its wide variety of olives sustainably on its own ranch and processes them without chemicals) before you leave town. And for a bird's eye view, take a balloon ride over the vineyards, the peace and quiet broken only by the chatter of birds, and a gentle swooosh as hot air fills the balloon. Like wine tasting and sleeping over with the eco-friendly Pontes, the experience is sure to lift your spirits. —Andrea Naversen, Contributing Editor