|
His Green Majesty
|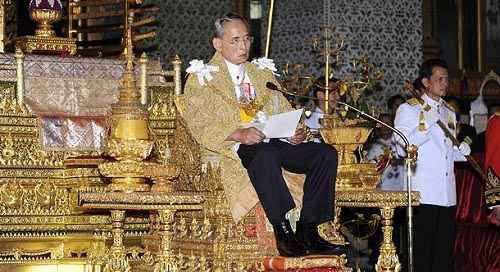 Everywhere you go in Thailand, there he is. Shrines with his portrait, towering images draped in banners and floral arrangements, are seemingly omnipresent. Oddly, in this country sometimes called the Land of Smiles, he is seldom seen with a smile on his royal face. But Thailand reveres him. He is King Bhumibol Adulyadej, the world's longest-reigning monarch.
He has been king since 1946. He is in fragile health. But as he celebrates his 82nd birthday on December 5, 2009, it is time to recognize His Majesty as the Green King.
Like other ceremonial monarchs, he could have settled into the  life of regal ribbon-cutting ceremonies and state dinners, but this king is a celebrated jazz musician (he jammed with Louis Armstrong), inventor (he was awarded a patent in 2005 for a new method of cloud seeding that brought rain to drought-stricken areas), and champion of sustainable agriculture. He has spoken against efforts to woo Thailand's vast number of small farmers into agribusiness's sticky web of pesticides and GMO crop seed. He has created demonstration farms throughout his country and helped northern hill tribe farmers convert from opium poppies to other cash crops like organic coffee.
We wish him an even longer and greener life.