How green is your hotel?
"Good afternoon, and welcome to Hotel Schizo. Checking in?"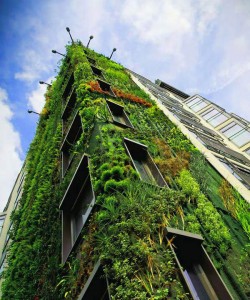 Honestly, that's the way it too often feels these days. Like you've arrived in the Twilight Zone of Hotel Marketing. The Yin and Yang of green hotelery in the early 21st century.
The Yin: You arrive at what seems like a 5-star monument to unbridled luxury and pampering, and they wouldn't dream of telling you otherwise. Little do you suspect that behind the red velvet curtain it's actually a lean, mean green machine.
The Yang: These people seem to want you to believe they're run by the Sierra Club or Nature Conservancy. At the front desk a plaque proclaims the hotel is a "proud member" of so-and-so green hotel organization. If you drove up in a hybrid car like the Prius, you have a pleasant surprise. Your parking is free. Upstairs in your room, a tasteful-looking card—printed on recycled paper, of course—indicates that your shower has water-conserving fixtures, and that you can save more water by leaving that card on your bed to indicate that the linens need not be changed every day. Others hotels announce they are using "earth-friendly" cleaning materials in the room "to protect the planet for future generations." In the guest information, you can't miss reading about that recent donation to a turtle refuge. But, hey, behind the scenes, this hotel's green is only a thin veneer.
So how can you tell if your hotel really is green … eco-serious … or an eco-imposter? Many companies, including hotels, have jumped on the green bandwagon without paying their dues or becoming the real deal. And what about other vital questions like, "Is a green hotel safer for me and my family's health?"
Come back to Green Traveler Guides to find out.
Going green means more than reducing energy and water use and limiting the use of irreplaceable resources. Whether in a hotel, the workplace or your home, green is also about your health and well-being. Do you really want to stay in a typical hotel room where standard paints and carpets off-gas toxins into the air, or cleaning is done with nasty chemicals?
We didn't think so.
We sincerely believe green hotels offer an enhanced guest experience, and that "staying green" is the wave of the future, not a fad. You can do yourself—and the world we all share—a favor by surfing this wave … and choosing a genuinely green hotel for your next great night's sleep on the road.
To get you started, here's a quick and simple checklist to tell if your hotel is greenwashing.
Then, here's an article about greenwashing by Reuters in which GTG was quoted.