|
The Americas' Greenest
|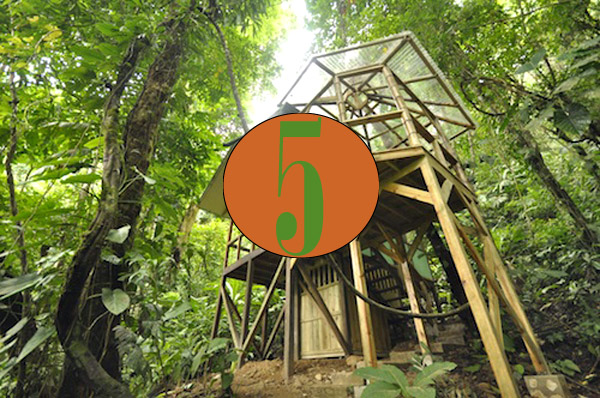 Costa Rica and eco-travel have long been synonymous. And for good reason. Although smaller than West Virginia, this tiny Central American country is home to nearly five percent of all species on Earth, and over 25 percent of the Costa Rica has been permanently protected as national parks or nature reserves. From lush rain forests to cool cloud forests, there's no shortage of natural beauty, and both locals and expats alike have embraced environmentalism as a way of life. That said, over the past several years green living in Costa Rica has been elevated to impressive new heights. Here are five great green reasons to visit now. . . .

1. San José's eco-friendly markets
In San José, Costa Rica's capital and biggest city, head to Product C for fresh, sustainable seafood. This upscale fish market/restaurant with a sleek, modern interior, which recently celebrated its second birthday, is the brainchild of Demian Geneau, a French-Canadian chef who works with local fishermen using low-impact, traditional methods. Yellowfin tuna, mahi mahi and sea bass are frequently on the menu, and fresh ceviche or locally cultivated oysters make a great starter.
If you pass through San José on a Saturday, be sure to swing by the outdoor Feria Verde (Green Farmers Market) in the up-and-coming Aranjuez neighborhood. Organic fruits and veggies are the main draw, but vendors also sell handcrafted chocolates, baked goods and all-natural beauty products. Each week the Feria Verde lures a steady stream of Costa Rican hippies and hipsters, making people watching an added bonus.
2. Jungle treehouses
When you're ready to swap the concrete jungle for the real one, head to Finca Bellavista near the southern Pacific coast. This 600-acre sustainable treehouse community—yes, you read that right—was founded in 2006 by Colorado couple Matt and Erica Hogan. Since rescuing this gorgeous patch of rainforest from logging companies, they've constructed several dozen eco-friendly treehouses connected by a network of trails, bridges and ziplines. A lush garden provides fresh fruits and vegetables year-round, and a typical day at Finca Bellavista includes plenty of hiking, swimming and lounging in hammocks. Residents also volunteer in local villages, and the community's non-profit arm, The Bellavista Initiative, promotes environmental sustainability in rural Latin America. If you'd like to experience life in the rainforest first-hand, treehouse rentals are available on a nightly basis.
3. The 'Sweet Gulf'
No visit to Costa RIca would be complete without a dip in the warm ocean, so head to Playa Nicuesa Lodge on the shores of the Golfo Dulce (Sweet Gulf). Covering 290 square miles, the Golfo Dulce is bounded by the Osa Peninsula, home to world-famous Corcovado National Park. Reaching a maximum depth of 704 feet, the Golfo Dulce is one of just four tropical fjords in the world, and its calm waters attract dolphins, whale sharks and migrating humpback whales. Playa Nicuesa Lodge is only accessible by boat from the port of Golfito, so keep your eyes out for sea life as you cruise across the water. Upon arriving you'll find yourself in a lush, tropical paradise. Situated on a private 165-acre nature reserve, the lodge is an eco-travelers' dream come true. Its buildings are constructed out of fallen trees, and solar panels provide electricity. For their commitment to low-impact living, the Costa Rican government has awarded Playa Nicuesa Lodge "5 Leaves"—the highest possible rating for environmental sustainability.
4. Carbon-neutral coffee
North of the Golfo Dulce, the rugged Talamanca Mountains rise to a maximum elevation of 12,533 feet. Between 4,600 and 5,200 feet lies Tarrazú, Costa Rica's most famous coffee-growing region. If you love coffee, head to the charming town of Santa María de Dota, home to Costa Rica's most eco-friendly coffee cooperative: Coopedota. In 2011, after a decade of research and innovation, Coopedota became the world's first certified carbon-neutral coffee producer. By recycling waste water and turning agricultural waste into biofuel, Coopedota has been able to achieve 100% carbon neutrality. Tours of their facility are available, and an adjacent coffee shop sells bags of freshly roasted coffee.
5. Carbon-neutral NATION!
The good folks at Coopedota aren't the only ones aiming to reduce greenhouse gases. In 2007 the Costa Rican government announced the ambitious goal of becoming the world's first carbon-neutral nation by 2021. This would be an impressive feat for any country, but it is particularly noteworthy for a tiny, developing Costa Rica. Their success could provide an important road map for other developing countries. It won't be easy, but Costa Rica is blessed with a dedicated group of hotels, restaurants and private businesses helping to push the country forward.
These days, it's easier than ever to go green in Costa Rica.—James Kaiser
James Kaiser is an award-winning travel writer and author of the new guide Costa Rica: The Complete Guide (Destination Press, 2013). The guide is printed on FSC recycled paper, and Kaiser pledges to donate five percent of profits to organizations that aid Costa Rica's future biodiversity.