|
A Green Giant
|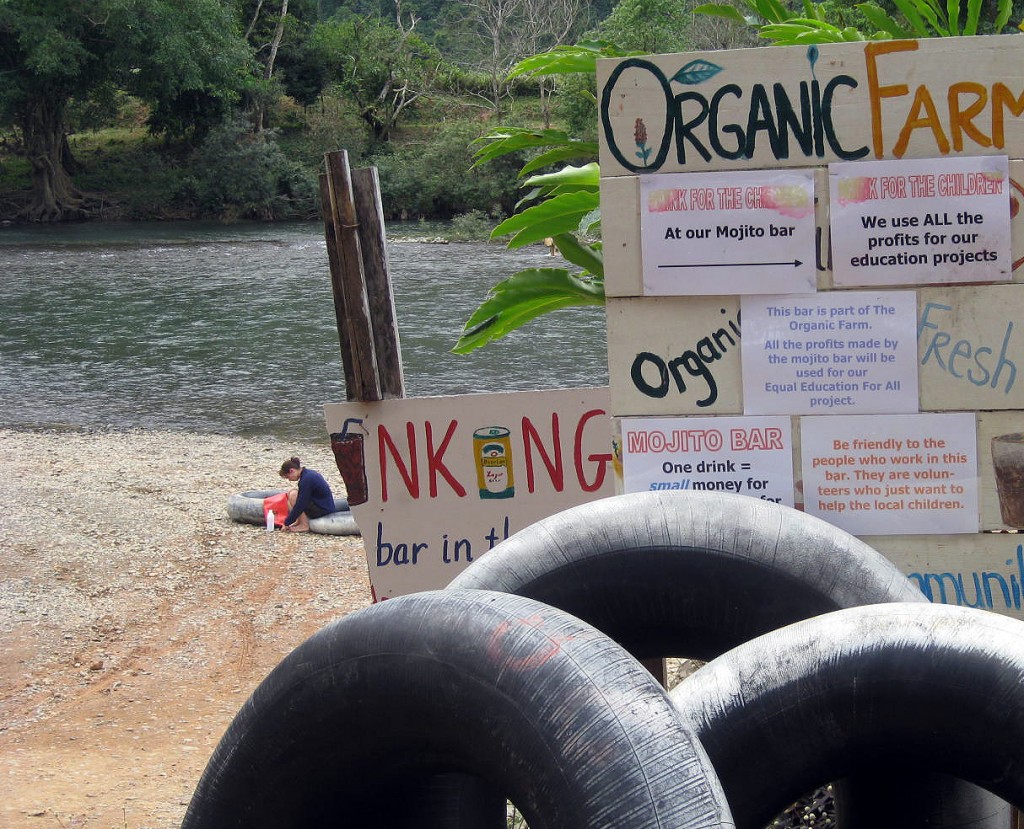 The town of Vang Vieng in Laos, about midway between Luang Prabang and the capital city of Vientiane, is a head scratcher. Whose idea was this anyhow? It's got a pretty river running through it, and it's surrounded by dramatic, saw-toothed karst limestone peaks. Thus we can easily understand its allure for spelunkers, kayakers, hikers and other seekers of eco-fun. Yet somehow it's also become Party Central in this otherwise mellow country—and we not talking about the ruling Lao People's Revolutionary Party, either—where you come to get stoned ("you like food be 'happy'?") and giggle over pirated reruns of Friends in its open-air bars.
All the more remarkable, then, that when this craziness was just beginning, a diminuitive gentleman began leading Vang Vieng in an entirely different direction. His name is Thanongsi Solangkoun. To falang (foreign) visitors, he goes, simply, by Mr. T. A biologist specializing in conservation for the forestry ministry in Vientiane, Mr T decided to return to his roots. His father used to farm here. So about a decade ago he acquired land in a small village beside the Nam Song River just north of Vang Vieng and there he founded Vang Vieng Organic Farm. His mission: to introduce organic farming methods in an area where chemicals and deforestation were ruining the land. To lead by example, he used no methods or technology unavailable to his poorer neighbors: "So they could see and say, I can do this too."
Today he oversees much more than a farm. He provides jobs and training to preserve traditional, organic, GMO-free Lao farming practices. He also runs a pair of very good restaurants—at the farm and another in the heart of Vang Vieng—that serve fruits, veggies, and sometimes even meat raised organically. And mulberries. Mulberry is the farm's main crop. The fruit finds its way into organic shakes and mojitos (made with the local rice spirits known as lao lao) at the farm's riverside bar, a launching and lingering spot for kayaks and river tubing. The mulberry leaves become antioxidant-rich tea; they are also fed to the farm's goats and to silkworms to produce silk. The goats' milk becomes cheese and yogurt. Local women weave with the silk, and their lovely textiles are sold at the farm. The yogurt supplements the morning diet of local school children who ride the school bus operated by the farm, enabling them to get an education even though they live in distant mountain villages.
The banana circle, worms aplenty
Mr T's heart is true green. He stopped local outfitters from washing down their trucks near his river launching point, to prevent toxic runoff into the water. He set up a "banana circle"—a ring of banana plants—to filter and reuse his gray water, and a 3-stage septic system for sewage. At his cafe and 4 other locations, you can refill your water bottles to avoid buying more water in plastic. The farm composts and practices vermiculture to recycle waste from the goats.
Volunteers stay at the farm's guesthouse, help at the Organic Bar (we're served our mulberry mojito by a young Errol Flynn from the south of France) and with farm work and English classes. The small village where the farm is located is the first in Laos where children learn English for free.
When in Vang Vieng, don't miss visiting the farm and its restaurants. Consider volunteering or renting a house made of mud bricks on the farm; or donate cash or equipment to help sponsor the school bus. After our thoroughly pleasant afternoon of lunching by the river, enjoying the action at the Organic Bar (all profits go for school supplies and the like for local kids), and checking out the farm's goats, pigs and silk worms, we leave with indelible memories of what a difference a determined man can make. As we stroll along the road toward Vang Vieng, we spot him again. Mr T, broom in hand, is busy tidying up.