|
It's Glamping Plus
|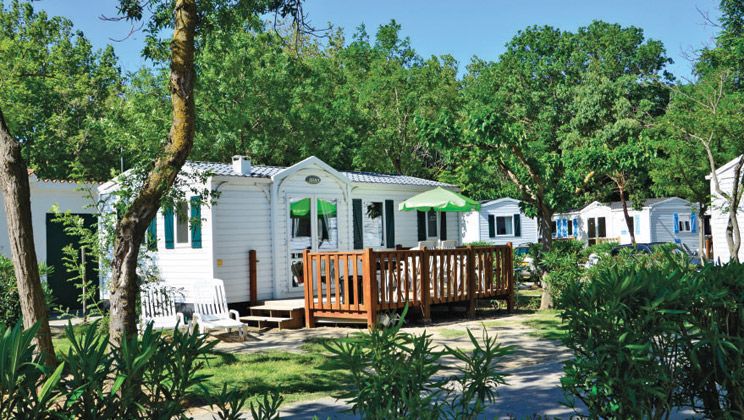 You know about glamping—luxury camping with the comforts of home. But have you heard of mobi-camping? We didn't think so. We just coined the phase…pass it on. It's a great descriptor for a type of less expensive, less carbon- intensive European vacation you may not know about. A perfect vacation for kids,  this option puts your family in a stylishly outfitted mobile home, often with private deck and other amenities, in a restful, park-like setting.
Often, too, in stunning natural environments.
These parks are typically close to a beach. Others are in forests or even the mountains. Usually they feature all kinds of facilities and activities—swimming pools, spas, kids' playgrounds, sports facilities, bars, shops and restaurants and more. Some parks rent both mobile homes (caravans, as they known in the U.K.) and tent campsites.
Why it's green
Of course, when you're having fun, it's far too easy to leave behind an out-sized carbon footprint. And so it's always important to remind ourselves to look for ways to be eco-conscious on vacation. It's not that hard. There are easy steps you can take before and during your trip to make it more green.
Mobi-camping can be one of these—and a perfect environment for an unforgettable adventure. It's nature travel without braving the elements in a tent (no matter how posh). A true gift of travel is the ability to look at your everyday life from a fresh perspective. So if your particular mobi-camp does not offer Wi-Fi, you might be reminded having a great time does not require relying so intensively on gadgets, smartphones and technology. Not a bad lesson for many millennials and most kids these days, no?
Some mobi-camping homes are powered by solar. Some come without individual cooking facilities (but offer a communal kitchen, which saves on overall energy use), while others boast rerfrigerators, dishwashers, TVs and gas BBQs. But due to their settings, you will almost certainly be enticed into spending a significant amount of time outside and enjoying Mother Nature.
One great option
Several European holiday companies specialize in mobile home parks. One great option for self-catering outdoor vacations is award-winning Eurocamp, with locations throughout the EU, from France to Croatia. Their two- or three-bedroom mobile homes come equipped with most everything you need, and a few things you might not expect, and feature open-plan living areas and modern bathrooms.
In the Costa Verde of northern Spain, for example, this company offers Playa Joyel Campsite, with two-bedroom mobile homes that sleep six, plus a pool complex, tennis and basketball court and kids' club.
Essentially, mobi-camping puts you in the heart of nature and encourages you to enjoy the great outdoors. All with comfortable accommodation that will please the entire family. Due to the number of holiday parks throughout the continent, there is a great range of destinations to choose from, too.
What are you waiting for? Mobi-camp!