Green wine: what is it?
The green wine movement can be confusing. It is a recent phenomenon festooned with a mix of agriculture terms, marketing promises and environmental objectives. Here are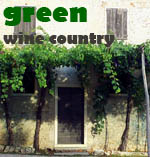 simplified definitions of the most common concepts.

Sustainable wine production
It's both a collection of measurable objectives as well as a attitude for doing business in the new environmental paradigm we call green wine production. A helpful description of sustainable practices from the folks at the Hess Collection Winery in Napa includes detailed goals for vineyard management, winery operations and product packaging.  Their program covers everything from composting and soil management to recycling and the type of environmentally friendly bottles and labels they use. Very complete. Very helpful. Check them out here. 
Organic wine
The trade journal Wine Business Monthly notes: "For a wine to be labeled 'organic' and bear the USDA organic seal, it must be made from at least 95% organically grown grapes and specify the certifying agency. It cannot contain any added sulfites but may contain less than 20 parts per million of naturally occurring sulfites."
But it gets more complicated, and confusing for consumers. Many wines are labeled "made with organically grown grapes," but the wine itself can't be called organic. That's usually because sulfites, a chemical stabilizer, have been added during the winemaking process. Or because the winery itself isn't certified organic. Have we lost you? And then there are wines made with organic fruit that don't say so. It's a marketing and regulatory conundrum. The laws and regulations are changing and the issues are complex. What can you do? Read the back label on the wine bottle and ask your local wine merchant for help. Now there's another thing you can do: check back here, in GTG's Green Wine Country, as we guide you to the movers and shakers of the sustainable, organic and biodynamic wine movement, and share their practices and opinions with you.
Biodynamic farming
Biodynamic farming is a sustainable system that emphasizes balancing the interrelationship of the soil, plants and animals. Its farming practices focus on boosting the vitality of the soil and what grows in it, based on teachings by Austrian Rudolf Steiner, a 1920s professor and philosopher (who culled European peasant wisdom about farming). It fully embraces the principles of organic farming (no chemical fungicides, herbicides, fertilizers, growth stimulants or GMOs), and for some it is organic farming on steroids. The bottom line is that biodynamic farming is finding a growing audience from growers and consumers alike. As Mike Benziger, a leader in biodynamic farming, says: "Biodynamics is a direct conversation with nature. We're not phoning it in."—Roger Archey, Contributing Editor