|
Green? Wanna Bet?
|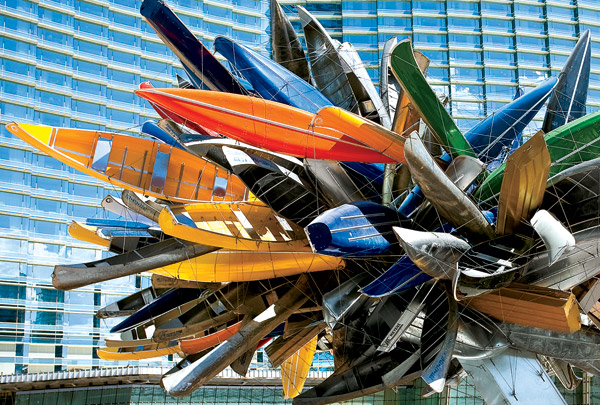 The odds of finding an eco-tourist in Las Vegas are about as good as my winning a slot machine jackpot. And yet there are always a few winners, aren't there? I suppose someone chooses this epicenter of American hedonism as a basecamp for exploring the natural wonders of the Nevada desert just beyond.
But here's a better bet: the hoteliers and gaming companies that own this town are very interested in going green. Not necessarily for all the "right" reasons—though let's not totally discount the possibility some of them actually care about their carbon footprints—but because it can save them money. Lots of it. In this city of a gazillion lights, relentless air conditioning, never-ending laundry and housekeeping and food preparation expense, becoming a self-interested saver of energy, water and other material resources makes you a winner.
So, in a brief stopover, I am in the town where what happens here, stays here. But I ain't lookin' for sin. It's eco-salvation I'm prowlin' for.
I hit the jackpot: gold!
The ARIA campus (also known as CityCenter), on the Strip, is where I hit the jackpot. Reportedly one of the world's largest sustainable developments, this vast complex—which includes the Vdara Hotel & Spa, the Mandarin Oriental and ARIA Resort & Casino—has been awarded the U.S. Green Building Council's gold level of LEED certification for sustainable design, second only to a platinum rating and highest of any hotel development in Las Vegas.
The joint venture of MGM Resorts International and Infinity World Development Corp, a subsidiary of Dubai World, really rolled the dice on this deal, investing $8.7 billion on the 76-acre complex, and nearly losing it all when the economy crashed in 2008 with work only partially completed. But the vast complex was employing 11,000 laborers—nearly a third of southern Nevada's building tradespeople, according to one industry report—so with the help of high-power political lobbying, and millions in tax credits, the work continued and the project was completed.
I stay for a couple of nights at the 57-floor, all-suite Vdara, which is an anomaly in Vegas for being both smoke- and casino-free. You can't miss the place. Look for the giant art piece outside made of recycled canoes splayed out like porcupine needles.
Dealing the eco facts
While most hotels can only tout their own individual eco-measures, Vdara—which does boast green programs specific to the hotel, including its spa—derives its greatest environmental benefits from being part of such a monumental LEED Gold complex. A few eco facts:
To fuel a portion of its energy needs, ARIA campus created the Strip's first on-site natural gas-fired co-generation plant.
During construction, so much sustainably harvested wood was needed that the third-party certifier, the Forest Stewardship Council, had to search out and qualify additional suppliers to fill demand. At the same time, 95 percent of construction waste was recycled.
And since opening, the recycling effort continues to be noteworthy: in 2013, for example, CityCenter as a whole recycled more than 60 percent of all its waste.
Read more sustainability achievements.
We've all seen videos of old Vegas casinos being imploded to make room for new (read: bigger, more ostentatious) casinos, which was the case with the old Boardwalk Hotel that made room for ARIA campus. But all that demolished concrete and steel did not end up dumped into a landfill somewhere in the surrounding sand. ARIA campus recycled an amazing 80 percent of the Boardwalk—some for reuse in the new construction, like the decorative rocks at the ARIA's Café Vettro; the rest elsewhere, like the salvaged bathroom fixtures shipped overseas.
A fish story
I don't have time on this trip to sleuth out more green stories of Vegas, but I do need to check out this one hot tip….
It's RM Seafood, further down the strip inside MGM's Mandalay Bay Hotel & Casino. Famed New York Chef Rick Moonen (La Cote Basque, Le Cirque, Oceana, Molyvos, rm), one of the most outspoken leaders in the sustainable seafood movement, offers Vegas visitors a truly rare entré into eco-conscious entrées.
And in my case it really is rare, as I opt for ultra-fresh, über-sustainable sushi and sashimi, from among the many options on a menu that devotedly follows the guidelines of Monterey Bay Aquarium's Seafood Watch. I get a bit overwhelmed with the choices … dayboat scallops from Vancouver? Kona kompachi from Hawaii? (OK, argue that flying seafood from Canada or Hawaii is not truly sustainable if you want … that we're nowhere near an ocean out here in the desert, so why dine on seafood at all?… But let's not be eco-saints tonight, shall we?… And, besides, what happens here, stays blah blah blah.) After some menu advice from Jeff the barman, I eagerly await dinner's arrival.
I discuss drink options with Jeff and decide on the anise-like, worm-woody liquid fire known as absinthe—straight up. Jeff looks at me with a professional but barely contained "Are you serious??" But I am in Vegas, damn it, and if anything could be more surreal than savoring perfect, sustainable seafood in a city known historically for vast casino buffets, I figure a two-ounce pour of something famed for its hallucinogenic kick might do the trick.
A short, strange trip
In short order, the bar counter appears to be melting … or is that just me? Thankfully, I am rescued by something more … solid (if you can say that about seafood): my Hawaiian Sunrise Roll—crab, lobster, avocado, jalapeño, cilantro, mango, red tobiko—and big-eye tuna sashimi, also from our fiftieth state.
As if my mind isn't blown enough, Jeff offers to remix my remaining absinthe into a TNT Cocktail, which adds cognac, triple sec and bitters.
As I shuffle outta RM Seafood, I'm humming "Truckin'," and recalling what a short, strange (and surprising) trip to Las Vegas it's been.—Michael Straus, Senior Editor