|
Those Revolutionary Sixties
|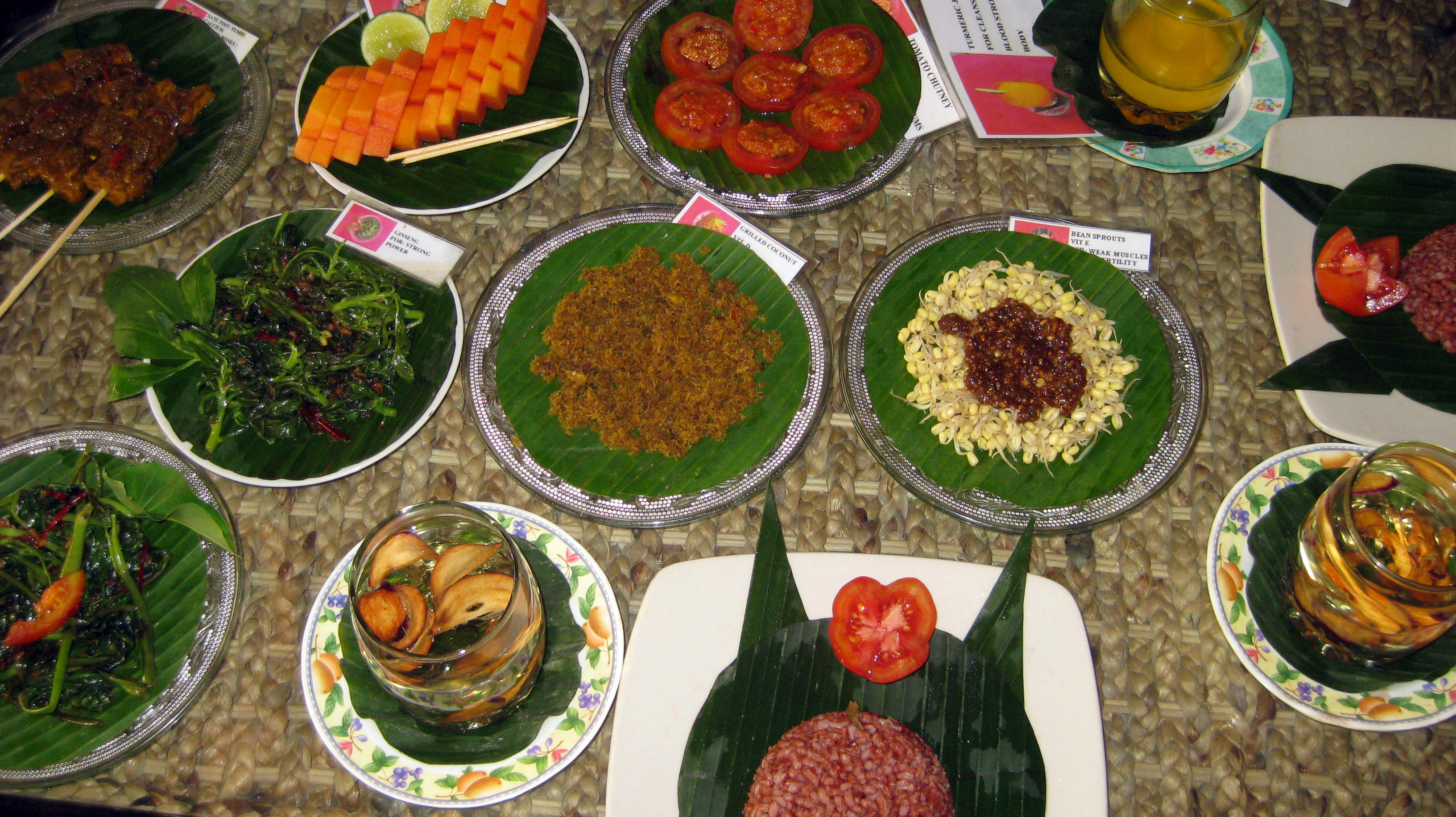 Not so very long ago, all of Bali, Indonesia, was green. Which is to say, before chemicals were widely used on the luxuriantly green rice terraces that feed this busy island of 3+ million inhabitants. The flooded paddies were laboratories of biodiversity, home to eels, snakes, frogs, snails, many insects, even fish. Then, around 1965, the ironically named Green Revolution began. The government pushed a hybrid rice seed that promised higher yields if fed a buffet of petro-chemicals.
The results: a classic case of the Law of Unintended Consequences. Yields did rise dramatically, but then began to tail off, requiring ever more expensive chemical fertilizer. Biodiversity waned. Rice farmers suffered new health problems. By the late 1990s, a movement to return to organic practices was underway. Rice grown without industrial chemicals still accounts for only a small percentage of Bali's total crop, but the push toward healthier food of all types is growing here, as it is nearly everywhere.
And the cultural, artistic, and spiritual center of the island—the upcountry town of Ubud and its cluster of surrounding villages—is at the heart of Bali's 2nd, and true, Green Revolution. A few Ubud rice farmers even grow healthier organic brown rice, a rarity in white-rice craving Asia. Their crop, it's said, is sold out even before harvest.
Green traveler picks
Bali Buddha—Ubud's original organic health food store and café ("earth-conscious people serving healthy food") is as green and great as ever. But for the verdant tropical backdrop, you could imagine yourself in Berkeley.  Since 1984, its owners have been making good on their pledge to source all produce from "local farmers who are trying to make a difference…. The gardens we buy from have been tested, meaning that your food and drinks are as chemical-free as possible." Upstairs, the mellow café offers breakfast, lunch and dinner; from "super health drinks" (try the Detox: lemon, honey, aloe vera and ginger with mint or cayenne) to free-range organic egg and chicken dishes, raw and vegan choices, Italian, international and Balinese fare. Produce is washed in purified water, and organic cleaning products are used on toys and surfaces in a children's play area. They even deliver within greater Ubud! Downstairs, the health food store stocks local organic produce, healthy baked goods and artisan food products as well as brands you may know from home. 1 Jalan Jembawan (across from the post office)
Dr. Wayan's—Just down Jembawan from Bali Buddha, look for the sign that promises traditional Balinese healing and "vegetarian healthy food" amid pots of herbs and other plants that are actually a living medicine chest. You've found a world-famous green eatery. Famous, at least, to the millions who've read Elizabeth Gilbert's best-selling book Eat, Pray, Love. We won't recount the amazing story of gracious Wayan, except to say that she's one of a long line of natural healers and that the walls of her office/restaurant are lined with ceiling-high cubbies storing natural remedies for maladies great and small (cancer to help with "narrowing the vaginal orifice.") With a hypnotic smile and gentle manner, she does body "readings" and sells her herbs, roots, and whatnots. Do come here for lunch, at least. No menu, simply sit down and wait. As plate after plate arrives, each with something interesting and truly delicious, you'll also get an education: each dish is labeled in English with its attendant health benefits. Grilled coconut: prevents rheumatism. Papaya: digestion and strong eyes. And so on. And all for a few dollars.
Kafe—The menu and adjoining natural and organic health food shop bear similarity to Bali Buddha's (above) and so does the friendly and laidback expat vibe. Kafe also delivers (the extra charge works out, roughly, to 50¢ US). Unlike BB, this is also a free Wifi hotspot. What really distinguishes this place, though, is its parentage and extended family. Kafe is owned by an American and a Balinese who operate an excellent website that is a resource for Indonesia's holistic living venues, services and activities. Kafe's health food retail is run by Bali Cares, a nonprofit that donates a percentage of profits to charitable organizations within the Indonesian archipelago. Just behind the restaurant is an office of SOS, the Sumatran Orangutan Society, dedicated to saving the critically endangered habitat and population of one of our closest relatives (orangutans share more than 94% of human DNA); nearby is The Yoga Barn, under the same ownership as Kafe and offering excellent yoga classes, dance, meditation and special events like a weekly dinner and movie (usually an important documentary) for $7US, including popcorn. 44B Jalan Hanoman
Ubud Sari Health Resort—Even if you don't stay at one of the stylishly spare Zen cottages, or indulge in an excellent massage or other bodywork here, don't miss the raw and vegetarian organic cuisine at the simple and serene cafe. The resort and its sister operation, Nomad restaurant, (on Jalan Raya Ubud not far west of the public market) source much of their produce and dairy products from their own organic farm in Baturiti, a village northwest of Ubud; tour the farm for about $25 a person, including lunch prepared from vegetables you pick, by reserving a day ahead at Nomad, or phone (03-61) 749 4115. 35 Jalan Kajeng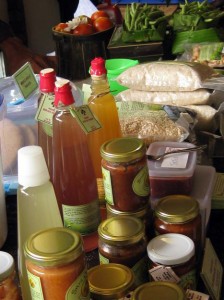 Organic Farmers' Market—Every Saturday, from 9:30 am–2 pm, a small but sweetly spirited organic farmers' market sets up in front of Pizza Bagus, south of Ubud village on Jalan Pengosekan (across from the Arma Museum). Among the small, local and organic farms and food artisans represented here are producers of jams, tofu (look for the tofu falafels—fantastic!), honey, baked goods, coffee, sea salt, dried and fresh fruit and veggies, herbs and body care products.
When in Bali, pick up free copies of Bali Advertiser, an English-language tabloid aimed at expats and visitors, for its regular "Greenspeak" column. These opinionated and informative columns are also archived on the publication's website.