|
Tulum Is It
|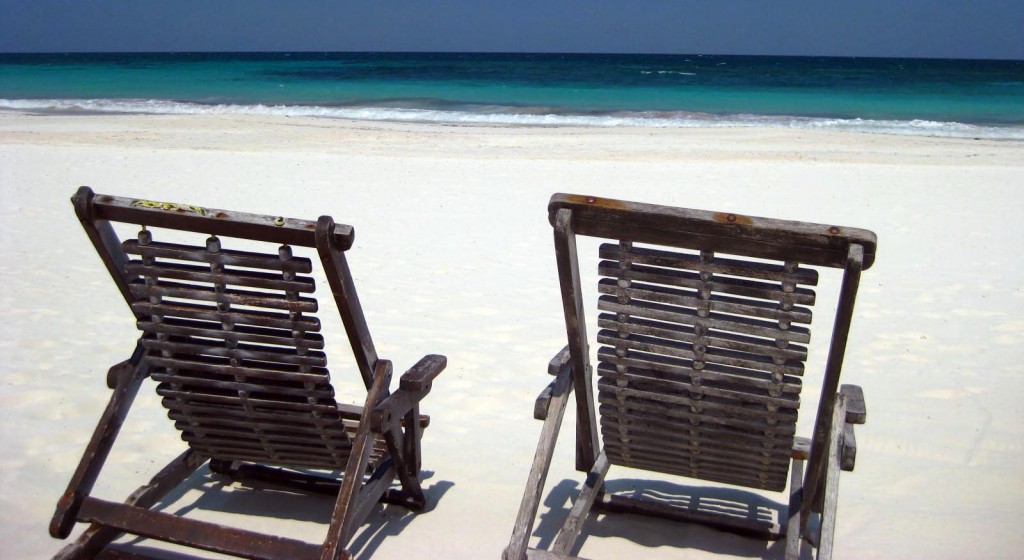 Looking for green on Mexico's Riviera Maya,the 80+ miles edging the Caribbean coast southward from Cancun? Here's our advice: Go right on past Playa del Carmen, which can be fun and has decent restaurants but hasn't seemed to have heard that the party will soon be over if they don't mend their wicked, wasteful ways. Keep going right on down Highway 307, which is now pretty much an unbroken string of huge all-inclusive resorts. (The virgin jungle and undisturbed barrier reef are going fast, though the increasing fury of hurricanes in this era of climate change have wreaked as much havoc as the mega-developers.) You'll also see "eco-parks" along the way. Avoid them. They're expensive tourist traps that mostly just pretend to be green.
Keep on keepin' on. All the way down to Tulum. The town's not much (though it does boast green resources that we'll get to in a moment). Do a looey and head away from the town centro. Toward the famous seaside Mayan ruins and Tulum's spectacular beachfront, where life is led in a greener way by necessity. You're off the grid and on the sugary soft sand. Solar and wind power are the norm (although some hotels still use diesel generators only).
Our recommendation for your green base camp is Posada Margherita, built, owned and operated for a decade by Alessandro and Federico, amici since kindergarten in Genoa. "We thought we could work less than in Italy," Alessandro, who handles the management end of things, tells us with a wry smile and shrug.
Relaxed, homey, green
Posada Margherita is a relaxed and homey place right on a fantastic beach where steady ocean breezes chase away mosquitoes (which can be pesky on this coast). Quirky indigenous art adds a bohemian flair to the outdoor spaces. The 8 rooms are simple but clean and spacious, with accents of river stone and natural terracotta tile floors. The sea air has lent its corrosiveness here and there. Furnishings are local tropical style. Each room has its porch with hammock. Toiletries are olive oil based, and made in Mexico City. Cleaning is done with natural products. Lighting is energy-efficient and powered by solar and wind (an energy-efficient diesel generator from the same Spanish company that made the solar panels provides emergency back-up). Only a natural, flower-based product is used for pest control. All waste water is filtered and purified through a series of underground tanks and used for garden irrigation—which protects both the nearby sea and the cenotes (sinkholes containing ground water) that are this area's primary fresh water source. In the gardens, along shaded pathways that link the guest cottages and common areas, no chemical fertilizers or pesticides are used.
Recycling is a problem. Tulum has no organized recycling program. But Alessandro is trying to work out an arrangement with a large local hotel that uses a private company to haul away its usable waste. This is important to him. It irritates him when he sees local kids who don't think twice about tossing trash from their car windows, let alone reusing materials. "If my father saw me do that …" he mutters.
Even if you don't stay at Posada Margherita, come for the food. It's Italian, of course, with nods to the Mexican Caribbean. Federico, a chef by trade, has longstanding relationships with local farmers who grow organic veggies, and local fishermen who bring him their catch daily. He may ship olives over from home, but the pasta he makes fresh. Bread is baked in-house. And since these guys are from a great Italian seafaring city, it's no surprise their seafood dishes are outstanding. "We prefer what we find fresh and organic," says Alessandro. "It's more expensive, but that's the way it is." From the moment you settle in at a table in the open-air restaurant—overlooking that glorious beach and are handed complimentary antipasti like sweet and juicy tomato bruschetta, you'll agree.
Also in Tulum…
A few miles up the same Tulum-Punta Allen Road is our other green dining fave. Mezzanine Tulum restaurant has another gorgeous vista above soft white sand and aquamarine water. Here, the organic herbs and fresh seafood provide inspiration for very good Thai cuisine, with dishes developed by Thai chef consultant Dim Geefay. The restaurant is also a member of Slow Food, the Italian-based organization that promotes traditional cuisine, heritage foods and sustainability.
Finally, Tulum town itself deserves mention. Chan Chay is a tienda ecológica (eco shop) on Calle 4 Oriente at the corner of Orión Norte on the west side of Highway 307. It offers a small but interesting selection of natural health and beauty products, herbal supplements, Mayan handicrafts, locally made natural cleaning products and more. Check it out.
And do not miss Organicamente, a retailer that seeks out organic and natural products made by indigenous communities and small producers throughout Mexico. It's on Avenida Tulum, in Plaza Tulum, a small commercial square across from the city hall. As Lucy Gallagher, the remarkable woman who heads up this venture, points out, 85% of the country's organic production currently goes for export. Her mission: to nurture the Mexican appetite for organic products and the viability of producing organics for the domestic market. She stocks excellent organic coffee and chocolate from Chiapas, artisanal soaps and oils, sunblock and much more, including an increasing number of food items. (Many of these are available for purchase on Organicamente's web store as well.)
We call Lucy remarkable and here's why: she's spent more than a decade working on coral reef conservation in Mexico, Belize and Honduras. She grew up in Southeast Asia and has environmental degrees from the London School of Economics and the University of Newcastle. In 2006 she teamed with a  pair of  "equally determined friends" to create Mexiconservacion, a nonprofit that supports green projects by local communities. Her organization also publishes The Green Guide to the Mexican Caribbean, about local marine life like whale sharks and sea turtles as well as natural wonders—coral, mangroves, cenotes and more. It also offers up great tips on how green travelers can help. Check out the video version or pick up a print copy when you visit.